Grad Student Among Those Recognized by Arts NC State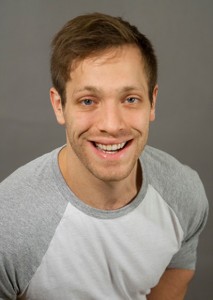 Jacob Marks, graduate student in mechanical engineering, received a 2014-15 Performing Artist Award for Dance from Arts NC State. Marks and other student award recipients were recognized by Chancellor Randy Woodson and Executive Director of Arts NC State Rich Holly at a pre-show ceremony before the University Theatre's "Fiddler on the Roof" at Stewart Theatre, Sept 29.
The Arts NC State Performing Artist Award honors student performers in music, dance and theatre. This award is open to any current full-time NC State student enrolled in an ARTS NC State music, dance or theatre course and/or involved in an Arts NC State Music Department, Dance Program or University Theatre production or performance.
The Performing Artist Award is chosen by adjudicating faculty and may be split between two student artists. The winning performing artists each receive a $500 award and acknowledgement in the following year's Arts NC STATE Season Playbills.
During the 2014-15 academic year, NCSU Dance Company member Jacob Marx performed in "Mr. and Mrs. and Vacation 2014" — two sections from the company's student choreographed Movement Study Project Family Album, Jack Arnold's duet "Waking Finding You Here," which Bryron Woods in INDY Week says "excavates the intimacy between a man and a woman," and in two of program director Robin Harris's works, "Dedication," a seven-part dance documentary inspired by James Agee's "Let Us Now Praise Famous Men," and "Elegie," a solo with movement vocabulary derived from descriptions of fights in vintage radio broadcasts of boxing matches, studio fight poses and fight action photographs of boxers, descriptions of boxing in prose, and boxing images from films.
Marx is a studied and technical dancer with excellent movement facility. In the range of work he performed this year, he proved himself to also be an artist. He imbued the physicality and performance of each role with complex and nuanced character. In process, he was thoughtful about his roles and worked intentionally and carefully to understand his roles on all levels and realize his choreographers' visions. Jack Arnold called Jacob's performance of "Elegie," with its incredibly intense physicality and emotionality, a "tour de force." In any given work, the depth of Jacob's performance was remarkable, but what is even more remarkable is that he found astounding depth and maturity in every work he performed, and the requirements of each role couldn't have been more physically, emotionally and musically different.
-Courtesy Arts NCState