Graduate Alumna Takes 2nd Place in Regional 3MT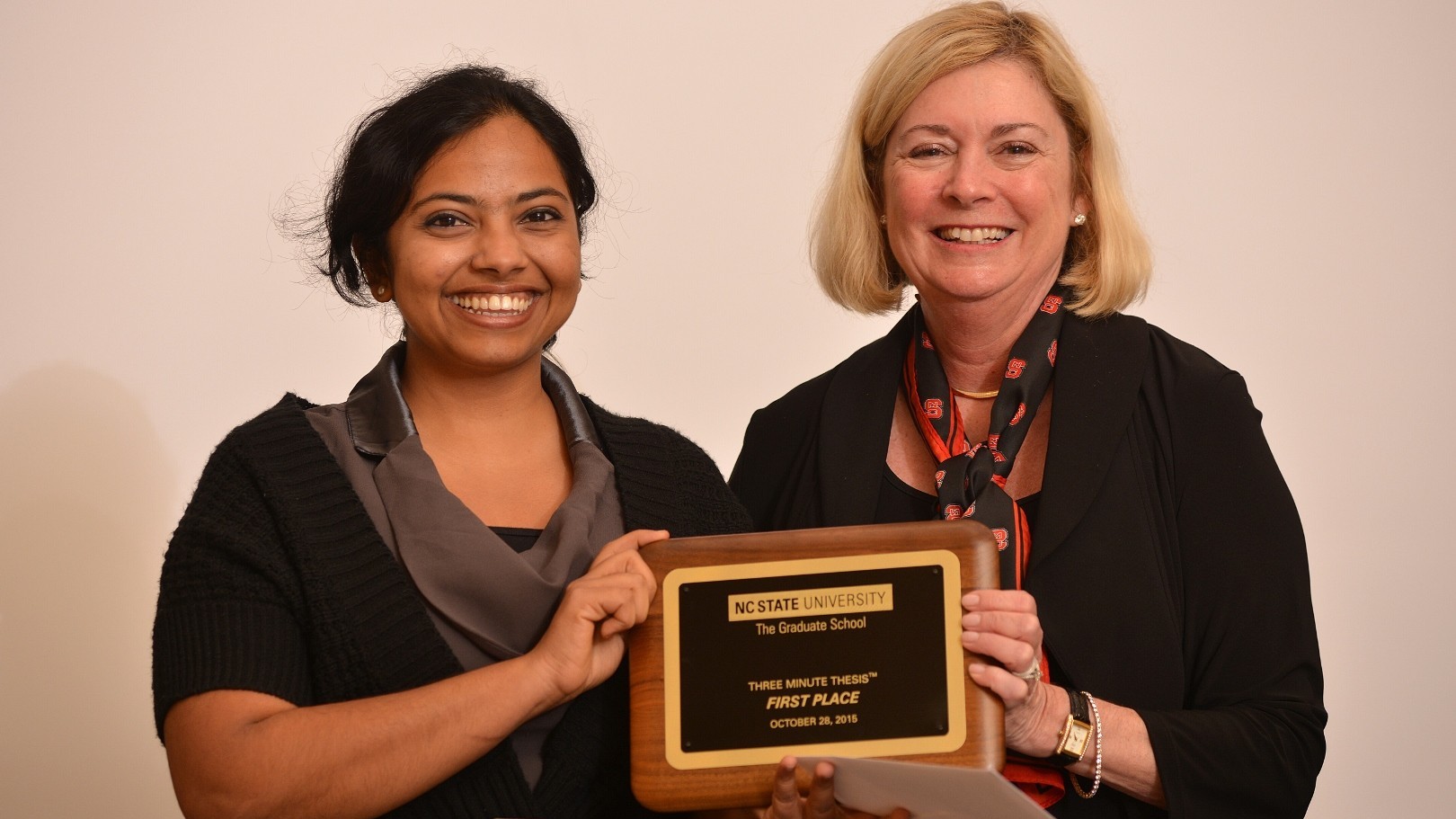 Dr. Haritha Malladi, who recently earned a Ph.D. in civil engineering from NC State, won second place in the Southern region's 3 Minute Thesis competition this weekend in Charlotte. The 3MT competition challenges Ph.D. candidates to present their dissertation research in just three minutes with one slide.
Malladi's presentation topic, Reduce & Recycle: How to Turn Black Roads Green, earned her top place at NC State's inaugural 3MT competition in October. She was among 38 first place winners from Southern universities who competed in the regional event as part of the Conference of Southern Graduate Schools meeting over the weekend.
First place regional winner was Aniket Ingrole of Florida State University, whose topic was, Safer Football with Bio-Inspired Helmets. There was a three-way tie for second place, and all three received $500 prizes. In addition to Malladi, the two other winners were:
Kemper Gibson
Virginia Commonwealth University
Master's Student in Forensic Science
Rape, Sperm & Antibodies: Solving a Growing Crisis
Allison Tharp
The University of Southern Mississippi
Doctoral Student in English
Physical Containment in Protest Literature
On Saturday, students and graduate alumni competed in four preliminary heats. On Sunday morning, eight finalists were announced – first-place winners and People's Choice winners from each heat. The eight went on to compete, and judges chose the winners.
Universities from across the Southeast competed in the regional 3MT. Those from North Carolina included Appalachian State University, East Carolina University, the University of North Carolina at Chapel Hill, UNC-Charlotte, UNC-Greensboro and Western Carolina University.
Read more about NC State's 3 Minute Thesis competition in October:
Engineering Students Sweep NC State's First 3 Minute Thesis