GradPack Talks: Work Up a Sweat with Wellness & Recreation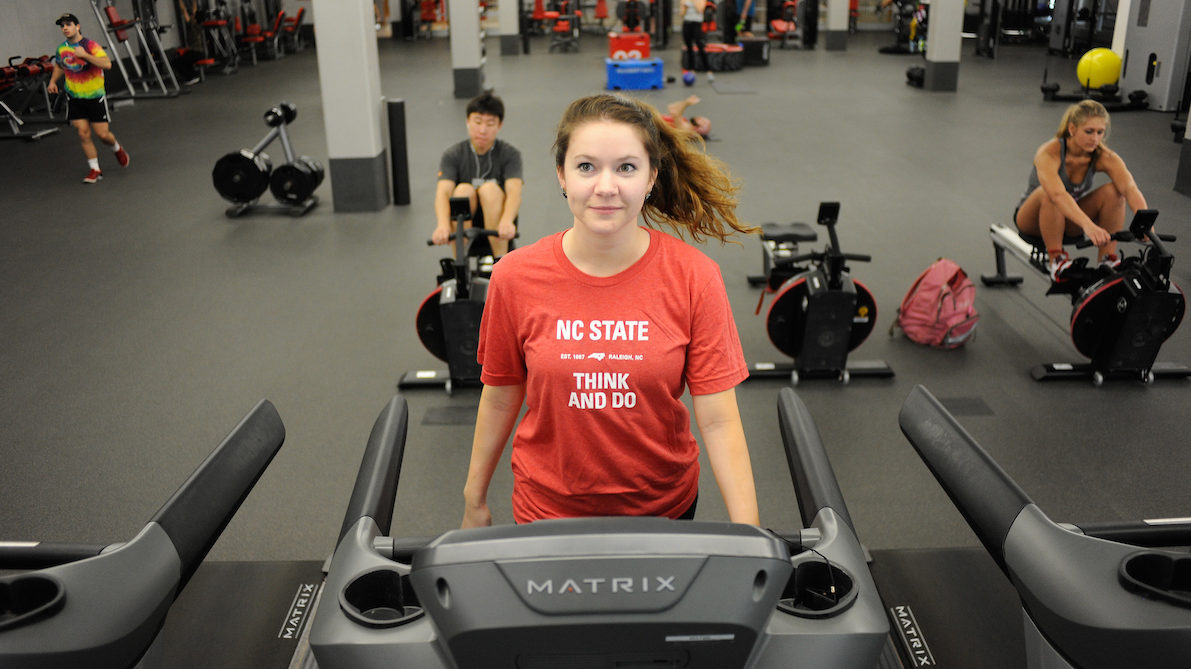 Transcript:
Natalie Hampton: Hi, this is Natalie Hampton with "GradPack Talks," a podcast that focuses on resources available to graduate students at NC State University. Today, I'm talking with Adam Sardinha of Wellness & Recreation about the facilities and services that graduate students can enjoy.
Natalie: First of all, how can new graduate students take advantage of all that WellRec has to offer?
Adam Sardinha: Access to the WellRec facilities is available with a Wolfpack ONE card to students who have paid fees. Our hours of operation can be found on our website for the Fall and Spring Semesters. Hours can change when classes aren't in session, so check the site to for updates.
Natalie: What types of facilities does URec provide for students?
Adam: The Carmichael Complex consists of three main facilities: The Carmichael Gym, Recreation Center and Casey R. Willis Aquatics Center. These facilities include:
11 multipurpose courts for basketball, volleyball and badminton
6 Fitness Centers, with cardio, machines and free weights
An Indoor Climbing Wall.
A Steam Room and Sauna.
A 25-yard pool and a 50-meter pool.
Four Group Fitness studios.
Equipment Checkout, where you can borrow Racquets and other Sports Equipment, as well as towels and workout clothing
And an Outdoor Adventures Equipment Rental Center, where students can rent adventure equipment for a modest fee.
Wellness & Recreation also maintains Miller Fields for all Intramural Sports. Miller Fields also features FitGround, an outdoor Functional Fitness training area. Other outdoor facilities include the Centennial Campus fields and the NC State Challenge Course located at Schenck Forest. At Carmichael Gym, there are outdoor tennis and basketball courts.
Natalie: Tell me about the outdoor recreation opportunities that WellRec offers.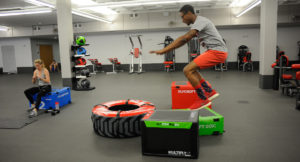 Adam: Wellness & Recreation offers a wide variety of trips to breathtaking sites across North Carolina and beyond. Trips may be for a single day, a weekend or a week. Outdoor destinations include hiking at Pilot Mountain, sea kayaking at the Outer Banks or skiing at West Virginia's Snowshoe Resort. Trip prices include transportation and equipment and are led by an Outdoor Adventures trip leader.
Wellness & Recreation also offers a wide variety of rental equipment to create your own excursions, such as tents, kayaks, canoes and backpacks. For those who would like to leave less of a footprint on campus, consider renting a WolfWheels bike for the day, week or semester.
Natalie: What intramural sports can graduate students participate in at NC State?
Adam: Graduate students can participate in a variety of League sports and special events. Students can create a team, or meet new friends and register as a free agent.
League sports include flag football, basketball, soccer and cricket. Special Events include Pool battleship, tennis tournaments and bubble soccer.
Visit the WellRec website — wellrec.dasa.ncsu.edu — for the updated schedule for the Fall and Spring semesters. Registration is free of charge through IMLeagues.com
Natalie: What types of fitness classes are offered for students?
Adam: More than 100 classes are held free of charge to students every week during the spring and fall semesters. These include Zumba, TRX, Yoga, Cycling, BodyPump and more. To register, students will need to create an IMLeagues.com account. An updated version of the current group fitness schedule schedule can be found on the University Recreation website.
Natalie: What are some other services that students can access?
Adam: For a nominal fee, students can train with a nationally certified personal trainer. Whether your goal is to improve athletic performance, learn to work out properly or lose weight, a certified personal trainer will create a custom plan to meet any goal.
Natalie: Are there locker rooms and clothing checkout available?
Adam: Day-use lockers are available throughout the facility at no charge. Long-term lockers are available for $5 per month and are located in both the women's and men's locker rooms. 
Natalie: Are there costs associated with using WellRec?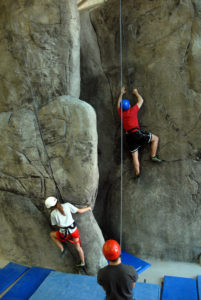 Adam: Access to most WellRec programs is paid through student fees, except for the Challenge Course programs, personal training, Outdoor Adventures trips and Outdoor equipment rentals. For a list of programs and services please visit our website — recreation.ncsu.edu.
And stay connected on with WellRec on Social Media. Follow us on Twitter and Instagram — @NCSTATEUREC — and don't forget to use the hashtag #PACKINACTION to share your wellness journey with us.
Natalie: One final question, Adam: What's your favorite WellRec activity?
Adam: So I'm part of the 6 a.m. workout crew. There's just a couple of us who are there at 6 a.m. So I spend about 90 minutes on cardio and weights. It's a good way for me to get the blood pumping before I get my day started.
Well, thanks Adam. I hope you'll have some graduate student to join you at your 6 a.m. activities. And again, to learn more about University Recreation, visit wellrec (dot) dasa (dot) ncsu (dot) edu.
Learn More: wellrec.dasa.ncsu.edu
Subscribe to WellRec newsletter