GradPack Talks: Transitioning to Graduate School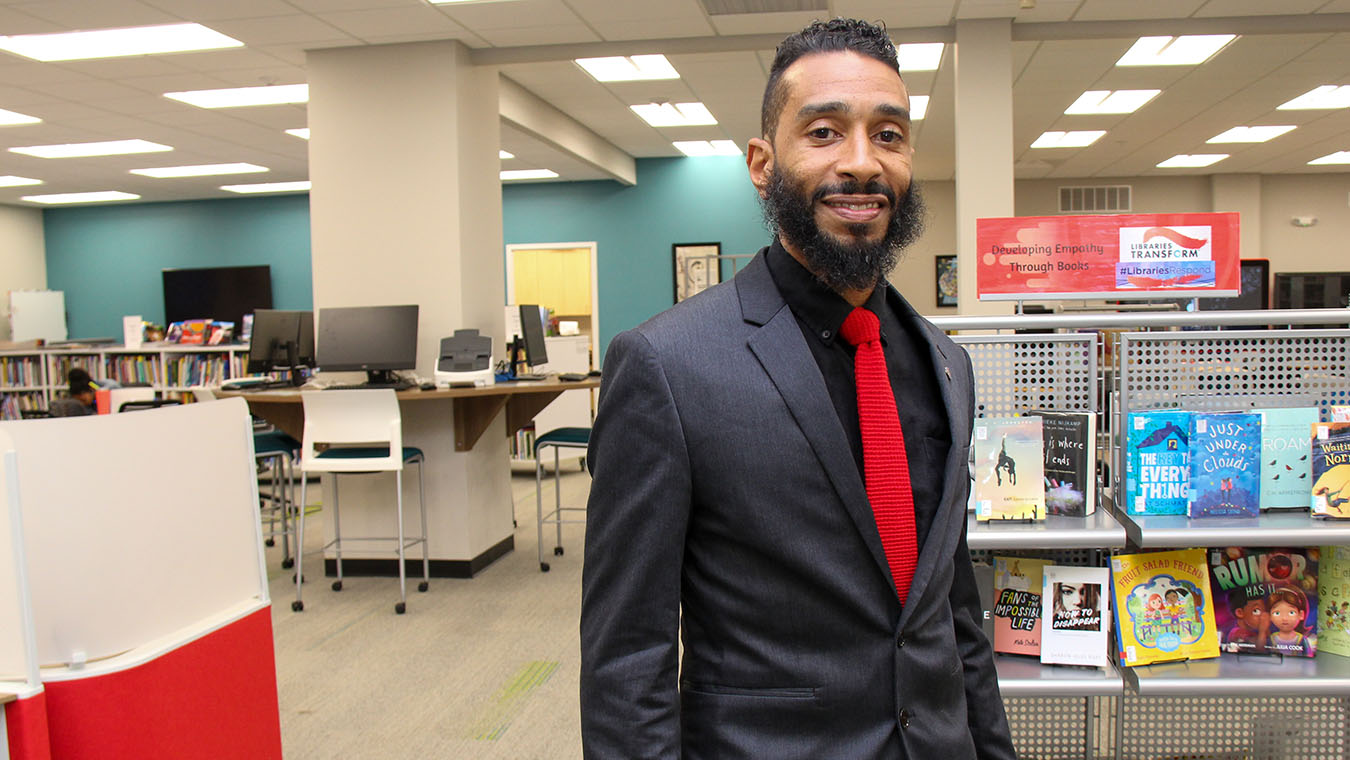 Transcript:
Shannon Madden
Welcome. This is Grad Pack Talks, a podcast that focuses on resources, experiences, and stories from graduate students at NC State University. I'm Shannon Madden.
Jai Jackson
I'm Jai Jackson.
Shannon Madden
And we're here with Keith Street Robinson, a doctoral student in the Adult Workforce and Continuing Professional Education program at NC State. Welcome, Keith.
Keith Street Robinson
Thank you.
Shannon Madden
In this episode, we're talking about students' experiences in transitioning to graduate school.
Jai Jackson
So Keith, could you tell us about yourself, you know, where you're from, how you got here.
Keith Street Robinson
Sure. Well I was born in southern Virginia, a town called Bassett, and I grew up in Northern California. (Shout out to Northern California!) And after several years working in K–12 education, I decided to make a transition to improve my career prospects, and so I decided to go to graduate school. I had always wanted to move back to this area, North Carolina. So, I enrolled at North Carolina A&T (Aggie Pride!) And after my master's program, completing that in adult education, I came to NC State.
Shannon Madden
Great. What are you finding to be the differences between your master's program and your PhD program? What was that transition like?
Keith Street Robinson
I would say there's there's definitely an increased level of engagement with the work and the level of study that we do. It's in some ways what I expected but, of course, you never know what you don't know until you encounter it. But I would say there's also more attention to detail as it relates to me getting assistance with my future career outcomes as well.
Shannon Madden
And you came in having been a full time professional previously. How did that impact your experience, what about that transition was hard, what was easy, and what are you still working on?
Keith Street Robinson
So, transitioning from the professional workforce into a full time education program. For me, one of the biggest adjustments was, you know, getting a full time salary and having that kind of nine to five or whatever schedule work lifestyle to where what you mostly focus on is maintaining your household and your economics and being able to manage all of that. And coming to graduate school, you put a priority on your academics and your studies and not to say that all the things that go along with the economics and the personal finances get put on the back burner. But, it becomes a different shift because you have to prioritize the academic pursuit.
Shannon Madden
Yeah.
Keith Street Robinson
And so I would say one of the things that I'm still working on is the balance in making that sacrifice because I'm always trying to make sure that I am taking care of my economic situation, as well as stay focused in school, and I go back and forth in whether or not I'm putting a good balance on that.
Shannon Madden
Sure, that can be so tough.
Keith Street Robinson
Yes. So always tempted to look for more opportunities to make short term income, but I know that it's okay for me to make sacrifices for the long term game.
Shannon Madden
Were there any ways that you feel like being a full time professional helped you in grad school or were there things that were made easier by having had those, you know, quote unquote "real world" experiences outside of school?
Keith Street Robinson
Yes, I've actually always felt that way. Coming out of high school, I went to community college, and I was always working part time while going to college and that's one thing that I felt like was an advantage coming into the classroom, particularly because I was in business courses, I would always have things that I could bring from work, as examples that I could talk about or that I could reflect upon that helped bring the curriculum, or the information in the classroom alive and feel like even more so with the Adult Workforce and Continuing Professional Education program, having had management experience and supervision and also being supervised and seeing that side of things, while going to school. It helps me really enlighten myself and others' experience and make it more enriching.
Shannon Madden
Nice.
Jai Jackson
So as you enter your second year, you've really worked hard to transition and find success in your program. So what advice would you give to new graduate students who are coming in about navigating the whole experience, the whole transition, and whatnot. And could you share some things that really helped you and things that you would advise them to avoid?
Keith Street Robinson
Yes. So first off, I would say, try to get in touch with a good stress management system. And I would say, added to that is, know that that's an ongoing process, and it's going to be something that never really feels like you have it quite right. But part of what helps you in having the pursuit of the process is knowing that you're working on it. I spent a lot of time at the beginning of the summer, and I'm still working on it, focused on personal development and personal protection. And one thing that I—an epiphany if you will or a thought that occurred to me at the end of the semester—when I was able to put the academics aside and my assistantship work, I realized that I had been going at a very fast pace. I was managing a lot of things out of anxiety, and I hadn't, I had been on for everything and everyone in my life except for myself. And so I would say, prioritize yourself as often as you can, as long as it doesn't make you feel selfish in a way that violates your personal value system.
Jai Jackson
It's interesting, what you mentioned. Really what resonated with me was sacrificing, you put so much sacrifice, but you have to make time for yourself.
Keith Street Robinson
Yes.
Jai Jackson
But as we've seen with a lot of graduate students there isn't much time to make for yourself. So, how do you find the time between academics between other obligations, work, family, to really find that time for yourself?
Keith Street Robinson
Honestly, what has helped me is being able to talk to other people who are either in the program with me or maybe a few years ahead, and even relying on professors and brainstorming with them ideas about how they find the time, and how they managed to take care of themselves. And out of those conversations, please know can come helpful and not helpful information. So you can also find out, maybe things that you don't want to be doing from talking to other people.
Shannon Madden
Yeah, I would imagine it's just as hard for faculty to find time to, you know, to prioritize themselves and to carve out for kind of real life stuff, as it is for graduate students. Were there things that talking with faculty or that other graduate students helped you think differently about or realize about, you know, kind of what you were doing and how you were functioning in grad school?
Keith Street Robinson
Yes. That makes me think of a time when I was working on a publication—and I'm still working on that publication—and I just went through several iterations of what I thought I was supposed to be doing. And I was told several times that I was doing it incorrectly and I was given some techniques on how to approach not only that exercise but exercises going forward in writing and literature. And that just had to do with, I don't know if I want to get into the specifics because it would kind of deal with literature reviews and all of that, but I would say what probably helped the most was being told by that professor that I should probably come see them more often. Because we can feel like we're on these isolated pirate ships riding around and trying to collect our own treasure and not realizing that we can network with other pirates and team up, and maybe have a better outcome.
Shannon Madden
Such a great metaphor.
Keith Street Robinson
Thank you.
Shannon Madden
So far, you finished your first year, you're heading into your second year. What would you say has been the highlight of your experience in the first year since you started the program, or what are you most proud of?
Keith Street Robinson
This podcast. No, I mean I am proud of this podcast and I do appreciate being part of this, but I would say, I'm most proud of the networking that I've done and the activities that I have been able to participate in outside of just my classroom and my program. So one of those would be, I did a short information session in course with the Black Male Initiative on campus about dressing for success on one of their Sunday programs and so that's not necessarily directly connected to the College of Education or the Adult Workforce and Continuing Professional Education program or Graduate Student Support Services, who I didn't necessarily mention earlier specifically but is a big part of my support system here at NC State.
Shannon Madden
That sounds like a really rich opportunity. What was that like, the work you did with the group?
Keith Street Robinson
Well, so one of the things I wanted to do coming out of NC State or establishing right now while I'm here is my consulting practices and so that was an opportunity to practice some of that. And I got to create something of my own; I got to research something that I was very interested in. I'm very interested in fashion, and, you know, mix that in with Adult Workforce and Continuing Professional Education and we have you know topics that we can go over that lead into soft skills, you know dressing not only for being professionally successful, but also for feeling good. I got to find out information that I didn't know about the historical development of suit wear,
Shannon Madden
How interesting.
Keith Street Robinson
And I got to interact with a group of young men who seemed eager to learn about the information and the directors of the program were also very excited to have me there and we're looking to do some future collaborations as well.
Shannon Madden
Nice. Are you also on the Graduate Student Advisory Board?
Keith Street Robinson
I am on the Graduate Student Advisory Board.
Shannon Madden
What's that like? What's your interaction with that group like?
Keith Street Robinson
That has probably been one of the most helpful experiences here.
Shannon Madden
How so?
Keith Street Robinson
So, going back to how I realized I was managing things and not making time for myself. I ended up joining the Graduate Student Advisory Board unofficially in the first semester, by just offering to help Jai out with things and then I was invited to come along officially in the second semester. And at that time I was appointed the chair of the social committee, which forced me to create events for other people to come out to, which means that I had to go out. And that helped me to get out and have a good time and socialize with people and feel a little bit differently, rather than being locked down and isolated in my little study cave.
Shannon Madden
Yeah, that stuff can matter so much; national data coming out of the Council of Graduate Schools and other areas is telling us that you know lots of graduate students feel isolated. So those social opportunities are really important for getting people into communities and feeling like they are not alone in their experiences and you know, there's more going on than just kind of them and their books in their study carrel in the library.
Keith Street Robinson
Yes.
Jai Jackson
Now Keith, we know that you have been very active on campus that you've put yourself out there to, to better yourself and better the graduate community for your peers. Now can you share with us what resources have helped you, and maybe other resources that you would love to have on campus?
Keith Street Robinson
Well, as I mentioned, I am part of the Graduate Student Advisory Board, and so that is connected to the Office of Graduate Student Support Services, and that's definitely been something that's a big help for me. (Shout out to Jai Jackson, Dr. Jai Jackson!) You know, it's good when you have—it's helpful from the student perspective—when you have an office, department, organization that's dedicated to student success and student support. It works differently when that function is a secondary role of someone else's job, and it's not the sole focus of it, and it really makes a difference and I can feel that. My advisors, Dr. Chad Hoggan Dr. Susan Barcinas, they've also been very helpful advising me on exactly, I mean it's, I don't want to sound like I know what they're supposed to be doing, but when they tell me things, and I didn't necessarily see it the way that they told me, then that makes me feel like I'm getting all the information that I need and possibly a little bit more so pointing me in directions when I might be looking in the wrong place, or I might be looking at things differently. I might be looking at them good, and they can show me how I can look at them better.
Jai Jackson
Now Keith, you've shared a lot of resources that have been beneficial to you and your study here at NC State University. So could you talk with us about some things that you would like to see brought to campus, new programs, new services, that would help you or your colleagues?
Keith Street Robinson
Yes, so I know we were talking about non traditional students at one point. And I think I'd like to see some more dedicated support services, maybe an office to help students who are transitioning or non traditional for maybe housing assistance. You know, people relocate from different states and cities to attend different doctoral and master's programs. And, you know, as was the case with me, I didn't have a huge turnaround time between when I had to—when I got notified and I had to move from Greensboro to rally and be ready to attend my program. Now, I don't claim that I had any extreme difficulty in that, but not being from here, it was a bit trying to try to figure out where I should situate myself and know that I'm making the right geographical as well as economic decisions and coming to a new place, and starting a new program, and getting ready for the academics at the same time.
Shannon Madden
Yeah, good point. So that life stuff outside of school can be such a such an important part of the transition, obviously, and then also not always as well attended to by universities as the academic support and the social transitions. It's an interesting point.
Jai Jackson
Yes, it is very interesting. I think about the services that we provide for undergraduate students where we address the whole student, and we are charged with developing them into contributing members of society who are morally just, conscious, and ethically aware, but yet for our graduate students, we assume that you come with a certain set of skills and are essentially ready. So, it seems what you're saying is that we just need to do better with addressing the whole student, and not discriminating based on degree level, and making sure to provide all types of support for you.
Keith Street Robinson
Yes, and I think this is also a place where our research can be helpful, as well, as we continue to find out the different types and demographics of non-traditional students, because we will have to help different people in different ways.
Jai Jackson
So, Keith, we are at NC State University which is a Research–1 institution, and we produce some world class research, we produce researchers and we're really keen on promoting the research that comes out and developing researchers at times research can take research takes the front seat while mentoring and teaching will occasionally take the backseat. Would you say that in working with your faculty they have taken the actual time to mentor you and to help to develop you into the individual that you want to become whether that's a scholar, researcher, practitioner, anything of the sort.
Keith Street Robinson
I would say definitely yes. I have been told by my advisor that I should not let anyone or myself compromise who I am and what I want to pursue or pigeonhole me into things that I that they want me to do, and I should continue to be an individual in all aspects of my work.
Shannon Madden
Yeah, that's great; that's so important.
Keith Street Robinson
And it feels better.
Shannon Madden
Yeah, good. So, you've got the second year coming up.
Keith Street Robinson
Yes!
Shannon Madden
And then years three and four after that.
Keith Street Robinson
That's right.
Shannon Madden
What are you looking forward to in the journey ahead?
Keith Street Robinson
I'm really looking forward to narrowing down this dissertation topic. I came out of the first year thinking that I definitely knew what I was going to be working on. That has not left the table but something else is trying to hop on the table.
Shannon Madden
Okay.
Keith Street Robinson
So we're gonna let them duke out and see who is the victor.
Shannon Madden
You've got too many interests to pursue in one dissertation. Is that what it is?
Keith Street Robinson
Well no, it's more so that an opportunity presented itself in an area that's of higher interest than the previous topic and more aligned with what I'd actually like to be doing when I have completed my doctoral program. And so I need to continue seeing if that's a viable option and then evaluate between the two which one is going to be the most feasible when it comes to IRB, data collection, things of that nature because that's one of the benefits that I also received from having colleagues who are further along in the program, as well as my dynamic advisors, is getting that information about things that might not go your way and being prepared for that. And those are the things that could impact the date that you think you're going to be complete with your stuff so it's good to have options. And I'm just looking forward to being able to—I wish I could do both, but because neither one is bad.
Shannon Madden
Yeah. Well you can do both, right? Just not all at once.
Keith Street Robinson
Yes.
Shannon Madden
That's that first project and the second project. The first book and the second book, so to speak, right? Well, great. Thanks so much for joining us today, Keith, this has been such a rich discussion. Don't forget everybody out there that the Graduate School offers several professional development programs in writing, teaching and communication, and career preparation. We also offer community experiences so all this stuff that Keith has been talking about with peer-to-peer and working with each other across disciplines and learning from your colleagues in the program. We know as I said earlier that national data are showing that graduate students often feel isolated when they're doing graduate work, and our professional development programs offer a space for positive interactions. The Counseling Center has resources for graduate students and making the transition to graduate school. There are several other organizations on campus that are student-led such as the Black Graduate Student Association, the Multicultural Student Association. What am I missing?
Jai Jackson
There is the Graduate Student Association, which is the larger governing body for all graduate students. Their purpose is to advocate on behalf of graduate students regardless of program, college, or concentration. For our students who may experience food insecurity or homelessness, we have resources if you need help with any type of medical or family issues, we have support, so don't go without; always ask. There is something to support every student, and if we don't have the resources on campus, there are a lot of professionals, peers, and colleagues who will seek out the resources to help you. So, whenever you need help, whenever you have a question, please ask.
Shannon Madden
And in other episodes of this podcast, we're going to talk about some of the things that Keith has touched on today, like finding your research passion, identifying a dissertation topic that's going to sustain you through the duration of your program and keep you excited throughout your graduate degree and also as you go on the job market. We're going to talk about imposter syndrome and how to prevent feelings of impostorship. We're going to talk about all sorts of exciting topics. So we'll be back, myself and Jai, thanks again to Keith; it's been so great talking with you.
Keith Street Robinson
Thank you. It's been wonderful being here.