NC State's Virtual Graduate Education Week is April 6-10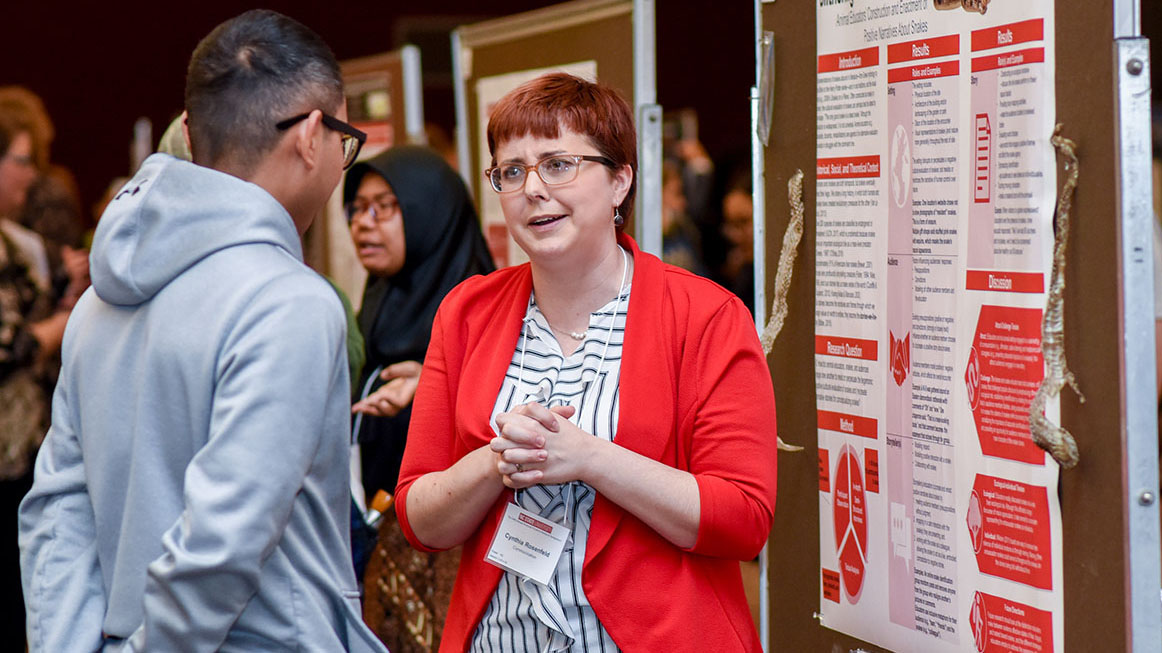 We can't get together on campus right now, but we still plan to celebrate Graduate Education Week online, including Spirit Week themes for each day.
The in-person Graduate Education Week events have been postponed or cancelled, including the Faculty Three Minute Research Talks and the Graduate Student Research Symposium. But we have planned some fun activities and different ways of recognizing our outstanding graduate students.
Each day, we'll share stories, videos and photos featuring our graduate students and alumni to celebrate how amazing you are. Watch our Graduate School News page and our social media channels to see what's happening.
Spirit Week themes:
Celebrate the daily theme by wearing your spirit wear in your Zoom classes and meetings, and take a photo and tag us on Instagram (@NCStateGradSchool) and use hashtags #GradPack #GradEdWeek.
Monday: Wear a Hawaiian Shirt Day
Wouldn't it be great to be on the islands right now? Dress the part today by wearing your brightest Hawaiian shirt or just a colorful shirt. If you have some plastic leis, put those on too and share your look with us.
Tuesday: Hat Day
Hats off to our professors, instructors and administrators who have worked so tirelessly to keep the university running during these difficult days. Don your favorite hat, and tip it to honor those who have gone the extra mile for graduate students.
Wednesday: Your Favorite Place Day
Wish you could be anywhere else right now? Add your "favorite place" background to your Zoom classes and meetings. (Instructions: Go to "Settings" in your Zoom app. Select "Virtual Background," and choose one of their backgrounds, or upload one of your own.)
Thursday: Pet Day
Your cats and dogs are so glad that you are finally home all day – share a photo of your pet in your home office or a photo of you and your pet together. Okay, you might want to avoid inviting the pets to class – too distracting for your classmates.
Friday: Wolfpack Spirit Day
Do you wear red on Fridays in your lab or classroom? If not, now's the time to start. Show your best Wolfpack spirit everywhere you go today (the living room, kitchen, bedroom), and share your photos on social media.
Friday: Virtual Happy Hour, 4 p.m. until
Wouldn't it be great if we could all sit down for a drink at the end of another busy week? Well we can, if we do it virtually. Grab the beverage of your choice, find a comfortable place and share a photo or video of yourself on Instagram, tag us on Instagram (@NCStateGradSchool) and use hashtags #GradPack #GradEdWeek — we'll share as many as we can. And think of the day when we can raise our glasses together again…
We look forward to celebrating with you.
Find other virtual campus activities during Graduate Education Week and beyond:
WellRec at Home helps you stay fit
No, you can't go to Carmichael Rec Center right now, but you can participate in online fitness and wellness sessions at home. This benefit, open to all students, includes fitness classes taught by instructors online, mindfulness and meditation sessions and even trivia nights twice a week.
Check out home wellness
Lulu eGames to announce winners April 8
The Lulu eGames is NC State's annual startup competition, awarding over $100k to NC State entrepreneurs, made possible by a generous gift from our sponsor, online publishing company, Lulu.com.This year, the Lulu eGames has gone digital. We'll be announcing the winners of this year's competition on the eGames page as well as on NC State Entrepreneurship's Facebook page on April 8 at 6 p.m.
Flourish Initiative unites arts and mental health
The Flourish Initiative seeks to unite themes of mental health and creative expression, encouraging healthy conversations; reflection about how the arts impact our well-being. Due to COVID-19, this spring we are unable to organize an in-person festival, but we believe that art and mental wellness should still be celebrated despite our social distancing. From taking advantage of some of our digital art making opportunities to diving into research on how the arts affect mental wellness, we invite you to take a moment to flourish.
Flourish events online
Celebrate Earth Month virtually
April is Earth Month at NC State. This month-long emphasis on the planet, sustainability and how you can make the world a better place is hosted by NC State's Sustainability Council and University Sustainability Office. To celebrate the 50th anniversary of Earth Day, we anticipated having around 50 sustainability-related events on campus this month. Though those plans changed due to COVID-19, Earth Month continues through a digital platform.
Learn more about Earth Month events