Writing Retreat, Other Learning Opportunities Go Online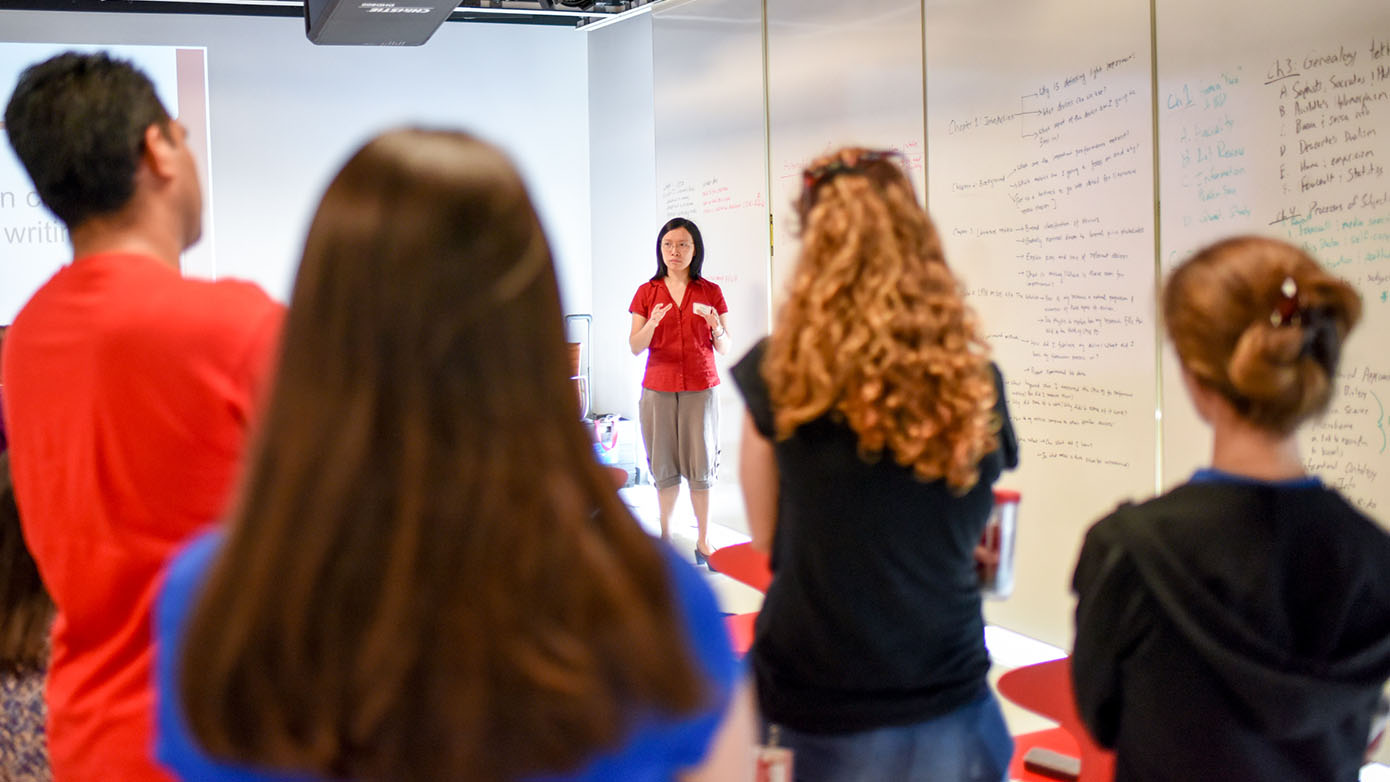 May 4 is the first day of the Graduate School's Writing Retreat, a week-long intensive workshop designed to provide students with support to complete a major writing project. Usually, the first day of this event, held twice a year, opens with students writing their goals for the week on large whiteboards.
This spring, the Writing Retreat will be offered virtually, since participants can't gather in Hunt Library as in the past. The 50 students who registered for the event will be meeting via Zoom and writing in their own spaces while participating in group workshops and writing rooms virtually.
The Graduate School's Professional Development Team has adapted to NC State's Coronavirus operations by moving a number of popular workshops and activities online. Team members have even scheduled hours to meet virtually with students who need advice. The Writing Retreat was the first major event to be reimagined.
Many students participating in the retreat come to work on their thesis or dissertation. However, students and postdocs are free to work on any major writing project, which may include journal articles, research funding proposals or job application documents.
This is the first time the Writing Retreat (previously known as Camp Completion) has been offered virtually. It is usually held in person during the first week following final exams during the spring and fall semesters. While participants can pay hundreds of dollars for virtual writing retreats, this one is free to NC State graduate students, according to Katie Homar, director of academic and engineering writing support.
To allow students to work "together," even while distancing, the retreat will include "writing rooms" with different experiences such as writing to music, writing with a partner and more. The optional writing workshops will focus on topics such as citations, posters, and the Electronic Thesis and Dissertation system.
The Virtual Writing Retreat will offer participants opportunities to:
Learn best practices for maintaining productivity and accountability on large writing projects.
Participate in daily check-in sessions for motivation and goal-setting.
Make progress towards a substantial writing project as demonstrated by daily word counts or other measurable goals that they set during the event.
Dedicate time to work on writing projects in a supportive online environment.
Participate in individual writing advising and career consulting sessions with members of the Professional Development Team.
Learn best practices for managing dissertation projects and communicating their research to diverse audiences through workshops.
Other online summer workshops for graduate students include:
Academic Packways: Gearing up for Faculty is an intensive and holistic two-day professional development opportunity, offered virtually June 4-5 for late-stage doctoral students and postdoctoral scholars who are interested in pursuing careers in academia. The program is designed to inform participants about the responsibilities and roles of early-career faculty and prepare them for the competitive academic job market. Applications for this year's program closed on April 17. Questions about the program can be directed to Vanessa Doriott Anderson, senior director of professional development programming.
Industry Job Search Strategies (JSS) will be offered online May 12-June 26. This module of Accelerate to Industry (A2i) is designed to help participants navigate the job market no matter where they are in a degree program. JSS offers talks given by industry experts and interactive workshops that are beneficial for anyone in their industry job search journey. Completion of JSS is a pre-requisite for the Industry Immersion Week. Enrollment closes May 8. Learn more about JSS in this article. For questions, please contact Joe Aldinger, director of A2i.
Engineering Cafes Writing Workshops return via Zoom videoconferencing, starting on May 19. Session topics include time management and writing effective summaries, writing concisely, composing professional emails, and designing effective reports. Click each link to learn more or register. Open to all NC State graduate and postdoc trainees. Contact Katie Homar for more information.
Grant & Fellowship Applications Workshop Series: Get a head start on grant and fellowship applications for the fall with this four-part online workshop series. Participants will gain strategies for identifying funding opportunities, interpreting calls for proposals, composing persuasive proposals, and much more. This workshop series will start June 16, and is currently running a waitlist. For more, contact Katie Homar or Courtney Hughes, director of the University Fellowships Office.
Teaching and Communication Workshops: The full suite of eight Teaching and Communication workshops will be offered through Zoom over the summer. Learn more and sign up through our website, or contact Vanessa Doriott Anderson with questions.
To learn more about professional development opportunities for graduate students and postdocs, subscribe to the Professional Development Team's newsletter.