Postdoc Research Spotlight: College of Veterinary Medicine
Highlighting Postdoc Research from the College of Veterinary Medicine
Hiroko Enomoto, DVM
Postdoc in Molecular Biomedical Sciences
Using animal models to test treatments for gastrointestinal diseases
Research Blurb:
There is no FDA-approved therapy for the treatment of celiac disease (CeD). Larazotide acetate (LA) is a first-in-class oral peptide developed as a tight junction regulator, which is a locally acting drug at the level of intestinal mucosal epithelium and it is a lead candidate for management of CeD. In this study, we assessed the in vivo release LA in the porcine gastrointestinal tract (GIT) using a novel ultrafiltration probe (UF). The collection of intestinal fluid directly from the intestine is ultimately necessary to determine the presence and concentrations of unbound LA at its site of action – which has never been reported despite LA currently being investigated in Phase 3 clinical trials. Probes were implanted into the mid-duodenum and proximal jejunum via midline laparotomy in the anesthetized swine. Once recovered, LA was orally administered to the animals and the intestinal fluid was collected via the UF over time without causing any distress or disruption to the animals. Intestinal fluid samples were analyzed by liquid chromatography–mass spectrometry. We observed LA in the duodenum and proximal jejunum following administration, and maximum LA concentrations (0.32-1.76µM) occurred at 1-hour in both locations, LA was detected for up to 4 hours following oral dosing. This was the first study in which UF was successfully placed in the GIT of swine and used to obtain concentrations of LA directly from the site of action. Our technique may have potential for use in kinetic studies to analyze other formulations of LA and locally acting drugs in the small intestine.
Key Finding:
The porcine gastrointestinal model (see figure) successfully allowed the collection of intestinal fluid over four hours without causing distress to the animal. The model allowed us to follow the transit and quantify LA in the small intestine after oral dosing. LA concentration was measured in mid-duodenum and proximal jejunum corresponding to the target site of Celiac disease over a three hours period after dosing using a novel, minimally invasive method of sampling. Our model could be extended to study other locally-acting compounds used to treat gastrointestinal diseases.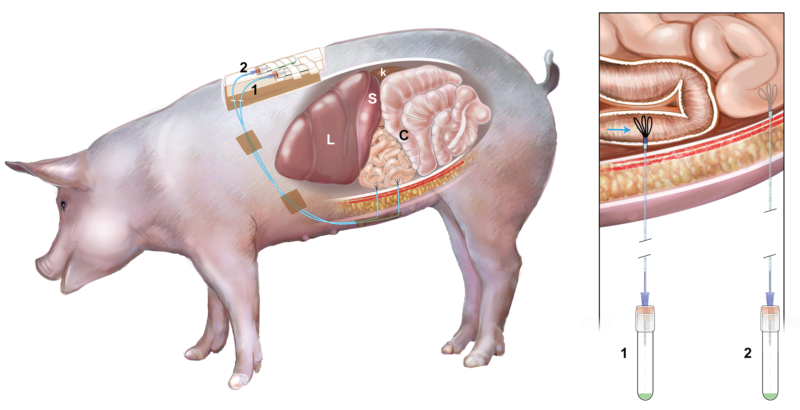 Research Impact:
Our model would be useful to study the presence and concentration of drugs and/or biomarkers in the small intestine. Target-site specific pharmacokinetic and pharmacodynamics studies could be performed to assess locally-acting drugs directly at the site of action. In addition, our model offers a novel means to ethically use animals in research, with the ability to collect multiple samples without causing distress or needing to sacrifice the animal.