Postdoc Provides Overview of International Higher Ed Research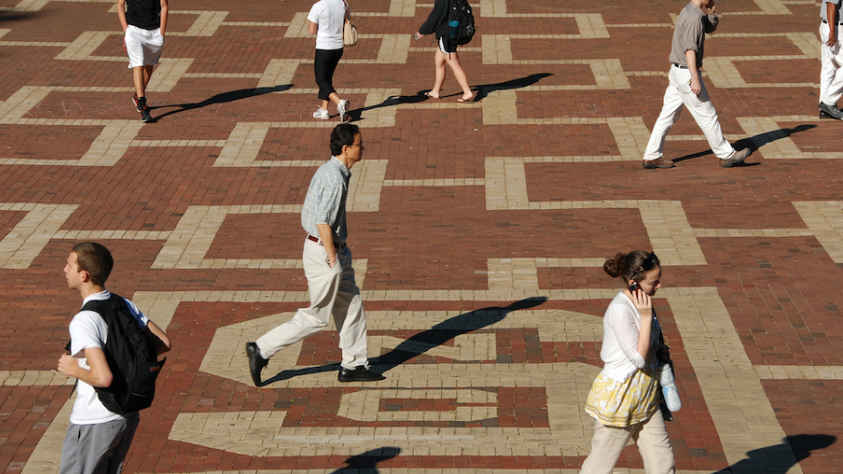 Research on international higher education has expanded and diversified over the past few decades, but an increase in structure and organization in the field could help provide further clarity for research that informs policies and practices, said Melissa Whatley, Ph.D.
To begin to address this issue, Whatley, a postdoctoral research scholar at the NC State College of Education's Belk Center for Community College Leadership and Research, co-authored a recently released white paper entitled "International Higher Education Research: The State of the Field." 
"The work came from our perspective that there wasn't much overarching structure to the research in international higher education and having an organizational framework would really help practitioners to think about what sort of research is out there, what gaps there are and how connections can be built between different branches of research," Whatley said.
In the paper, Whatley and co-author Bryan McAllister-Grande, Ed.D., of Northeastern University, examine major publications in international higher education research over the past six years, focusing on three core research areas: international education mobility and exchange, internationalization and global learning, and comparative higher education.
The paper proposes a common, conceptual framework centered around these three topics while exploring the theoretical, empirical and methodological questions and challenges faced by researchers in the field. These challenges include a lack of accessibility to data to conduct new, meaningful research and the quality of research design, which Whatley and McAllister-Grande propose could be improved through the use of data triangulation, innovative analytic strategies and comparison groups.
The use of comparison groups in future research, Whatley said, is crucial for helping researchers and practitioners identify the true benefits of international higher education experiences, such as studying abroad. Although many associate international education experiences with increases in skills like intercultural competence and self-efficacy for participants, there is limited research that compares those gains in students who study internationally to similar students who do not.
"We would like to be able to say that there's evidence that study abroad causes some sort of change in students, but I don't know that we really have that sort of evidence yet, because there's a lack of comparison in a lot of the existing research," she said.
Understanding the benefits of international higher education is important as researchers like Whatley also examine ways to make higher education more accessible to more students, particularly those who attend community colleges.  By examining the areas of international higher education that need improvement, such as the stratification of study abroad opportunities, Whatley said, researchers could ultimately improve experiences for students and faculty to create an international education system that enables people to work across borders to solve truly pressing global issues.
"The coronavirus pandemic has underscored how connected we all are, how important it is to work together and how important things like intercultural competence are," Whatley said. "A lot of the big challenges we face now are global. We're not going to find solutions as an individual country."
Three Takeaways from "International Higher Education Research: The State of the Field"
Data surrounding higher education must be made widely accessible in order to facilitate further analysis in the field: "Challenges in using data from multiple institutions contribute to the number of single-institution case studies that dominate international higher education research today. While single-institution case studies are most certainly valuable in their ability to provide detailed context for data, they do little to speak to broader trends in international higher education."
Use comparison groups and data triangulation to improve the quality of research design: "Through using comparison groups, researchers are able to illustrate that the case under investigation is unique in some way, perhaps as the result of a specific intervention or circumstance. Data triangulation — using multiple data sources to provide insight into the research question at hand — is another means through which comparison can be brought into a research project."
Researchers should employ both qualitative and quantitative measures in their research: "Although it is certainly not the case that this advanced quantitative work is entirely absent from international higher education research, researchers and scholar-practitioners are only beginning to apply these approaches to address issues in international higher education. As a whole, the field would benefit from more comprehensive training in both qualitative and quantitative research methods."
This post was originally published in College of Education News.