Expand Your PACK
Expand Your Pack: The Graduate Writing Center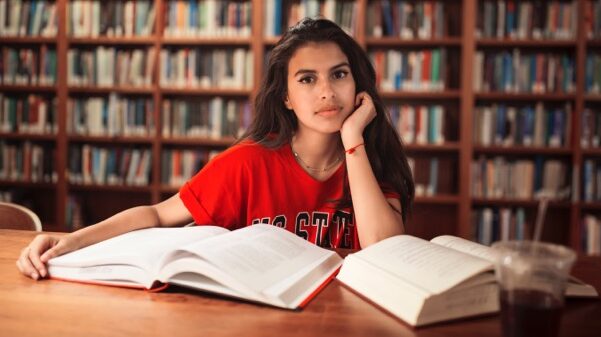 You have to write a review paper by the end of the semester. You have an outline and some notes, but you need more direction. Or perhaps you have a complete draft of a research paper but aren't sure if it is coherently organized.
No worries! NC State's Graduate Writing Center offers one-on-one meetings with trained peer consultants to provide feedback and help you communicate your ideas clearly and effectively. This fall, you can schedule these GWC appointments online.
To find out more about how the GWC can help you, we sat down with Giselle Cherbony, a veteran peer writing consultant, consultant trainer, and second year English master's student. Giselle talks a bit about her journey as a consultant at the GWC and about how Gradpack writers across the disciplines can get the most out of its student-centered writing advising.
How did you get interested in peer consulting?
I actually went to NC State for undergrad after I transferred from a community college. I wanted more experience in the English field and a professor told me that the writing center was a really good opportunity. So I applied to be a tutor– a writing consultant is what we call it NC State–and I got it. I was mentored as an undergrad consultant. Having the ability to talk with other tutors about strengths, weaknesses of being a tutor really encouraged my growth, a tutor, as a collaborator and as a writer.
What do you find rewarding about being a peer consultant at GWC?
The best part about GWC is that we see so many kinds of writers. I'm an English Lit major, but I see writers who are getting PhDs in textiles, writers who are getting masters' in education, statistics majors, and social science majors. Anyone can make an appointment with any kind of writing.
If we wanted to make an appointment, what are some specific types of writing projects that GWC can help with?
Journal articles, resumes, personal statements, any kind of application material, such as vet school applications and medical school applications. If you have a conference paper, you can come in with that. We also do group appointments. So if you have a collaborative project, we can work with more than one person at a time.
If you haven't started writing yet, we can also help you brainstorm ideas, we can talk through your ideas and help you put pen to paper.
What can we work on with the writing consultant during a session?
I think the biggest thing [misconception] is, people come in and say, "Well, I really want to work on my grammar". If there's grammar patterns, we definitely touch on those. But if you're familiar with a writing center space, you know that that's not necessarily our highest concern.
I think our higher-order concerns are making sure your thesis, purpose statement is clear, making sure your organization and flow work well. At the end of the day, it is your session. So whatever you want to work on is going to be your highest concern.
But if as consultants, we're seeing issues with those higher order concerns, like organization and flow, that's something that we're definitely going to address, so that we can help you become successful autonomous writers. That's really our goal at the writing center–to help our tutees be autonomous writers and become better writers.
The GWC offers 30 and 60-minute appointments. What can we work on in these time frames?
I always recommend that writers schedule an hour session, especially if they want to go over a lot of text; the longer the session, the more pages or paragraphs that we can get through.
If you have smaller concerns, like if you want someone to check your citations, you could schedule a 30-minute session.
We also have a lot of handouts and resources, and people find these really helpful, when they're writing afterwards. If we can't cover a topic in your session, we can give you a handout to further explore it on your own and apply it to your work.
How would you recommend that we prepare for a writing advising appointment?
Share your work through a Google doc with the writing center consultant. If you do that before the online appointment, then your writing consultant can take a peek at it and have a general idea of what you want. If you also have any prompt or application instructions, you should share those, too.
But at the end of the day, if you have nothing but just a prompt, that's okay too. We can work through that with you.
What are some benefits of an individual appointment with the GWC?
At the writing center appointment, you'll leave with some kind of knowledge about your writing, and every single writer can improve. Even if you already feel more comfortable about your writing, you can still improve. A lot of times people come to a session and after they're done with the session, they're like, "Wow, I'm so glad I signed up. I did not realize how helpful this was going to be."
Just being able to talk about your writing with somebody, especially someone who is a trained peer consultant. I think the best part about the writing center is that it's definitely low stakes. You're not with a professor or someone where you could feel a little bit more intimidated. Being a peer to peer service really makes things a bit more easy going.
Are there other insights about GWC that you would like to share with our Gradpack?
When I became a tutor, one of our requirements was that we had to sign up for an appointment ourselves, and I didn't realize just how beneficial it was until I did it. I think the biggest thing about going to a writing center appointment is having that person who, as a third party, hasn't seen your work yet and just being able to talk out your writing. Being able to talk out your ideas really helps.
Visit the GWC via Zoom!
The Graduate Writing Center, now part of the Academic Success Center, offers 30- and 60-minute online appointments with peer consultants. Visit their home page to learn more or sign up here for an appointment.