PACK in Action
Inside My Grad Life: Study, Research, Social Life and Beyond
Personal Profile by Textiles Graduate Student Samit Chakraborty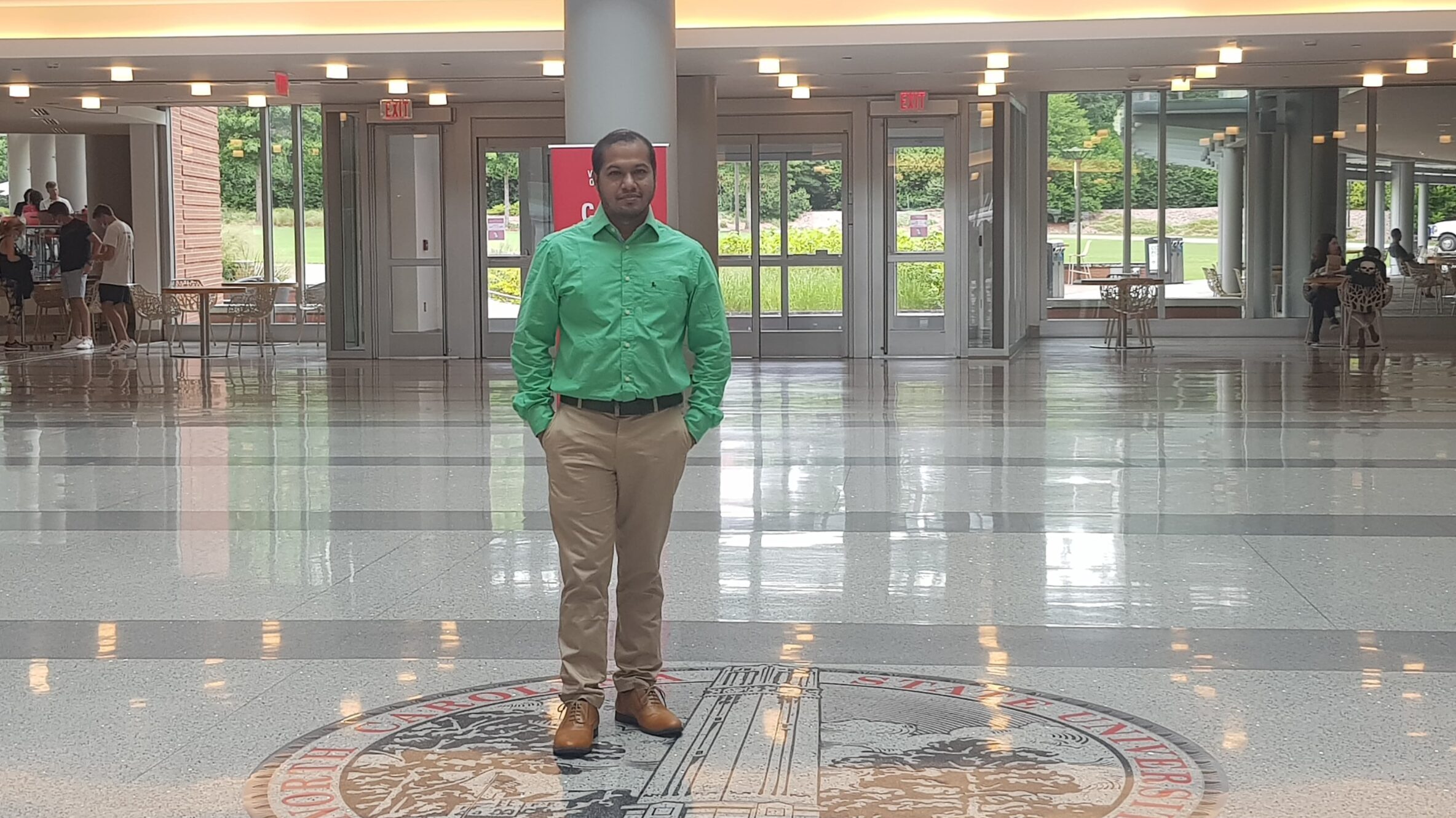 Introduction
I'm Samit from Bangladesh. I grew up in a family that has always been involved in the textile business. As such, I have had a deep interest in knowing the ins and outs of textile and fashion manufacturing. This led me to pursue education training in textile engineering, receiving my B.Sc. in Textile Engineering from Bangladesh University of Textiles. After graduating, I started my career in the apparel manufacturing industry. An interest in doing further research led me to pursue a Master's degree from The University of Manchester, UK, where I received the prestigious Equity & Merit Scholarship to pursue my Master's degree there. After completing my Master's, I served as a lecturer with Daffodil International University, Bangladesh.
Journey to NC State
My research interest in technology development and sustainability in textile and fashion manufacturing inspired me to pursue a research degree from the world's most reputed institution for textile and fashion research: Wilson College of Textiles at North Carolina State University. I was admitted in Fall 2018, receiving the North Carolina Textile Foundation Fellowship (NCTF), as part of the PhD in Textile Technology Management program.
My previous experience of studying in a cosmopolitan city has helped me to cope with a new culture and country. I would specifically mention the help that I received from my department, graduate school and the Office of International Services (OIS) before and after my admission at NC State University. People of the respective units were always helpful including letting me know how to complete necessary documentation, what to keep in mind during my journey to the US, and who to contact after arrival in Raleigh. The small pack group and North Carolina State University – Bangladesh Student Association (NCSU-BSA) helped me a lot in finding accommodations and knowing about Raleigh. Students can find more about NCSU-BSA on their official Facebook page. Finding a supportive community allowed me to settle into my graduate life in Raleigh rather smoothly.
Research & Achievements at NC State
I am doing my PhD in Textile Technology Management under the supervision of Dr. Marguerite Moore and Dr. Lisa Parrillo-Chapman. My research area encompasses development and implementation of new technologies in the textile and fashion industry. My PhD research is based on automatic fabric defect detection using machine learning techniques. It can be implemented in real-time fabric defect detection in the textile manufacturing industry. Such applications will be beneficial to improve the textile and fashion manufacturing processes in developing and developed countries.
I have always believed that the implementation of technological advancements creates new opportunities for people and helps in making the world a better place. The innovations in textile and fashion industry have motivated me to conduct in-depth research on the implementation of machine learning technology in this domain. My research area also covers the study of disruptive technologies such as 3D printing and sustainability. My recently published study demonstrates how 3D printing technology and sustainable textile manufacturing are crucial for manufacturing process improvement. I believe I will extend innovations in this area through my research contributions.
Both my coursework and research work needs an in-depth knowledge in textile manufacturing and computer programming, and I find integrating these two areas to be difficult at times. However, my perseverance and dedication to solve these challenges has paid off with new interdisciplinary and impactful research projects.
To improve my research presentation skills, I participated in the Textile Research Open House 2019, where I shared my research ideas with industry professionals. This was great opportunity to present the importance of my work to individuals who are focused more on useful applications than academic theory and novelty for its own sake. In industry, the practicality, scalability, and financial value-add of one's work is emphasized and requires thinking about different aspects of a research project than one experiences in a purely academic setting.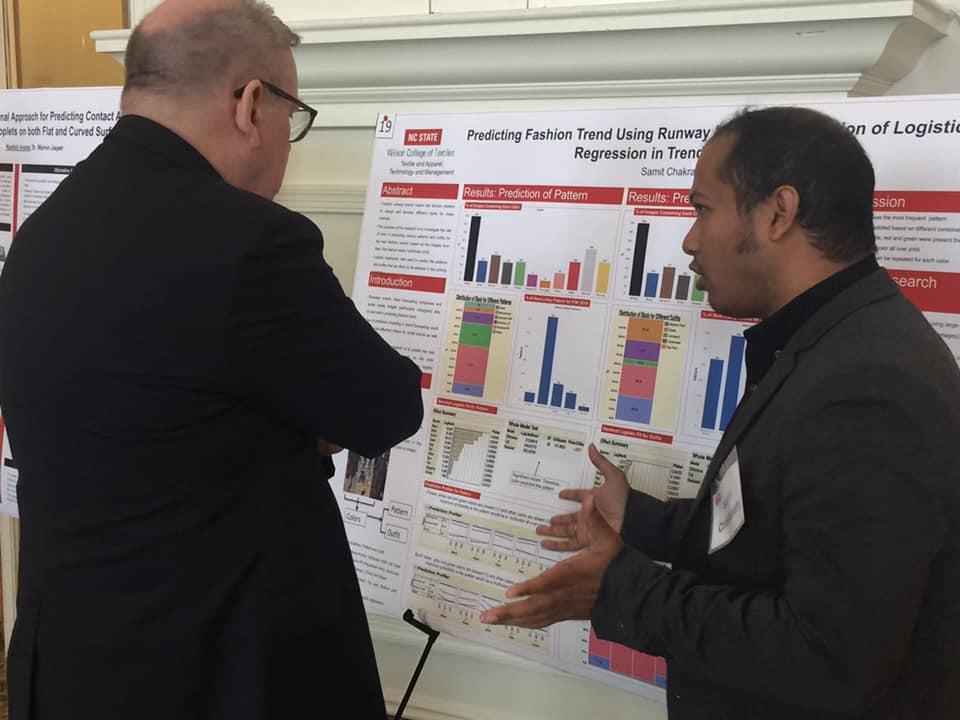 Recently, I received an NC State Graduate School Summer 2020 Fellowship (learn about other fellowship opportunities), which is awarded to support doctoral students who are making excellent degree progress. In addition to my academic (4.0 GPA) and scholarly achievements, publishing multiple peer-reviewed journal articles on topics including 3D Printing technology, textile coloration technology, sustainability and supply chain disruption due to COVID-19, I have also enjoyed mentoring future textile researchers.
Recently, I worked with rising high school senior students interested in textile and management study through leading a project during the 2020 Summer Textile Exploration Program (STEP). Here, I could use my research and teaching expertise to help students think differently and create new ideas. The goal of this program is to make participating students familiar with the five undergraduate degree programs offered in the Wilson College of Textiles, applying to NC State University, the Centennial Scholarship, and future job and internship opportunities. The program gives the students opportunities to choose their top project interest and then allows them to work on a project relating to innovative textile and fashion industry topics. I found it very rewarding to inspire the next generation of textile researchers by participating in the STEP program.
Future Goals
My mission is to extend my research work at NC State and collaborate with US textile and fashion industries to directly benefit their manufacturing and retailing strategies. Within the next 5 years I envision myself establishing a research enterprise dedicated to developing prototypes of technical applications and technology transfer from lab to textile and fashion industry. I would like to see myself become a prominent researcher in my field within next 10 years.
Advice to New & Fellow Grad Students
Grad life is one of the crucial and critical phases for students, where we learn how to develop skills, be organized and focused, prepare ourselves for high-skilled jobs, cope with financial stress, think differently and maintain social life at the same time. My advice to all graduate students and postdocs would be to take care of your mental and physical health during this pandemic (see tips here), which is by far the first and foremost task. Graduate students should seek to maintain a proper balance between academic and social life in order to be successful in life.
To new students my advice will be always checking the department, graduate school and OIS webpages for information, updates, and resources. You will get the answers to almost all of your questions from these sources. The officials and coordinators working here can provide you with the most up-to-date information on admissions, visa questions, and other rules and regulations. The other essential resources are NC State libraries, Office of Information Technologies (OIT) and transportation department. Students should use these sources in order to make the most of their time at North Carolina State University. The new students section of the Graduate Student Association (GSA) website also provides information about events, news and a survival guide to Raleigh and NC State University.
It is also very beneficial for students to get involved with student organizations. I have worked as an Officer with NCSU-BSA, where I helped in arranging different cultural events as a member of this student organization. I believe making friends with other student communities and knowing about their cultures can help you in many ways especially in making new social networks and getting new ideas about people and resources around you. It helped me not only making new friends but also evolving my leadership skills.

I have also served as a member of NC State Dining Committee since 2019. As a representative of graduate students I communicate with the rest of the dining committee and learn about the initiatives beginning taken to improve the on-campus dining experience for students. I am also working as Secretary of the Graduate Student Association (GSA). Our goal is to work with and for NC State graduate students. GSA provides support for the betterment of graduate students, including working with the Professional Development team in the Graduate School to arrange various student-centered academic and professional development events and workshops. The best thing I have experienced with GSA is that I have met some wonderful people, who are always enthusiastic to go above and beyond to help students.
Lastly, my advice to graduate students would be hone your research and scholarship skills. Students who want to pursue PhD or work in academia should learn how to write and publish research papers. They should study research journals and magazines to get new ideas for innovation. And graduate students should feel like they can share their thoughts and feelings with academic advisors or supervisors when facing any confusion or doubt. My advisor as well as mentor Dr. Marguerite Moore has always been highly helpful and supportive to me since the very beginning of my journey at NC State.
NC State University labs and libraries have great resources, which should be extensively explored and used by the students. In addition, the Graduate school arranges different workshops related to writing, effective communication skills, and more throughout the year. Teaching Assistant workshops for new students can also be motivating for the students interested in working in academia.
Students interested in working in industry can find different off campus jobs and internships by attending career fairs held throughout the year. I got my summer internship in 2019 through an interview with DyStar during the Wilson College of Textiles Career Fair. My summer internship with DyStar R&D department was full of new experiences. I was able to utilize my existing skills as well as learn a new skill set for product development while working there.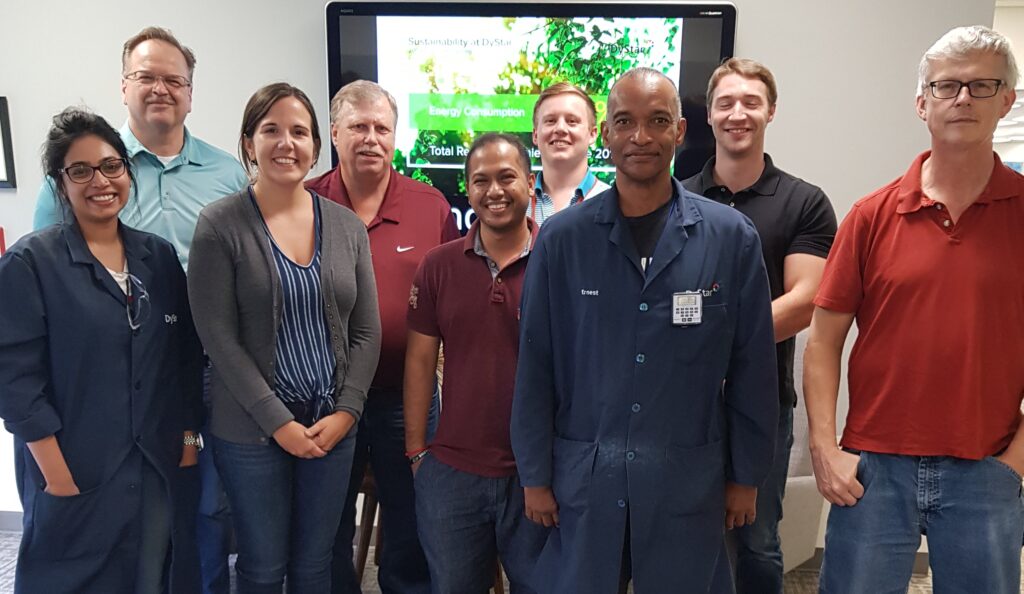 Students can also look into on campus jobs that would help them to improve their existing expertise and learn new skills in the workplace. I worked as a Facility Assistant last year at Carmichael Gym, where I learned more about administrative processes, customer satisfaction, leadership, workplace organization and team bonding, which I believe will assist me in my future endeavors. And, as always, graduate students can make proper use of this on-going time by learning new skills and getting online certificates for various for-credit and non-credit courses.
Final Thoughts
My industrial and academic work experience has allowed me to bridge my upbringing in a textile business based family to develop and implement innovative technologies in the textile and fashion industry. I believe my forthcoming research will greatly contribute to prepare the textile and fashion manufacturing industry for a new era. I am fortunate to have a well-balanced grad life at NC State University, where I have learned the essence of research and realized the importance of leadership, networking, friendship, and skill development. It is the combination of these experiences that I will take with me as I forge forward in my career with confidence.