Enhancing Student Success
Passion for the Unknown, Possibilities of Sustainability Drive Master's Student Alyssa McNamara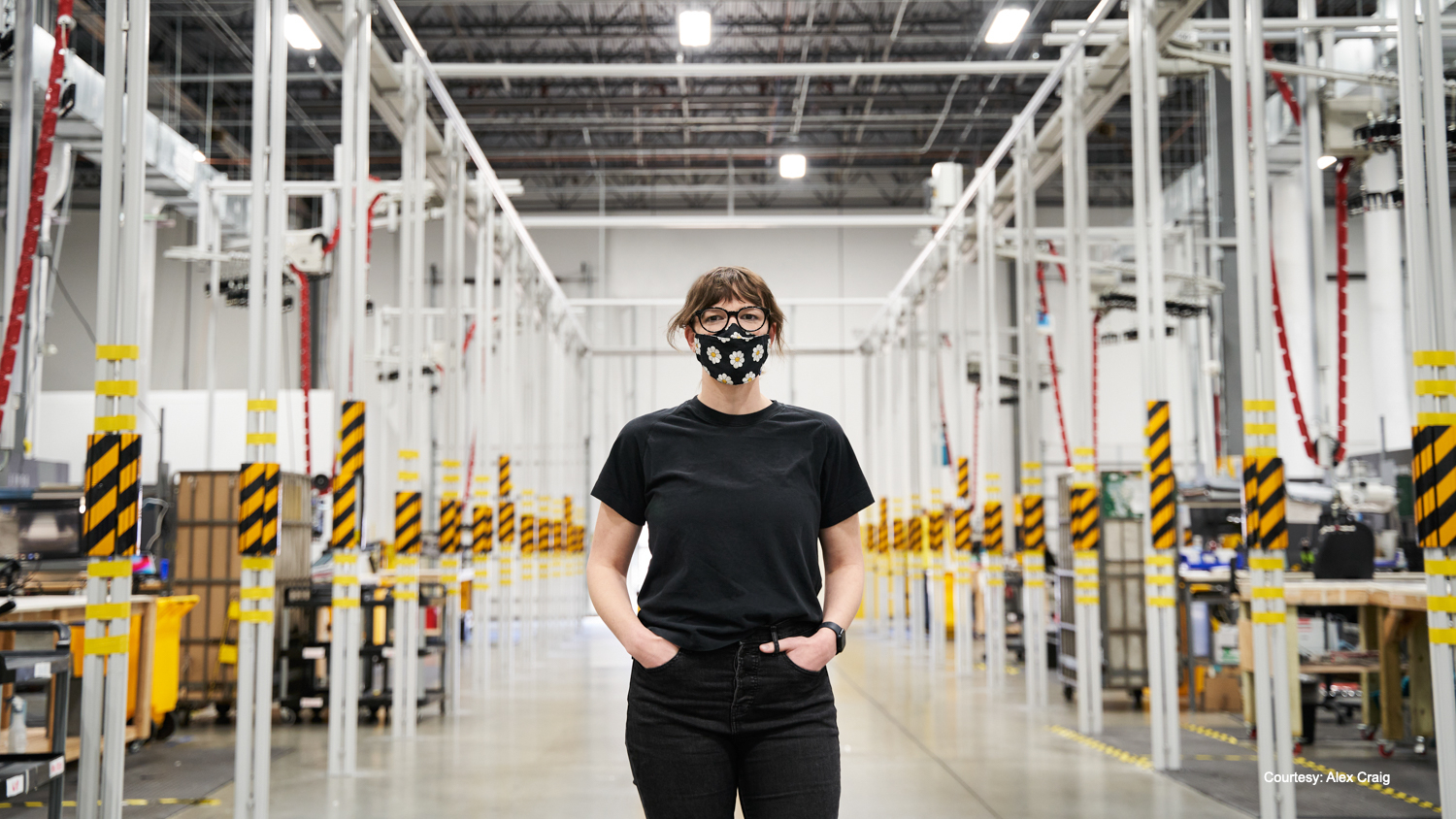 By Sarah Stone
What you don't know often proves just as exciting as what you do. That's a recurring theme for master's student Alyssa McNamara, and it's what ultimately drove her to return to the Wilson College of Textiles a decade after she graduated with her bachelor's degree in textile technology.
"I was very happy and fortunate to be able to pursue a set of degrees that allowed me to explore both my very science-based, technical brain as well as my artistic and more free-thinking brain," McNamara, who also earned a bachelor's degree in art and design from the College of Design, says. "I just felt like for me I still had a gap in knowledge."
McNamara credits fellow Wilson College students and alumni with providing the catalyst to learn about what a Master of Textiles would mean for her. She made the connection during a conference on sustainability in the textile industry hosted by the American Association of Textile Chemists and Colorists (AATCC).
"When I spoke to them about their projects, they told me that having dedicated time to be able to delve into concepts really helped deepen their knowledge and made them a more well-rounded and versatile asset to their companies" she says. "So I was craving the challenge of something to kind of force me into thinking in that critical way in order to gain that kind of education."
Advancing Technology and Sustainability at Spoonflower
Growing up, most members of McNamara's family had earned an advanced degree, so she says she's always had an interest in obtaining a master's. However, she says she waited so long to actively pursue the degree because she already had secured a fulfilling job with her undergraduate degrees. She currently works as a research and development engineer in process innovation for textiles and wallpaper at Spoonflower.
"Because we're such a small team, we wear a lot of different hats, so one of my favorite things about my job is that I might not be doing the same thing at work every day," McNamara says. "So I have a lot of versatility within my job, which can be tricky, but also exciting."
McNamara works with fabric every day, partnering up with Spoonflower's product development team to source new and different materials.
A large part of her work also advances sustainability in the industry through growth and development in digital textile printing. This fairly new form of printing is unique in that it doesn't require a post-wash process. That means that not only are water and chemical use reduced, so are manufacturing lead times.
"My team at Spoonflower partners with best-in-class technology companies in order to vet their digital textile printing machinery, test it out and give them feedback to help them make it the best that it can be, so that it benefits everybody who uses it," she says.
With no interest in pressing pause on a career she loves, the college's virtual Master of Textiles program provided the perfect solution.
"I have been able to stay employed throughout my entire master's degree while focusing on my coursework on nights and weekends. It allowed me to have an income while I was in grad school, which means I didn't have to take out student loans," she says. "You're still getting all of the same kinds of education you would get in person."
McNamara says Spoonflower also recognized the value of this program.
"I was able to make the case to my employer for why this graduate school education would be not only important to me, but also important to my job, so they offered to fund a portion of my master's degree."
Deepening Her Knowledge of Sustainability Inside and Outside the Classroom
So far, McNamara says her favorite part of the master's program has been deepening her knowledge of sustainability in the textile supply chain through courses with experts like Professor Karen Leonas.
McNamara also pursues continuing education outside of NC State through AATCC, where she's served as chair of its interest group for printing technology since 2019, as well as through Harvard University. She graduated from its executive education program for sustainability leadership in December 2021.
AATCC recently honored McNamara for her impact with its "Future Leaders Award."
"I was definitely honored. I think that myself and my fellow awardees all share the same passion in wanting to change the industry because change is slow, change is hard," she says. "But at the same time, it's important."
This post was originally published in Wilson College of Textiles News.