Alumni Success
Red Hat Director of Marketing Emily Curley (MBA '11) Builds Career With Jenkins MBA
Emily Curley, a Jenkins MBA alum and director of marketing at Red Hat, shares about her career path, what she gained in the Full-time MBA program and a few words of advice for prospective students.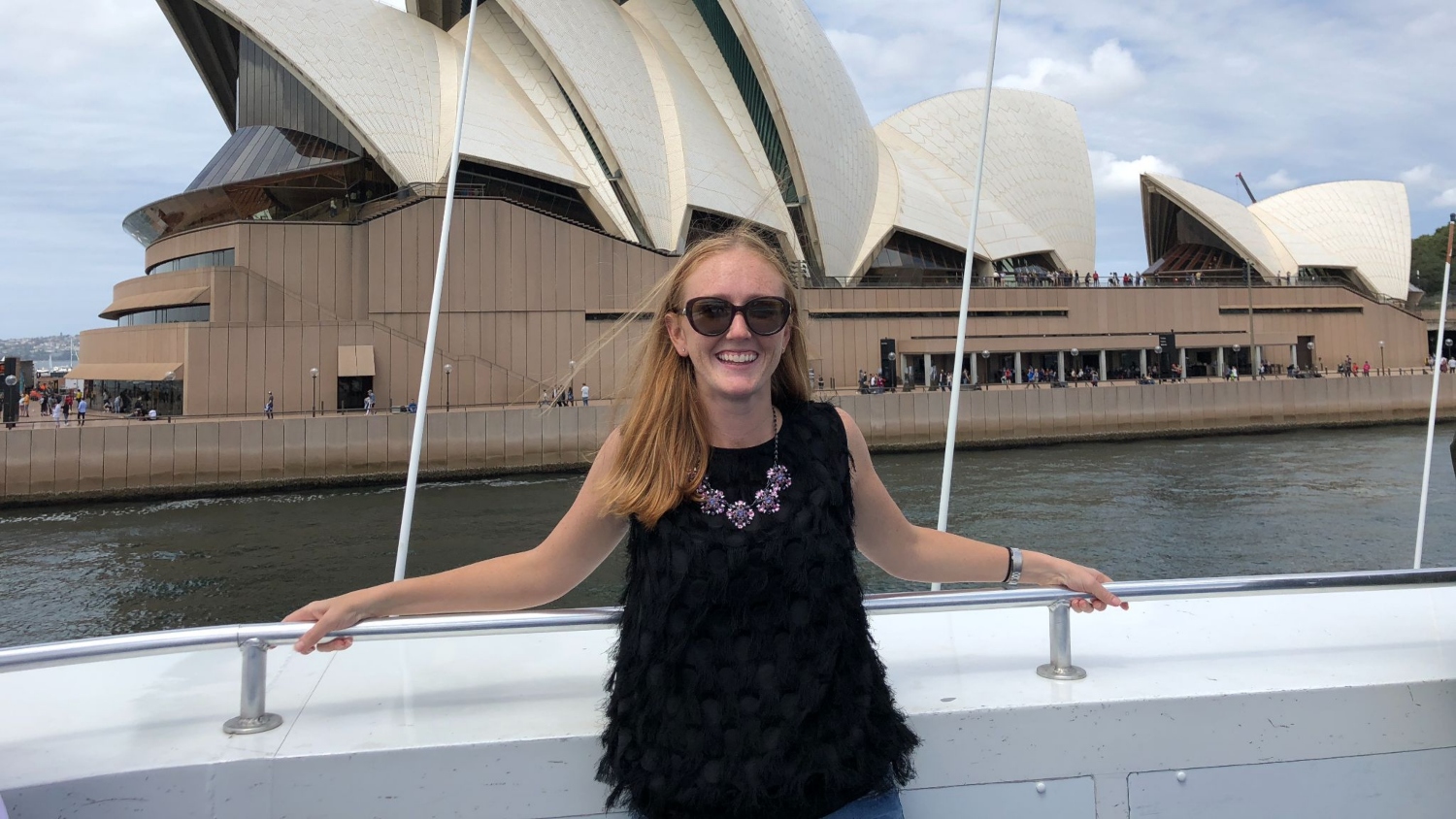 Twelve years ago, Emily Curley took a leap of faith and made a decision that altered the course of her career. During her second year of the Full-time MBA program, she had received a handful of full-time offers – but turned them all down to accept an internship with a rapidly-growing company headquartered in Raleigh, North Carolina called Red Hat.
"I saw them for the first time at an MBA conference in New Orleans. Representatives from all the big firms – like McKinsey, PwC and Deloitte – were there. And then there was this company with red fedoras and red boas. And I went, 'I don't know who they are, but I'm in. Those are my people,'" Curley laughs.
Turning down full-time offers to accept an internship? That might be one of the riskiest things I've ever done.
Remembering that one of her classmates worked for Red Hat, she pulled him aside after class to ask more about the company. As it turned out, his team was looking for an intern – and, going with her gut, she went for it.
"Turning down full-time offers to accept an internship? That might be one of the riskiest things I've ever done. But something in me said it was the right thing, so I followed my intuition and turned down the other offers. That led to my first full-time gig with Red Hat – helping them figure out this crazy thing called cloud," Curley says. "Today, I'm still here, working as the director of financial services programs."
Laying a foundation
Prior to joining Red Hat, Curley spent years living in the Los Angeles area creating and working with marketing programs and technologies in the media and entertainment industry. When she neared the 10-year mark, however, she started reevaluating her career path.
"I got to the point where I had to decide if I was in or if I was out. I saw a lot of the folks around me who were incredibly successful, but I realized that they didn't spend as much time with their families or didn't have the kind of lifestyle that I would want my family to have. I wanted a great career and a family, so I started looking at other jobs. All the ones that sparked my interest were MBA-required, so I decided to go get my MBA," she says.

Several interviews and a full-ride scholarship later, Curley says, she landed in the Jenkins Full-Time MBA program at NC State. Thinking back to her time in the program, she realizes how many lessons she continues to carry with her.

"Stacy Wood's consumer behavior course was by far one of my favorites. I think everyone should take that class. Understanding why people do what they do and what makes them tick has been incredibly beneficial in my career," she says.
"I also learned a lot from Bart Queen, a former executive coach in the Career Center. The presentation skills I learned from him have been both a blessing and a curse. He did such a good job at giving direct, honest feedback to make everyone into a stronger presenter. But now, whenever I watch a presentation, I hear Bart's voice in my head," she laughs.
Sometimes I learned just as much from [my peers] as I did from my professors.
The lessons she learned from fellow students also left an impression.

"I especially loved taking courses with students in the part-time program because they brought their day-to-day experiences and real-world examples into the classroom. Sometimes I learned just as much from them as I did from my professors. Hearing what they encountered, how they handled it and what worked prepared me for similar experiences in my career," she explains.
Learning to build
Looking back, two experiences in the Jenkins MBA program stand out most to Curley – and she credits these with helping her become the leader she is today.

"In my second year, I had the opportunity to participate in a global experience at the IÉSEG School of Management in Northern France. We worked in groups and I was the only American, which I really liked, because it forced me to learn all these different cultural norms and ways of working and communicating. It prepared me for the global program roles that I've had since. Plus, I learned to work very quickly and ditch some of my perfectionistic tendencies," she says.

While in the Jenkins MBA program, Curley also had the opportunity to attend a national MBA conference and compete in a marketing contest.

"NC State hadn't done one before, but a group of us from the MBA program decided to do it and we ended up winning. We had to figure it out as we went and got to come together, collaborate, figure it out and pull it off. It was great, because that's how I like to work. I love blank walls and open spaces," she says.

That passion to figure things out, she explains, has given shape to her entire career.

"If I had to describe myself in one word, it would be 'builder.' I love starting from scratch and building things from the ground up. At Red Hat, I had the great opportunity to work with Red Hat CloudForms®, and then Red Hat OpenShift. Helping take OpenShift to OpenShift 3, which was a whole redesign and a huge launch, was an incredibly hard but rewarding challenge. I also got to jump over and help build the Red Hat Developer Program. When they started ABM and Verticals, I ended up moving there. Now, I'm helping build our financial services vertical," Curley says.
Whether it's designing new programs or writing articles for the Enterprisers Project, an online publication focused on helping CIOs and IT leaders solve problems, Curley loves discovering new ideas, piloting new programs, creating new content and helping her customers do their jobs better.
Leaving a legacy
Carrying all these experiences and lessons with her, Curley now seeks to pass them on to those who come behind her – including those who are making decisions about when and how to pursue their MBA.

"One of the biggest things I tell prospective MBA students is to maximize their educational experience by gaining more professional experience first. For example, learning about the marketing funnel and the customer journey is really valuable – but it's helpful to learn first in the real world that it sometimes looks more like a jungle gym. That makes discussions in the classroom far richer," she says.
 "Trust your intuition and try new things – even when they make your palms sweat – and surround yourself with people who will cheer you on and who are smarter than you."
"Another thing I often tell them is that if you're going to get a degree, the thing that matters most is the work you're willing to put into it. It's about getting to know your professors, networking with others and taking advantage of recruiters coming in. If you're only attending classes and not doing any of the other stuff, what's the point? It's not a 'If you build it, they will come' just because you got your MBA. You also have to attend events, say hello and put yourself out there. Those habits are so important to build."
As for the best advice she's received professionally?
"Trust your intuition and try new things – even when they make your palms sweat – and surround yourself with people who will cheer you on and who are smarter than you. That way, you can always learn," she says. "The other big piece is to find something you can be passionate about outside of work. For me, that's working with JDRF to help find a cure for Type 1 Diabetes."
To learn more about the Jenkins MBA program at NC State's Poole College of Management, click here.
This post was originally published in Jenkins MBA News.