Writing Retreat
Make progress on your writing project and develop productive routines at the Writing Retreat! Our Professional Development Writing Retreat offers graduate and postdoc trainees the opportunity to make substantial progress on dissertations, theses, manuscripts, and capstone papers through five (5) days of dedicated writing time. You can make progress on your writing project while participating in a supportive community.
The writing retreat is held at the end of every fall and spring semester.
For the first time in two years, the Spring Writing Retreat will take place in person and is scheduled for May 15-19 at Talley Student Union. This week-long event will feature dedicated writing time, guest speakers about campus writing-related resources, and opportunities for individual advising. Registration will begin in March with a sign-up form available in the Graduate School newsletter.
As we return to an in-person Retreat, we have added a $40 non-refundable registration fee to cover the cost of food and supplies, and to encourage commitment to the week-long event. To enroll in the writing retreat, you must fill out this form and submit your registration fee via the enclosed link.
Capacity is limited to 30 participants, so we encourage you to sign up early.
Participants who register for the retreat will receive additional information, such as a program agenda, in early May.
Contact Katie Homar (kshomar@ncsu.edu) with questions. See FAQs below for more information.
What to Expect at the Virtual Writing Retreat
Participants in the Writing Retreat will:
Learn best practices for maintaining productivity and accountability on large writing projects.
Participate in daily check-in sessions for motivation and goal-setting
Make progress towards a substantial writing project as demonstrated by goals that they set during the event.
Dedicate time to work on their writing projects in a supportive environment
Have opportunities to learn about tools and campus resources for managing writing projects through optional information sessions facilitated by partners such as University Libraries, University Fellowships Office, and the Graduate Writing Center
Fast Facts and Questions:
Who can participate?
The Writing Retreat is open to all masters, Ph.D., and postdoctoral trainees in any discipline who are working on dissertations, theses, capstone projects, and other large writing projects.
The Writing Retreat is especially beneficial to trainees who:
are in the later stages of theses, capstone projects, dissertations and research articles for publication.
want to get a head start on academic job application materials for the fall job market–such as  research statements and teaching portfolios
How do I apply?
Applications are posted in November for the Fall (December) retreat and March for the May (Spring) retreat
Attendance at the Writing Retreat requires an endorsement from your adviser, PI, or dissertation director. We ask that you obtain endorsement so that your adviser/PI supports your attendance at this event.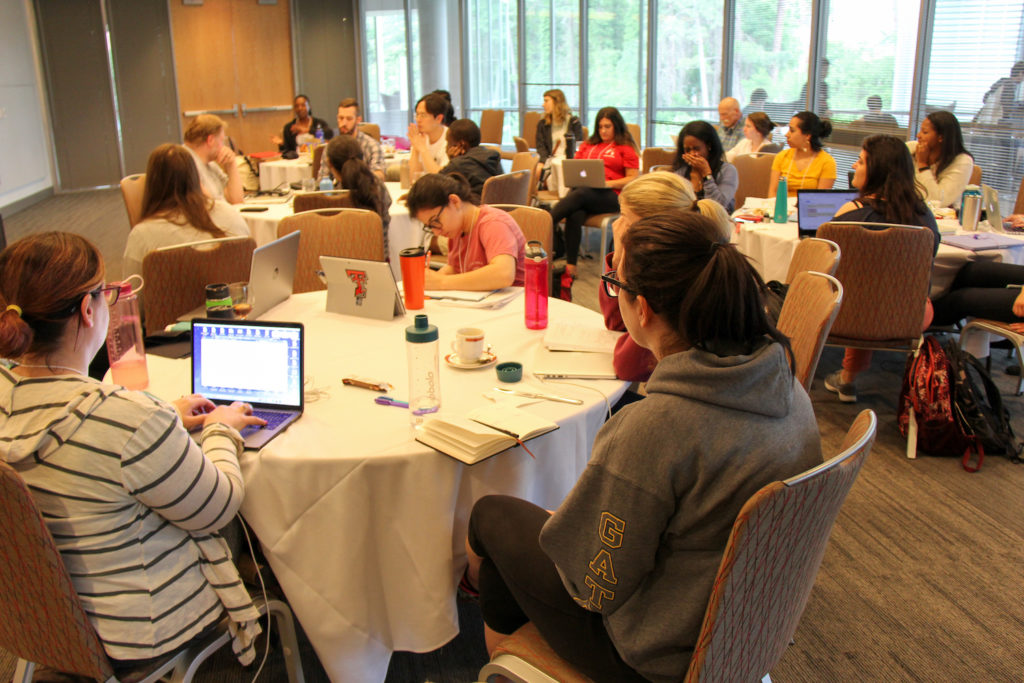 Questions and More Information
Direct questions about the Writing Retreat to Katie Homar, Director of Academic and Engineering Writing Support.