Postdoctoral Research Symposium
Spotlighting postdoc research, highlighting career paths, and facilitating connections for 9+ years.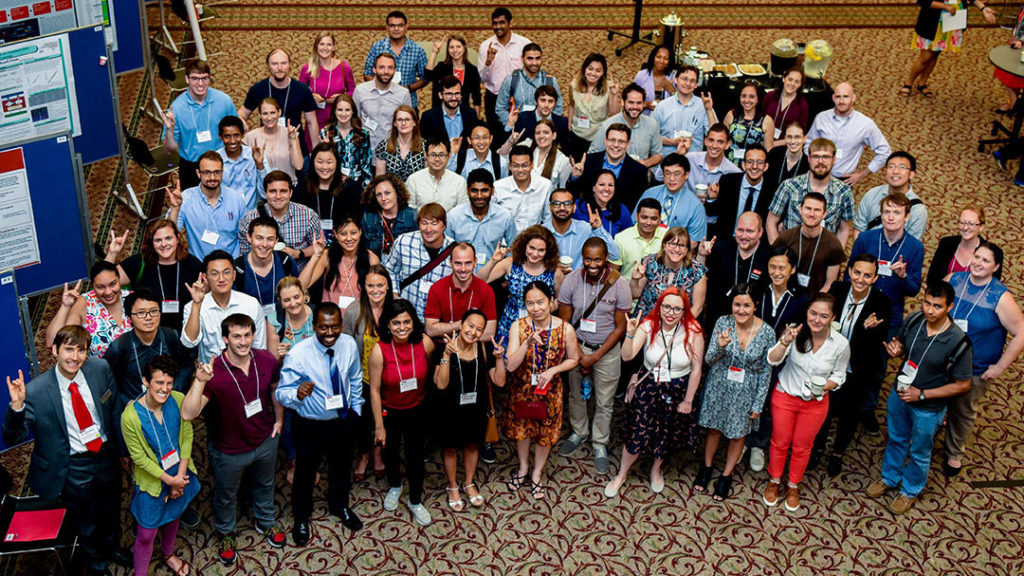 Postdoctoral Research Symposium
The annual Postdoctoral Research Symposium is a conference-style event hosted by the Office of Postdoctoral Affairs (OPA) and the Postdoctoral Research Symposium Committee. The Symposium features the innovative research being conducted by postdoctoral scholars at NC State and around the Triangle. It is a great opportunity to foster collaboration within the Research Triangle Park community. The Postdoc Research Symposium is a free event and open to all interested parties.
2021 Postdoctoral Research Symposium
Join us virtually the week of May 17th!
The Office of Postdoctoral Affairs, Graduate School, and Postdoc Association are working to move PRS 2021 completely online the week of May 17th, 2021.
This year, we will highlight postdoc research and personal perspectives (advice and resource sharing) via pre-recorded 5-minute videos that will be shared on the Graduate School's YouTube Channel.
There will also be synchronous programming and networking opportunities during the event.
Due to its online nature, PRS 2021 aims to be more accessible and inclusive of the postdoctoral community than prior events.
Registration is open to ALL POSTDOCS across North Carolina as well as members of the NC State University community (graduate students, faculty, & staff).
This will truly be the NC STATE Postdoctoral Research Symposium.
PRS 2021 Schedule at a Glance
Welcome & Keynote Address
Monday, May 17th, 10:30 AM – 12:30 PM
10:30 – 11:00 AM: Welcome & PRS Logistics
11:00 AM – 12:30 PM: Keynote
Envision a new future and unlock your success
Shalini Nag, Ph.D., Founder & People Strategist at EvidaSolve, will lead this workshop on helping you define success on your own terms
Workshops Led by NC State Postdocs
Yuhan (Douglas) Rao, Ph.D., & Jesse Contreras, Ph.D., 2021 Strengthening The Impact of Research Impact Scholars, will discuss how to increase your research impact using resources available through the NC State Office of Outreach & Engagement

Tuesday, May 18th, 12 – 1 PM

Olgha Qaqish, Ph.D., will lead a workshop focused on Effective Mentoring Training for Postdocs

Wednesday, May 19th, 9 – 10:30 AM
PRS 2021 Awards & Wrap-Up
Wednesday, May 19th, 12:30 – 1:00 PM
Best NC State Postdoc Research Presentation Awards will be announced in addition to our inaugural NC State Postdoc Pack Service Award & Outstanding NC State Postdoc Mentorship Award winners.
Virtual Postdoc Social
Thursday, May 20th, 4:30 – 5:30 PM
Add-On Events Open to the NC State Community
LinkedIn Workshop
Thursday, May 20th, 12:00 – 1:00 PM
Sara Lane, Director of the College of Agriculture and Life Sciences Career Services Office, will lead a workshop focused on
LinkedIn to help you get the most from the platform.
Navigating Career Challenges as an International Trainee
Thursday, May 20th, 3:00 – 4:30 PM
Sina Safayi, DVM, Ph.D., Director of Career Development and Industry Outreach at Rush University
International scholars have additional challenges to consider when it comes to career planning: cultural adjustment, immigration status, and research funding. This will be an interactive session to aid attendees in addressing the main challenges faced by international scholars in the US. It will provide practical ways to navigate these challenges in pursuing successful careers.
Relive Past Events!