Long Term Writing Support
Learning to communicate as an expert in your discipline and professional field is a life-long process. We offer workshop series, accountability groups, writing groups, and a writing certificate to provide long-term developmental support for graduate student and postdoctoral writers.
Writing Accountability Groups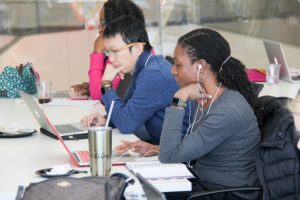 Want to stay motivated and moving on your writing projects? We offer online writing accountability groups for graduate students and postdoctoral scholars looking for a low investment way to maintain research productivity while developing supportive, productive writing habits.
Starting in Fall 2019, we are piloting new accountability groups using WhatsApp™. You have the option to be a group member or a group leader. Participating as a Group Member satisfies 18 hours toward the Writing Certificate. Serving as a Group Leader satisfies 30 hours toward the Writing Certificate.
Participants in this group will benefit by:
Staying motivated and maintaining progress on writing projects
Developing skills in time management and manage a big or multiple writing projects
Collaborating with other students/postdocs across disciplines
Participating in a supportive community with students/postdocs outside of your lab/department
Develop skills in leadership with the opportunity to serve as Group Leader
Group leaders are responsible for:
Maintaining and moderating the group via WhatsApp by facilitating productive conversation and resource sharing
Engaging your team in conversation and ongoing resource sharing
Keeping project leaders informed of team dynamics and any challenges that arise
The deadline for signing up is August 30.
Register for the Fall 2019 Writing Accountability

Group