Long Term Writing Support
Learning to communicate as an expert in your discipline and professional field is a life-long process. We offer workshop series, accountability groups, writing groups, and a writing certificate to provide long-term developmental support for graduate student and postdoctoral writers.
Write with the Pack! Meet-Ups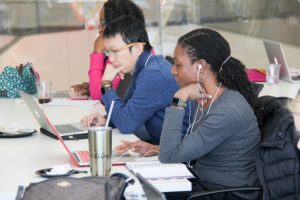 Want to stay motivated and moving on your writing projects? We offer "Write with the Pack" meet-up sessions for graduate students and postdoctoral scholars looking to be productive in their writing goals and practice writing accountability.
Join us for 'Write with the pack' Meet-ups on the following Fridays on Centennial Campus in the Hunt Library fishbowl (room 4502) from 1 p.m. to 4 p.m.:
January 31
February 14
February 28
March 20
April 3
April 17
No registration is required; come and go as you please. Open to graduate students and postdocs in all disciplines.
Bring drafts of dissertations, thesis, articles, papers, job applications and more!