Writing Accountability Groups
Learning to communicate as an expert in your discipline and professional field is a life-long process. We offer workshop series, accountability groups, writing groups, and a writing certificate to provide long-term developmental support for graduate student and postdoctoral writers.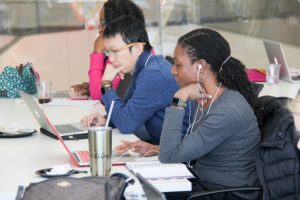 Want to stay motivated and moving on your writing projects? We offer online writing accountability groups for graduate students and postdoctoral scholars looking for a low investment way to maintain productivity. The accountability group involves posting progress on weekly writing goals, participating in optional Saturday morning writing days, and developing supportive writing habits.
Ideal for writers who are working on theses, dissertations, journal articles, research proposals, or other long-term writing projects and want to be part of a productive community. Fill out the Accountability Groups interest form to sign up for Summer 2019.
Writing Certificate
In May 2019, the Graduate School will launch a new non-credit Writing certificate. Info coming soon!