Postdoctoral Research Symposium
The annual Postdoctoral Research Symposium is a conference-style event hosted the Office of Postdoctoral Affairs (OPA) and the NC State Postdoctoral Association (PDA). The Symposium is a conference-style event which features the innovative research being conducted by postdoctoral scholars at NC State. It is a great opportunity to foster collaboration within the Research Triangle Park community. The Postdoc Research Symposium is a free event and open to all interested parties.
2017 Postdoctoral Research Symposium
The 2017 Postdoctoral Research Symposium will be held on Wednesday, May 24th. The Symposium is open to all interested postdocs, faculty, graduate students, and industry partners in the area, and will run from 1p.m. to 5p.m. We also encourage our attendees to stay for a short happy hour following the event.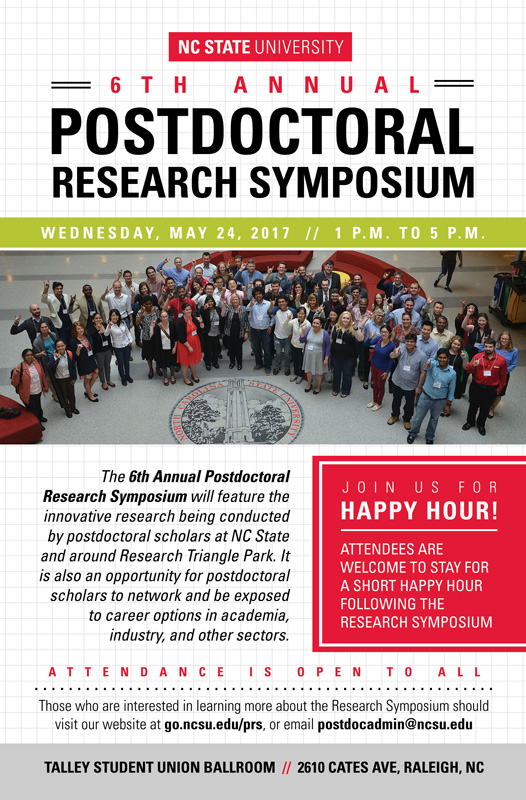 Registration
Register today for the Postdoctoral Research Symposium
Information for Poster Submissions
Presentation formats are traditional research posters. We strongly suggest that research posters should make the study topic accessible to a wide audience from a variety of academic and professional backgrounds.
Use the Research Symposium Registration Survey to submit your poster submission. You will be asked to submit the following information:
Full name to appear in program
Poster Title
Abstract (written for a general audience) of no more than 150 words
Submissions due Wednesday, May 3rd.
More information will be posted on the website closer to the event.
2016 Postdoctoral Research Symposium
The 2016 Postdoctoral Research Symposium was held on Tuesday, May 17th at NC State's Talley Ballroom. With more than 120 attendees and 58 postdoctoral scholars presenting, the event was a fantastic opportunity to highlight the contributions of that postdoctoral scholars make to NC State's research and scholarship.
For pictures and details of the day, please visit the 2016 Postdoctoral Research Symposium website.