Postdoctoral Research Symposium
The annual Postdoctoral Research Symposium is a conference-style event hosted by the Office of Postdoctoral Affairs (OPA) and the Postdoctoral Research Symposium Committee. The Symposium features the innovative research being conducted by postdoctoral scholars at NC State and around the Triangle. It is a great opportunity to foster collaboration within the Research Triangle Park community. The Postdoc Research Symposium is a free event and open to all interested parties.
2017 Postdoctoral Research Symposium
The 2017 Postdoctoral Research Symposium will be held on Wednesday, May 24th. The Symposium is open to all interested postdocs, faculty, graduate students, and industry partners in the area, and will run from 1p.m. to 5p.m. We also encourage our attendees to stay for a short reception following the event.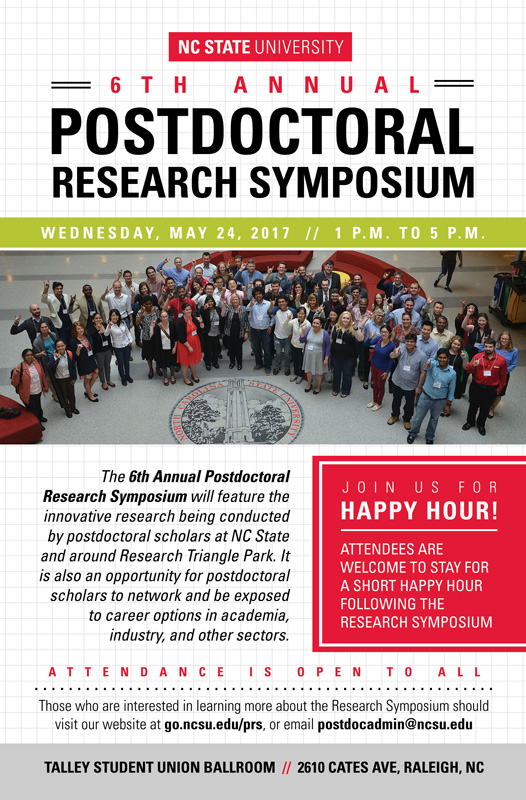 Keynote Speaker: Dara Wilson-Grant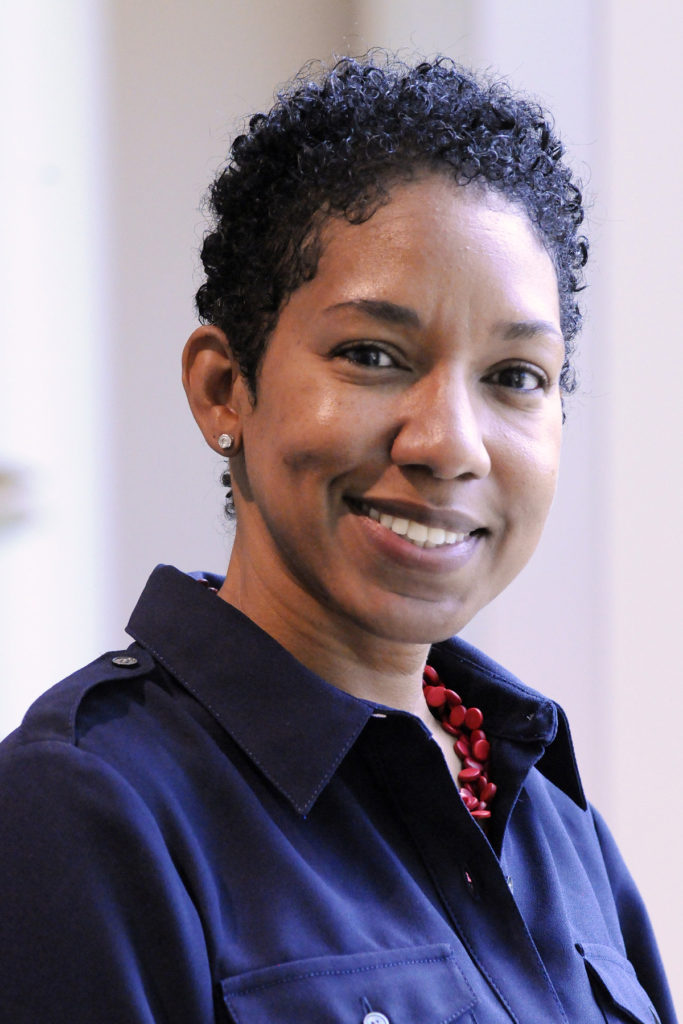 Dara Wilson-Grant is the Associate Director of Postdoctoral Affairs at UNC-Chapel Hill and the owner of Careers in Bloom. She received her Master's degree in Counseling from Fordham University and is a Licensed Professional Counselor. Dara specializes in helping graduate students and postdocs who are at an impasse. Whether it's contemplating a career change or striving to advance to the next level, Dara helps individuals develop the tools and confidence they need to formulate a plan for personal and professional success.
Registration
Registration is now closed for the event. If you are interested in attending, please email Nicole Ditillo (nmditill@ncsu.edu).
Agenda
11:30am – 12:00pm  Registration for Postdoc & Poster Set up
12:00 – 1:00pm         Networking Lunch (Postdocs and Invited Guests)
12:30 – 1:00pm         Registration for Poster Sessions
1:00 – 1:15pm            Welcoming Remarks from Dean Grasso
1:20 – 3:45pm           Poster Session
3:45 – 4:30pm          Keynote Speaker: Dara Wilson Grant
4:30 – 5:00pm          Awards and Pictures
5:00 – 6:30pm          Reception
Poster Abstracts
A full list of poster presenters, titles, and abstracts can be found on here.
Judging Criteria
Posters and presentations will be judged on the following criteria:
Clarity of Research

Can the research be understood by both experts and non-experts in the field?
Were the research questions or goals clearly stated?
Were the data (tables/graphs/figures/other) clearly presented?
Did the presenter demonstrate how the data justify the conclusions made?
Was the presenter able to effectively convey the significance of their research in a big picture context?
Were future experiments and/or application of the research discussed?

Poster Presentation

Was the poster visually appealing?
Was the poster well organized?

Oral Presentation

Did the presenter effectively engage with this audience during the presentation?
Was the presenter able to effectively answer your questions?
Resources for Poster Creation
Dimensions for research posters should be  36″ (H) x 48″ (L)
Resources for Effective Science Communication
2016 Postdoctoral Research Symposium
The 2016 Postdoctoral Research Symposium was held on Tuesday, May 17th at NC State's Talley Ballroom. With more than 120 attendees and 58 postdoctoral scholars presenting, the event was a fantastic opportunity to highlight the contributions of that postdoctoral scholars make to NC State's research and scholarship.
For pictures and details of the day, please visit the 2016 Postdoctoral Research Symposium website.