Postdoctoral Research Symposium
The annual Postdoctoral Research Symposium is a conference-style event hosted by the Office of Postdoctoral Affairs (OPA) and the Postdoctoral Research Symposium Committee. The Symposium features the innovative research being conducted by postdoctoral scholars at NC State and around the Triangle. It is a great opportunity to foster collaboration within the Research Triangle Park community. The Postdoc Research Symposium is a free event and open to all interested parties.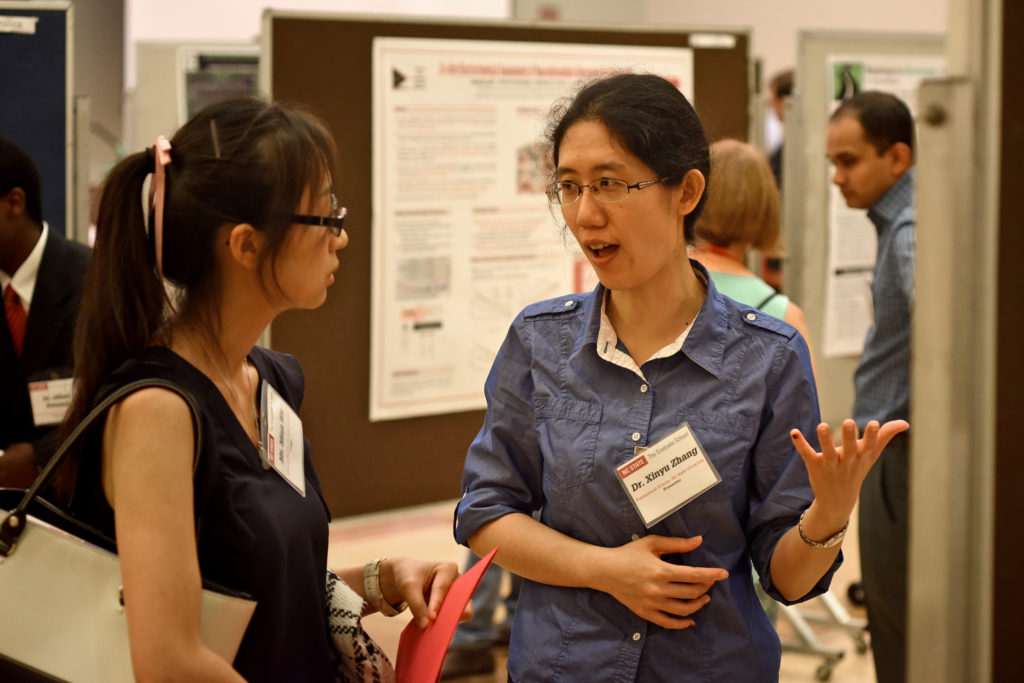 2017 Postdoctoral Research Symposium
The 2017 Postdoctoral Research Symposium was held on Wednesday, May 24th. We had 56 postdoctoral scholars from NC State, UNC Chapel Hill, Duke University, and NIEHS present posters on their research.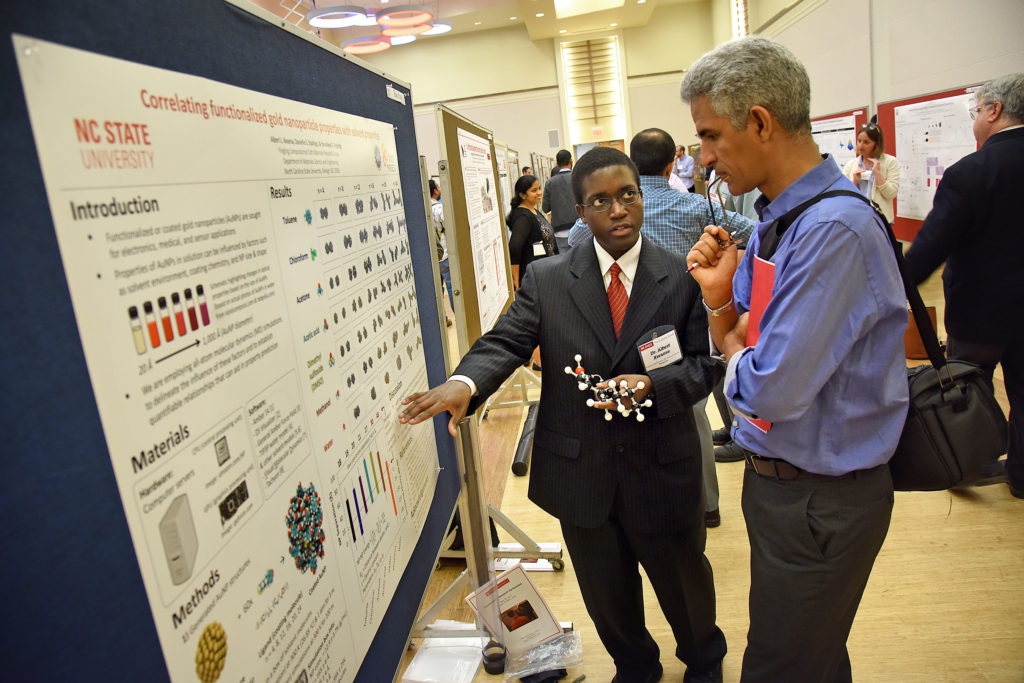 Our guests included industry partners, faculty, postdoctoral scholars, and graduate students from across the Triangle, including Dara Wilson-Grant from UNC-Chapel Hill who served as our Keynote Speaker.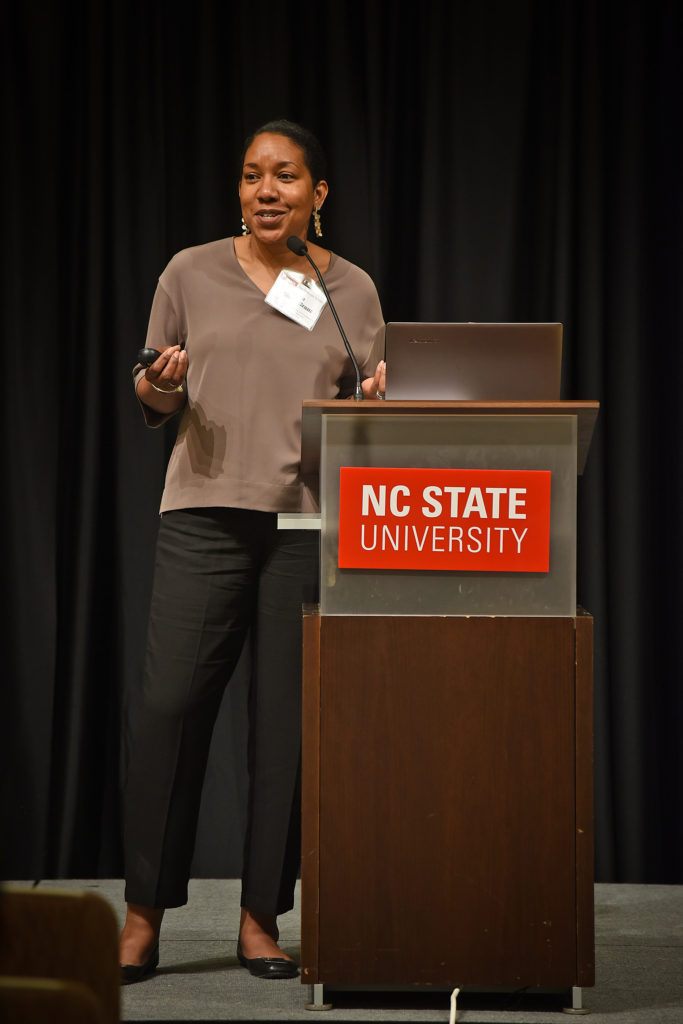 Pictures from the event are available on our Flickr Page:

Poster Winners
Postdoctoral scholars who presented at the symposium were evaluated on a range of criteria, including research methodology, the ability to communicate their research to a wide range of audiences, and visual appeal and organization.
Three postdoctoral scholars were recognized for their outstanding poster presentations.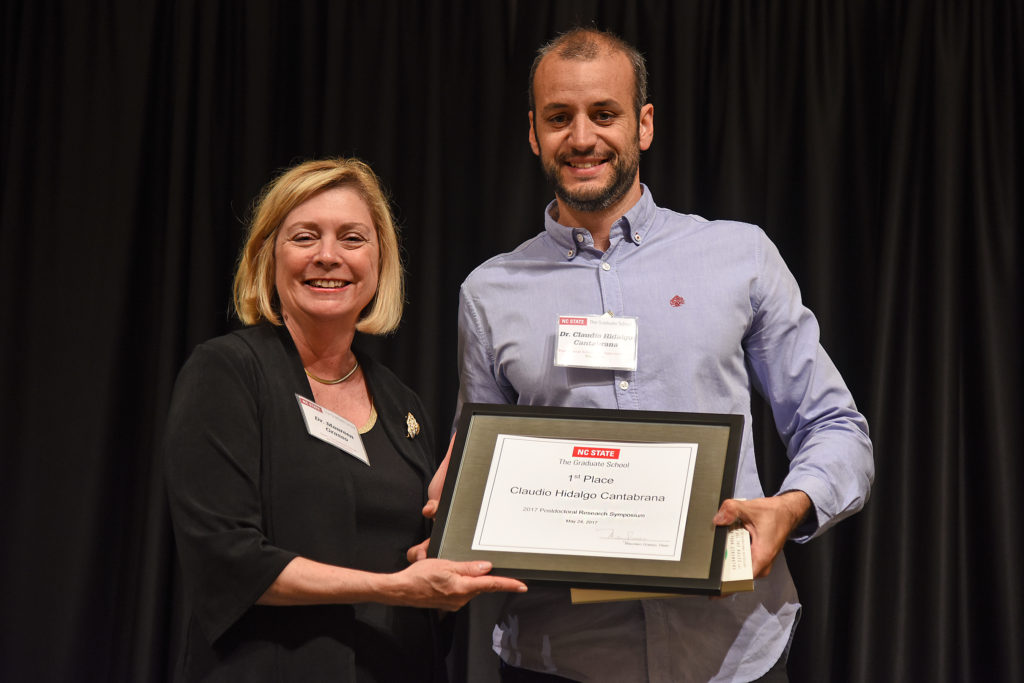 First Place
Dr. Clauido Hidalgo Cantabrana (College of Sciences), "Genotyping of probiotic Bifidobacterium longum strains using CRISPR loci".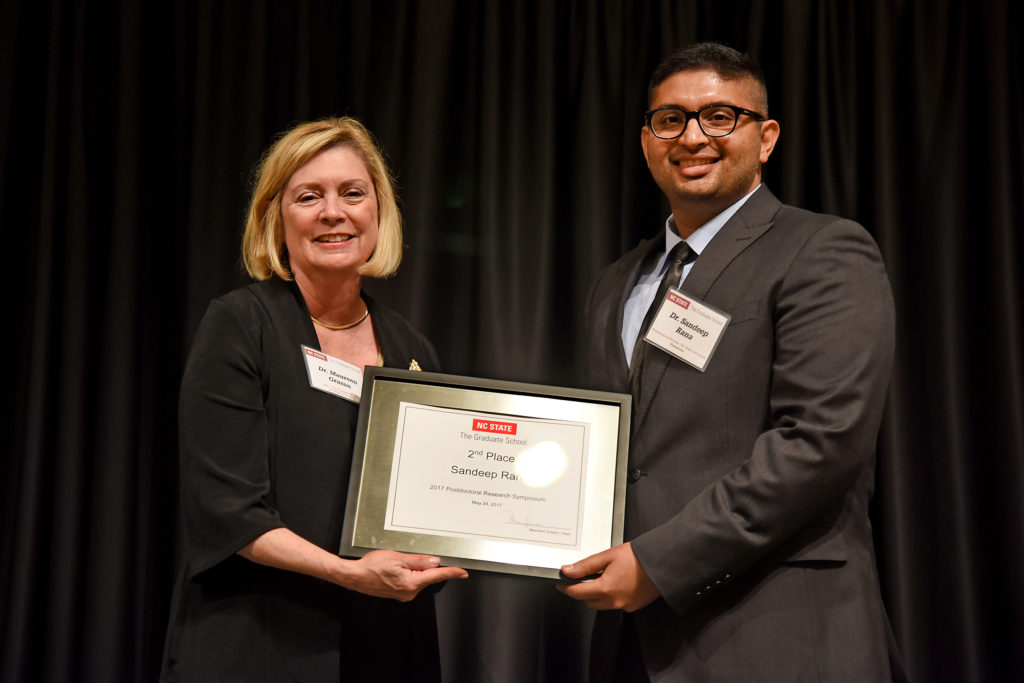 Second Place
Dr. Sandeep Rana (College of Agriculture and Life Sciences), "Measuring Canopy Anomaly Influence on Golf Putt Kinematics: Does Annual Bluegrass Influence Ball Roll Behavior?"
Third Place
Dr. Jennifer Wiggen (College of Sciences), "Geoscience Videos and their Role in Supporting Student Learning in Hybrid Introductory Geoscience Courses".
Notable Posters by College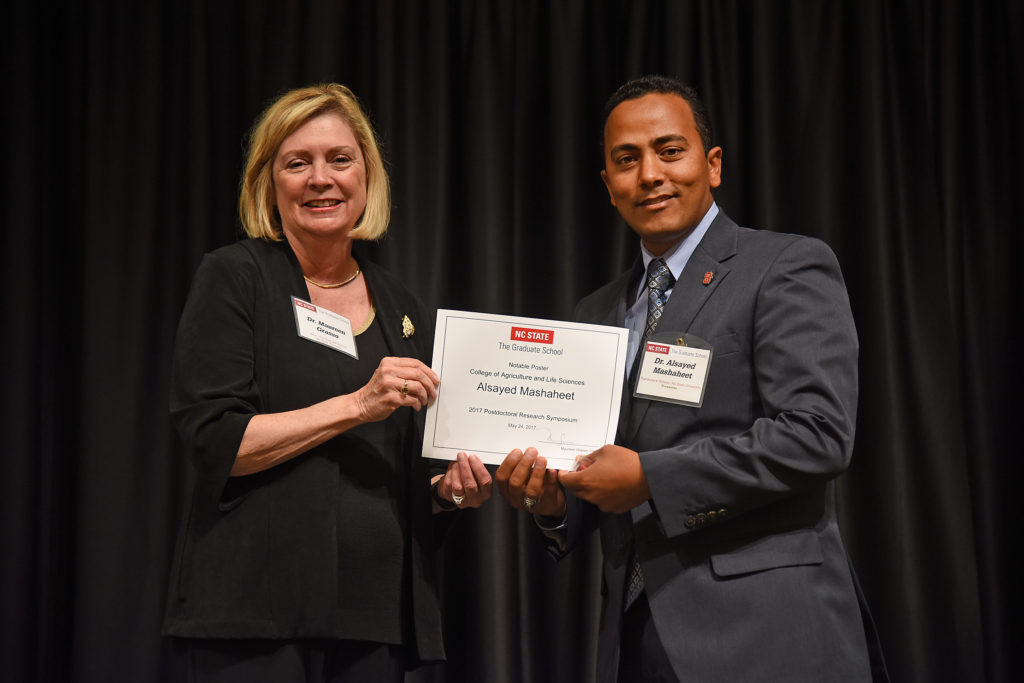 College of Agriculture and Life Sciences: Dr. Alsayed Mashaheet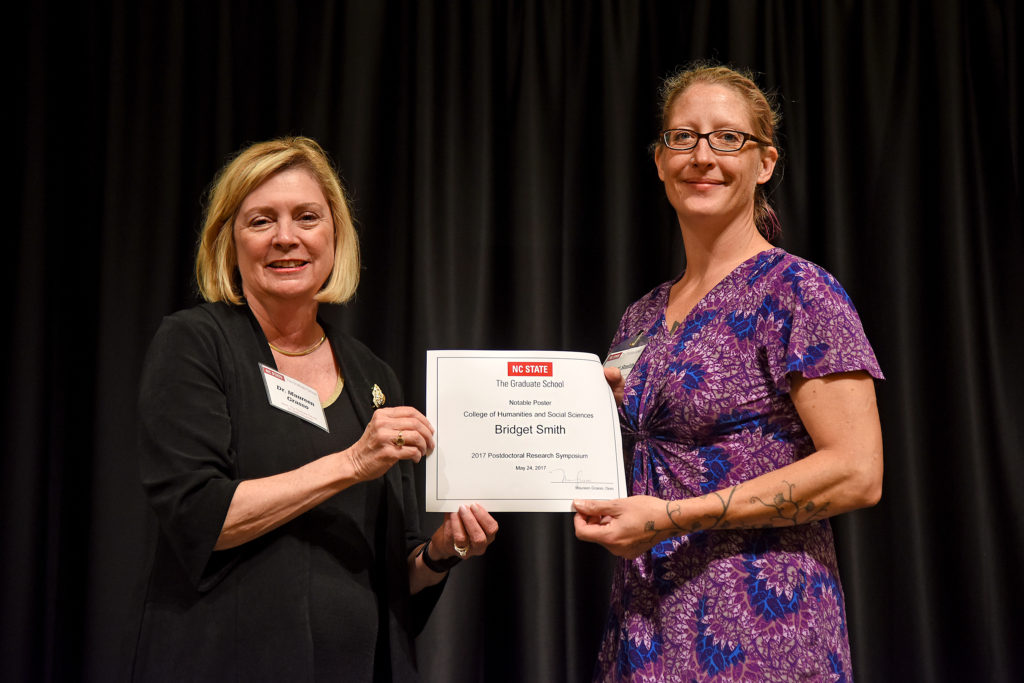 College of Humanities and Social Sciences: Dr. Bridget Smith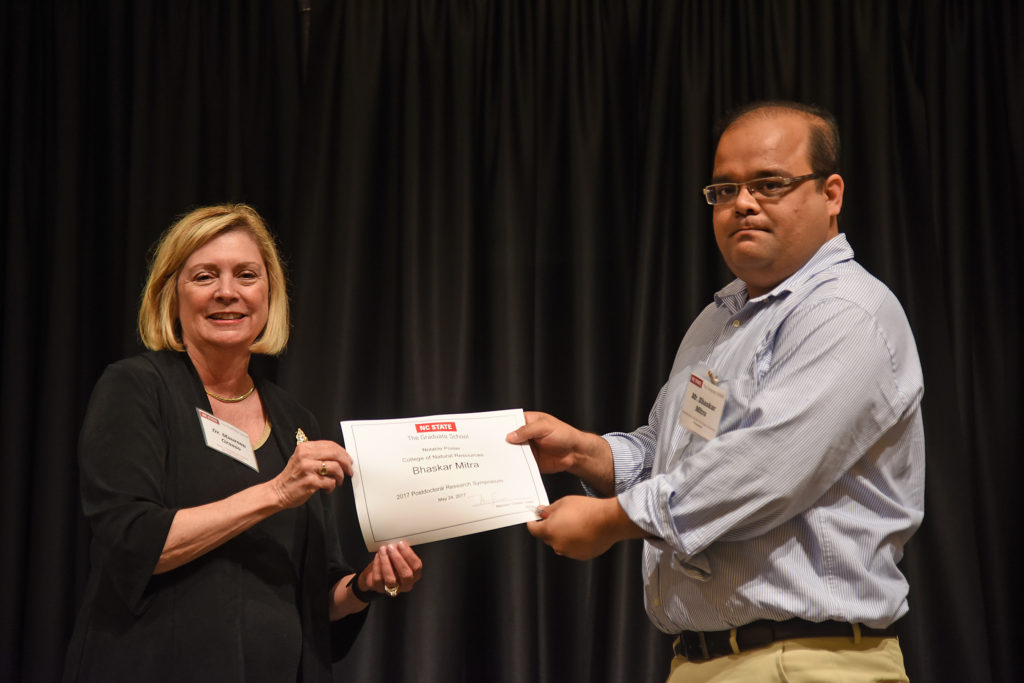 College of Natural Resources: Dr. Bhaskar Mitra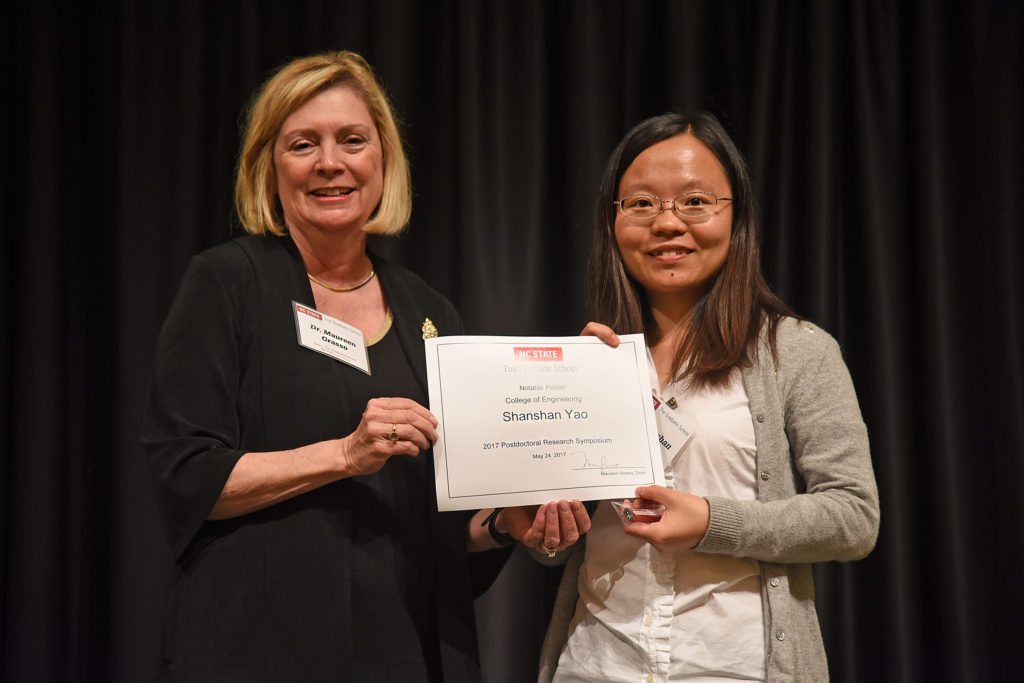 College of Engineering: Dr. Shanshan Yao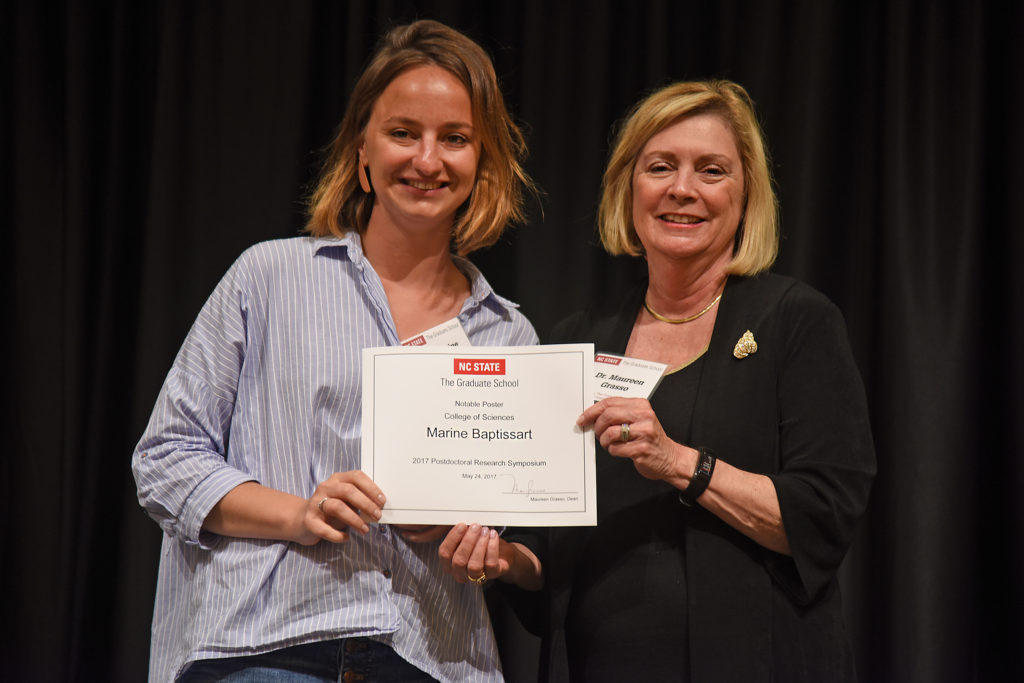 College of Sciences: Dr. Marine Baptissart
College of Textiles: Dr. Shaghayegh Arangdad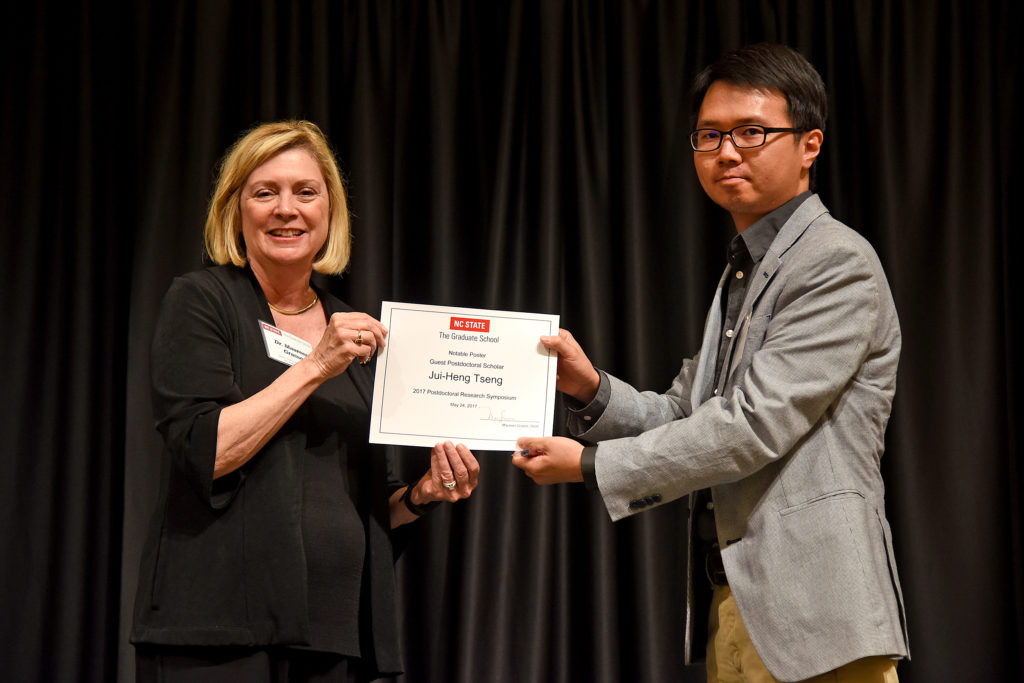 Guest Postdoc: Dr. Jui-Heng Tseng (UNC-Chapel Hill)
Poster Abstracts
A full list of poster presenters, titles, and abstracts can be found here.
Judging Criteria
Posters and presentations will be judged on the following criteria:
Clarity of Research

Can the research be understood by both experts and non-experts in the field?
Were the research questions or goals clearly stated?
Were the data (tables/graphs/figures/other) clearly presented?
Did the presenter demonstrate how the data justify the conclusions made?
Was the presenter able to effectively convey the significance of their research in a big picture context?
Were future experiments and/or application of the research discussed?

Poster Presentation

Was the poster visually appealing?
Was the poster well organized?

Oral Presentation

Did the presenter effectively engage with this audience during the presentation?
Was the presenter able to effectively answer your questions?
Resources for Poster Creation
Dimensions for research posters should be  36″ (H) x 48″ (L)
Resources for Effective Science Communication
2016 Postdoctoral Research Symposium
The 2016 Postdoctoral Research Symposium was held on Tuesday, May 17th at NC State's Talley Ballroom. With more than 120 attendees and 58 postdoctoral scholars presenting, the event was a fantastic opportunity to highlight the contributions of that postdoctoral scholars make to NC State's research and scholarship.
For pictures and details of the day, please visit the 2016 Postdoctoral Research Symposium website.