Writing Support
Writing and communication are essential for graduate students' academic and professional success, regardless of their discipline or career field. The Graduate School supports graduate students and postdoctoral researchers in developing the writing habits and strategies that will enable them to succeed in their academic disciplines, communicate their research and professional identity to a range of audiences, and flourish in their desired career after graduate school.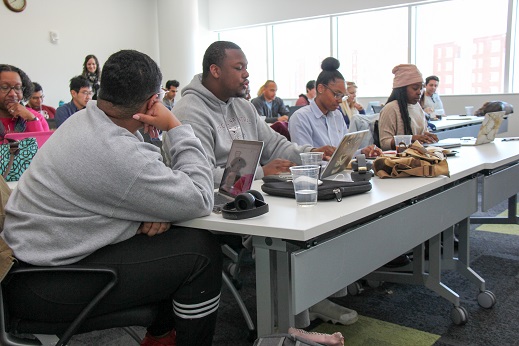 Spring 2019 Writing Accountability Groups
Want to stay motivated and moving on your writing projects? We offer online writing accountability groups for graduate students and postdoctoral scholars looking for a low investment way to maintain productivity. The accountability group involves posting progress on weekly writing goals, participating in optional Saturday morning writing days in Hunt Library, and developing supportive writing habits. Ideal for writers who are working on theses, dissertations, journal articles, research proposals, or other long-term writing projects and want to be part of a productive community. Fill out the Accountability Groups interest form to sign up.
Writing Workshops and Series
We offer a full suite of signature writing Workshops each semester. Beginning in Spring 2019, we are launching two new development series, Grant Writing and Writing for Journal Article Publication. Go to the Development Series page to learn more and sign up. In May 2019 we will host another edition of Camp Completion, a week-long retreat for writers looking to complete big projects like a thesis or dissertation.
Doctoral Dissertation Completion Grant
Apply for the Doctoral Dissertation Completion Grant Program, which provides both funding and sustained mentoring to doctoral candidates who are within six months of completing their dissertations. The Dissertation Completion Grant is ideal for students who need structured writing mentoring as well as group support in order to complete their dissertations. The Graduate School awards 16 grants per year (8 students from January to June, 8 students from July to December). Applications for the grants beginning in July 2019 are due May 16, 2019.
Resources for Faculty
The Professional Development team is eager to partner with faculty across campus to provide systematic support for graduate student writers. Our team can work with you individually to develop strategies for mentoring dissertation writing projects, integrating writing more explicitly into graduate curricula, designing and assessing writing assignments, and more. If you would like to request a conversation with a member of our team, a targeted workshop, or a class visit, please fill out the request form or contact Dr. Shannon Madden.
Individual Consultations
If you would like to meet individually to discuss your writing, you may visit the NC State Graduate Writing Center in Park Shops or you may contact a writing specialist in the Graduate School by emailing graduate-writing@ncsu.edu to request an appointment.