Graduate Writing Support
Writing and communication are essential for graduate students' academic and professional success, regardless of their discipline or career field. Graduate Writing Support Services are designed to help graduate students and postdoctoral researchers develop the writing habits and strategies that will enable them to succeed in their academic disciplines, communicate their research and professional identity to a range of audiences, and flourish in their desired career after graduate school. We offer writing workshops and instruction in a variety of areas including designing research posters, responding to feedback from journal peer reviewers, writing effective literature reviews, and composing research paper introductions, among others. We also offer writing consultations, accountability groups, language support for multilingual students, targeted support for Engineering disciplines, and writing retreats. Beginning in Spring 2019, we will also offer new short courses on journal article publication and grant writing.
Want to Get Published?
Would you like to submit a journal article for publication in Spring 2019? We've got a short course for that! In Spring 2019 the Graduate School will offer an 8-week non-credit course in which participants will revise an existing paper, dissertation chapter, or conference talk into a journal article that is ready to submit to a target publication venue in their field. Fill out this form to indicate your interest in enrolling.
Camp Completion
Camp Completion is an intensive week-long retreat designed to help advanced graduate student writers make significant progress toward the completion of their theses, capstone projects, or dissertations. Camp Completion offers participants significant periods of dedicated writing time, opportunities to get feedback from faculty writers and expert researchers, and short activities geared toward managing the dissertation project and communicating their thesis/dissertation ideas to diverse audiences. In addition to providing access to writing experts and dedicated writing time, lunch, coffee, and snacks will be provided every day.
Note: NCSU's Camp Completion is adapted from Camp Completion at the University of Oklahoma, established by Dr. Michele Eodice and the award-winning OU Writing Center (used with permission).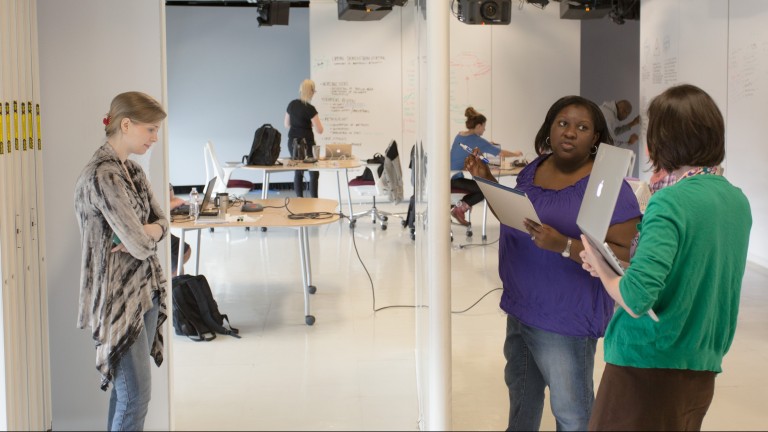 When: December 10 – 14, 2018
Where: Hunt Library Creativity Studio
Who can apply: Master's and Doctoral candidates at the writing stage of the thesis or dissertation
Applications available: October 1, 2018 – November 21, 2018
Application Package
There are three (3) requirements for your Camp Completion application:
A completed application form.
Permission from your advisor, PI, or dissertation director to attend Camp Completion. (After your application is completed, we will reach out to your advisor/PI to make sure you have permission to attend the full week. We ask that you obtain permission so that your advisor/PI will release you from the lab and other duties during this time.)
A fully refundable motivational deposit of $50 in the form of a check, made out to NC State University.
To reserve your seat in Camp Completion, you must complete all three elements of the application package. Your seat will only be reserved if the application is complete. We will hold seats on a waiting list in case of cancellations. Once your completed application is received, you will receive an email from the Graduate Writing Support Services staff confirming your seat and providing you with more details about the week's schedule and expectations.
For more information, please email graduate-writing@ncsu.edu.
Cancellation Policy
Should your schedule change, you may cancel your seat in Camp Completion by November 26, 2018. Cancellations made prior to this date will have their motivational deposit check returned. Cancellations made after this date will result in forfeiture of the motivational deposit.
Shut Up and Write! Pop Ups
Shut up and write! Is a national movement dedicated to bringing writers together for accountability, motivation, and support. As the name indicates, these sessions are not for giving and receiving oral feedback, but making space for writers to get together and get down to business! This fall, our Graduate Writing Support Team will be hosting Shut Up and Write! Pop Up sessions in the NCSU libraries. Snacks will be provided! Bring a laptop and join us for any of the following Pop Ups:
Friday, September 28, 2 p.m. to 4 p.m. in D. H. Hill Library #5419 & #5430
Tuesday, October 2, 1 p.m. to 3 p.m. in Hunt Library Fishbowl #4502
Thursday, October 11, 1 p.m. to 3 p.m. in Hunt Library Fishbowl #4502
Friday, November 2, 9 a.m. to 11 a.m. in Hunt Library Fishbowl #4502
Consultations for Writers (Drop Ins)
The Graduate Writing Support Team is offering one-with-one writing consulting sessions where you can come speak with expert writers about your works-in-progress. Our writing consultants have earned Ph.D.s and are prepared to help you work through a variety of writing-related concerns. Come to get support with your writing. Snacks will be provided! Fall 2018 consulting hours:
Monday, October 1, 9 a.m. to noon, Hunt Library Fishbowl #4502
Wednesday, October 24, 1 p.m. to 3 p.m. in Hunt Library Fishbowl #4502
Thursday, November 1, 1 to 4 p.m., Hunt Library Fishbowl #4502
Monday, November 26, 1 to 4 p.m., Hunt Library Fishbowl #4502
Friday, November 30, 9 a.m. to noon, Hunt Library Fishbowl #4502
Writing Accountability Group
We are offering a fall semester writing accountability group for graduate students and postdoctoral scholars working on a theses, dissertations, journal articles, research proposals, or any other writing project. Participants will "meet" online during the semester and participate in an online writing accountability group. Participants will have optional writing days in Hunt Library or D. H. Hill Library as well as the opportunity to participate in weekly challenges to win prizes.
When: Beginning Sunday, September 2
Who can apply: Graduate students and postdoctoral scholars
Application deadline: August 30, 2018
There are two (2) requirements for the writing retreat application:
Completed application form
A fully refundable motivational deposit of $50 in the form of a check, made out to NC State University.
*See page 1 of application package for directions on submitting these requirements.
To secure your seat in the writing retreat you must complete both elements of the application package. Please read the entire application package for full details and instructions. Once your completed application is received, you will receive an email confirming your seat and providing you with more details.
Spring 2019 Accountability Groups
Stay tuned for more info (coming soon) about signing up for Spring 2019 accountability groups!
Electronic Theses & Dissertations (ETD)
All theses and dissertations written at N.C. State must be submitted through our online, electronic system in the Graduate School's required format. The ETD website has all of the information for you to do this successfully.
Timeline for Graduate Student Success
The completion of a doctoral degree includes many steps. We've created this timeline to help students navigate the various processes and to highlight where our programming can help students to better understand what's ahead.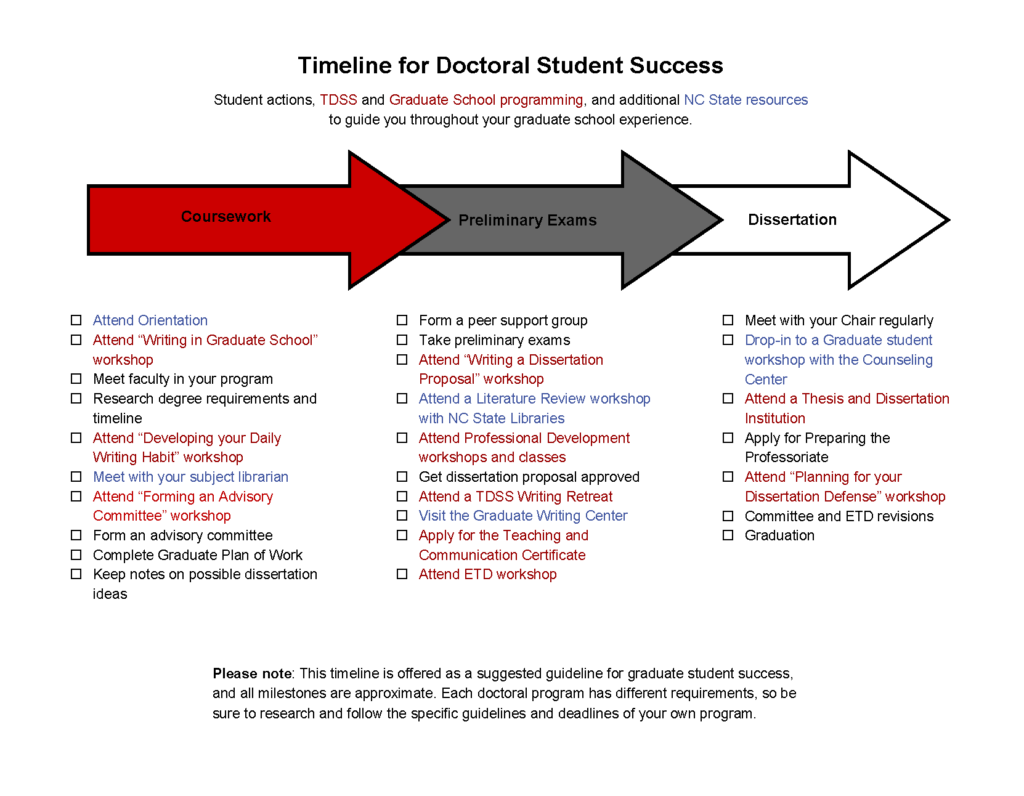 Click on the image for a larger PDF version with links to the various elements included here. Students can also save the PDF version to keep a copy for reference.
Contact Us
For general questions about Graduate Writing Support Services, contact us by email at graduate-writing@ncsu.edu.