Thesis and Dissertation Support Services
The Thesis and Dissertation Support Services program is designed to enhance the success of master and doctoral candidates as they prepare their theses and dissertations. We offer a variety of writing workshops, the Thesis and Dissertation Institute, Writing Retreats, and other support services to help students complete their theses and dissertations.
Electronic Theses & Dissertations (ETD)
All theses and dissertations written at N.C. State must be submitted through our online, electronic system in the Graduate School's required format. The ETD website has all of the information for you to do this successfully.
Writing Retreats and Institutes
Thesis and Dissertation Writing Retreat
We know how busy graduate students are. To help your writing projects progress, we are offering a Spring 2017 Writing Retreat for graduate students working on a capstone thesis, or dissertation. Participants will meet in Hunt Library for four evening (5:00 pm to 9:00 pm) writing sessions throughout the semester.
These meetings will include dedicated time for individual writing, instructional sessions, peer review, and writing consultations. Participants will participate in an online writing accountability group between meetings.
When: February 22, March 15, April 5, and April 19
Where: Hunt Library
Who can apply: Master's and Doctoral candidates working on a capstone, thesis, or dissertation
Applications: Applications for the Spring 2017 retreat are no longer being accepted. Stay tuned for information on Fall 2017 retreats.
Thesis and Dissertation Institute
Does your thesis, capstone, or dissertation need some inspiration? Looking for a boost to get finished? Or maybe you want to get it started off on the right foot? Try our "bootcamp for your writing project!"
The Institute is designed to give Master's and doctoral students at the writing stage of their thesis, capstone, or dissertation dedicated time and space to focus on their projects. The Institute combines highly productive writing time, scholarly writing instruction, one-on-one consultations, and group goal-setting to support students. We will help you get finished!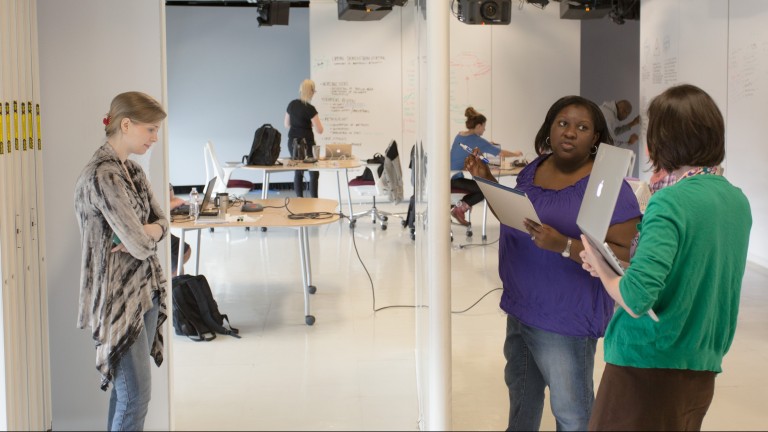 When: May 15 – 19, 2017
Where: Hunt Library Creativity Studio
Who can apply: Master's and Doctoral candidates at the writing stage of the thesis or dissertation
Applications available: March 1
Application deadline : April 19
Application Package
There are three (3) requirements for your Thesis and Dissertation Institute application:
Completed student application form
An email statement of support from your advisor or dissertation chair
A fully refundable motivational deposit of $50 in the form of a check, made out to NC State University.
To secure your seat in the Institute, you must complete all three elements of the application package. There are only 23 seats available. Incomplete applications will not hold you a seat. We will hold two seats on a waiting list in case of a cancellation. Please read the entire application package for full details and instructions. Once your completed application is received, you will receive an email from the Program Coordinator of Thesis and Dissertation Support Services confirming your seat and providing you with more details about the week's schedule and expectations.
For more information, please email thesisdissertationsupport@ncsu.edu.
Cancellation Policy
Should your schedule change, you may cancel your seat in the Thesis and Dissertation Institute by May 1, 2017. Cancellations made prior to this date will have their motivational deposit check returned. Cancellations made after this date will result in forfeiture of the motivational deposit.
Proudly Partnering with ScholarShape
The Graduate School is proud to partner with Dr. Margy Thomas Horton of ScholarShape for our Thesis and Dissertation Institute. Dr. Horton serves as our professional writing consultant for our participants, providing high quality writing support for our writers.

Timeline for Graduate Student Success
The completion of a doctoral degree includes many steps. We've created this timeline to help students navigate the various processes and to highlight where our programming can help students to better understand what's ahead.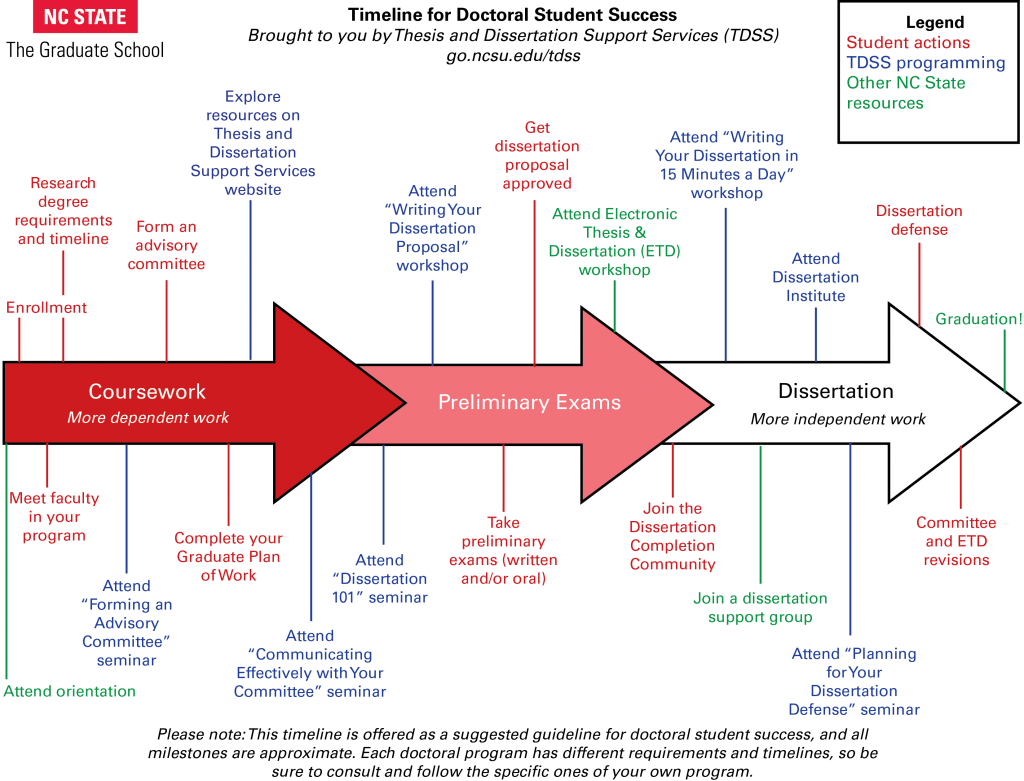 Click on the image for a larger PDF version with links to the various elements included here. Students can also save the PDF version to keep a copy for reference.
Contact Us
For general questions about Thesis and Dissertation Support Services, contact us by email at thesisdissertationsupport@ncsu.edu.