Protect and Save Native Bees: Student Offers Tips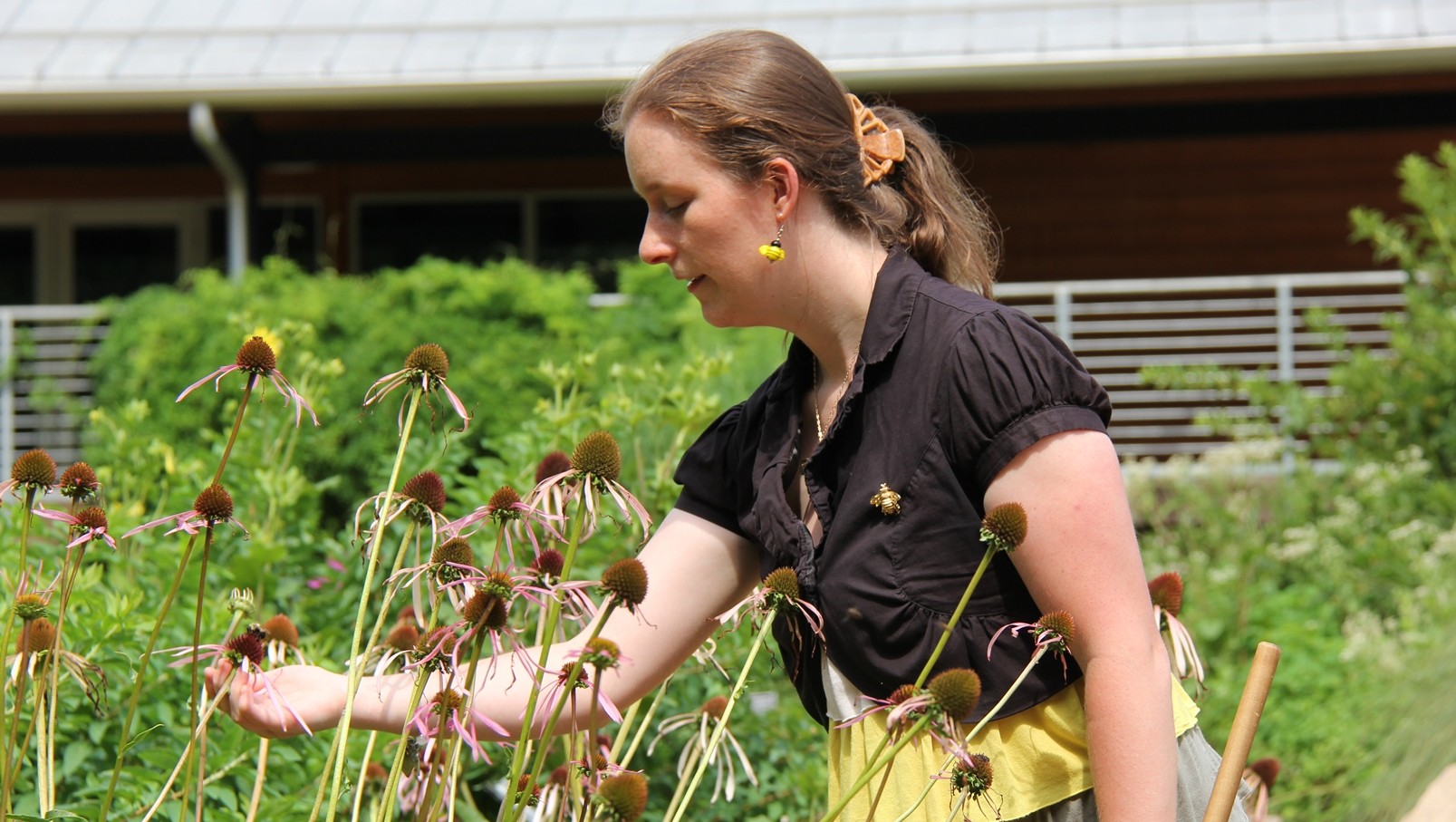 As an undergraduate in environmental studies, April Hamblin developed an interest in native bees. And she looked for a graduate education program that would allow her to study native bees and take insect-focused courses within a respected entomology department, rather than just an entomology program in a biology department.
She found all that and more at NC State's Entomology Department, working in Dr. Steve Frank's lab and sharing her knowledge of bees through the Entomology Graduate Students Association outreach program. Recently, Hamblin and two research colleagues recently helped develop a pollinators exhibit at the N.C. Botanical Garden in Chapel Hill.
The "Saving Our Pollinators" exhibit will be open at the botanical garden through Oct. 3. In June, Hamblin helped kick off the exhibit with colleagues Dr. Elsa Youngsteadt, a Frank lab research associate, and Dr. Margarita Lopez-Uribe, a post-doctoral researcher. The three offered an educational table, providing visitors with hollow reeds to use as bee nesting resources in their yards and offering short presentations about the biology, diversity and decline of bees.
Hamblin also gave a lunch talk at the botanical garden on "Native Bee Communities and Urban Heat," the subject of her graduate research.
Native bees differ from honey bees in a number of ways. Honey bees, imported from Europe, live in colonies and are generally managed for their honey and as agricultural pollinators, while native bees live mostly solitary lives, often nesting in the ground or in hollow reeds like bamboo. There are more than 500 species of bees identified in North Carolina, Hamblin said.
There has been much interest in recent years on a curious honey bee calamity known as "colony collapse disorder," where entire bee colonies die for no apparent reason. Because pollination is essential for the production of many fruits and vegetables, Hamblin said, it is critical to identify and protect pollinators other than honey bees.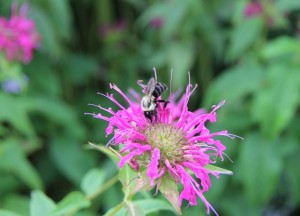 "I think it's risky to rely on just one species for pollination," she said. "There are more than 500 species of bees in North Carolina, and most of them are native. We need to understand and rely on native bees more."
Hamblin said that the botanical garden contacted her after reading a Citizen Science blog post she wrote about bees. She and her fellow researchers offered to help the garden develop a pollinators exhibit.
For her graduate research, Hamblin is investigating how native bees respond to urban heat. Urban landscapes are often hotter than natural areas outside cities, so Hamblin wants to know what types of native bees might be found in urban areas as well as cooler landscapes outside of urban areas.
She has established a network of volunteers who let her come to their yards for research. "I go to different residential areas and to natural areas, and I leave something called an 'I-button,' which records temperatures every hour. I leave that there all summer, and I go back to these sites every two weeks to collect bees," she said.
Hamblin collects and identifies bee specimens from both urban neighborhood and cooler areas such as Umstead State Park and Prairie Ridge Ecosystem outside Raleigh. She also compares these areas according to types of flowers available, permeable surfaces nearby and the temperatures of the different research areas. She wants to know what bees inhabit the different areas and why.
Hamblin believes there is a difference in the bees that frequent these two areas. Bees with low thermal tolerance live in the cooler areas, but not in hotter areas. Certain species of bee with higher heat tolerance are found in higher concentrations in the hotter urban areas.
In addition to her research, Hamblin has been very involved in outreach activities offered by the Entomology Graduate Students Association, which provides education programs on insects for K-12 classes and at public events like the N.C. Museum of Natural Sciences' annual BugFest. In her two years at NC State, she has offered more than 100 hours of educational programs, sometimes dressed in a bee costume or sporting bee earrings.
Hamblin says she loves teaching and speaks passionately about bees. Professionally, she would like to do something that would involve teaching people about bees and other insects, maybe in a classroom or museum.
Along with a Master's of Science Degree in Entomology, Hamblin will graduate in December with a Graduate School Certificate in Accomplishment in Teaching (CoAT) and Geographic Information Systems (GIS) Graduate Certificate she obtained from many graduate opportunities available at NC State.
Bee facts
• There are more than 500 species of native bees found in North Carolina.
• Just one Southeast blueberry bee is responsible for pollinating $20 in marketable blueberries.
• Bees don't typically sting, unless attacked. Hamblin says most people are stung by yellow jackets or social wasps.
Tips to protect bees in your backyard
Every chance she gets, Hamblin likes to advise people on how to attract and support bees in their own backyards.
"Give bees lots of floral resources because they rely on pollen and nectar as food throughout their entire lives. People need to have something blooming in their yards throughout the whole summer for the many bees present at different times ," she said.
Having places for native bees to nest is also important. "Often what people forget about is the nesting resources for bees," Hamblin said. "So we suggest leaving a section of the yard as dirt, or having some patchiness to yard vegetation. Many solitary bees will nest in structures similar to ant hills – among U.S. bees, 70 percent nest in the dirt."
Home gardeners can also provide "bee nests" made from bamboo that are popular in Europe and becoming more popular here.
"And we like to encourage people to avoid pesticides, especially when flowers are blooming. If you have to spray something, do it at night or when there are no flowers blooming. If a plant is doing poorly and has enough pests on it that you need to spray, it may be the wrong plant for your yard," she said.
"Keep trying," she said. "Bees need flowers and nesting resources, and you can provide them in your backyard."
Read more:
This Is What Science Looks Like at NC State: April Hamblin  (The Abstract, NC State News, May 7, 2015)
Facing diverse challenges, NC's native bees find support in the Triangle  (News & Observer, June 14, 2015) April Hamblin on Botanical Garden's pollinator's exhibit
The State of Bees  (WUNC State of Things broadcast, July 1, 2015)
Elsa Youngsteadt and Anne Lindsey, botanist from the botanical garden
Saving Our Pollinator, exhibit at N.C. Botanical Garden, Chapel Hill
Open now through Oct. 3, 2015