Dean's Scene: Find Mentors to Fit Your Needs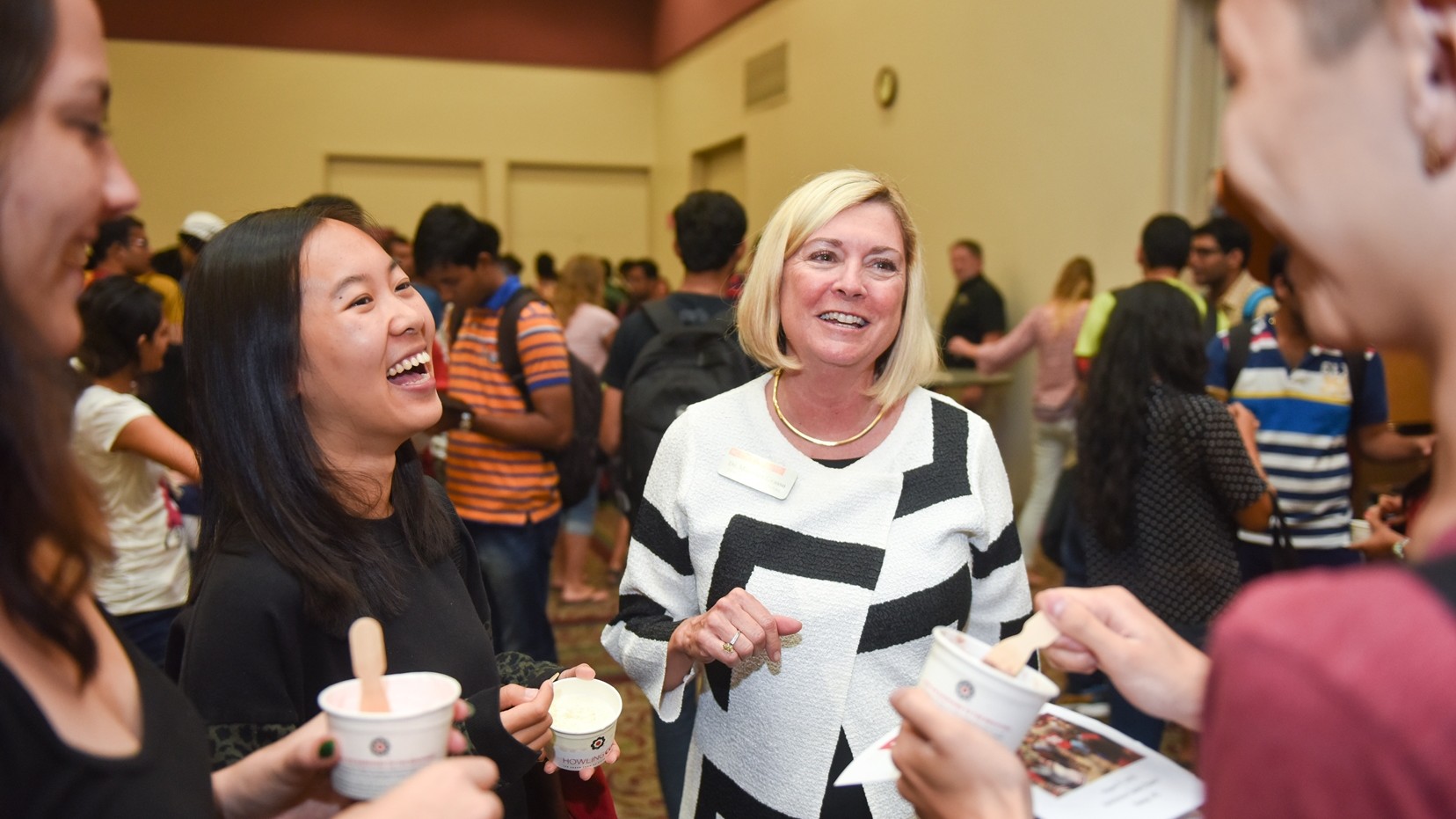 by Maureen Grasso,
Dean, The Graduate School
Finding a mentor – or mentors – can help pave the way for a successful graduate school experience and successful life experiences beyond. And that's why The Graduate School at NC State decided this year to focus a portion of our new graduate student orientation on understanding the student-mentor relationship. Our goal was to help graduate students see how important it is to seek out mentors who will share their knowledge and experience and provide encouragement.
Those of you who were at orientation will remember that Theater Delta of Chapel Hill performed several vignettes that depicted the relationship between first-year graduate student Danielle Young and her major professor, Dr. Patricia Reid.
Like our new students at orientation, Danielle came to her master's program full of excitement and good intentions. But later in the semester, Danielle visited Dr. Reid somewhat frantic and overwhelmed with the workload of school assignments and her assistantship. The next semester, when Danielle shared her proposed thesis topic with Dr. Reid, she was surprised that Dr. Reid tried to guide her toward a more manageable goal.
So, how do you choose a mentor? Theater Delta's Director Ben Saypol encouraged students to identify a "matrix of mentors," perhaps for different areas of your life – personal, professional and academic. Keep in mind that every mentoring relationship is different, and each mentor brings different strengths to the relationship.
A mentor can be a faculty member or even an older graduate student who has experience in your program. All Ph.D. students are assigned a faculty advisor who directs their research, and for some, your advisor can also serve as a mentor. Remember that not all faculty advisors are mentors, and not all mentors are advisors.
Look for a mentor whose interests and work style are similar to yours. Your mentor should be someone you trust, someone who can deliver praise and constructive criticism in a positive way.
A doctoral student working on his dissertation recently told me that he saw the relationship between a master's student and mentor and a Ph.D. student and mentor as very different. He said that while a mentor helps a master's student navigate graduate school, research and teaching, the mentor for a Ph.D. student is more focused on helping a student prepare for a future career, whatever that may be.
Look for a mentor with high ethical standards in his or her research program and in the mentoring relationship. When a mentor is also a critical professor in your program, it is important for both of you to maintain a professional relationship.
Seek out a mentor who is approachable and available. Does the mentor have an "open door" policy or expect you to schedule appointments? What level of involvement do you desire to have with your mentor?
At the same time, appreciate the fact that your mentor is a busy person and be respectful of his or her time. Thank your mentor for his or her time when you meet, and take time to develop skills and follow up on suggestions that your mentor gives you.
Having served as dean for three graduate schools now, I'm well aware that the two biggest struggles that graduate students face are with time management and communications. Mentors can assist you in navigating these challenges throughout your graduate career.
Here are some tips that you might hear from your mentor:
Surround yourself with others who can support you. Being overwhelmed is a common experience of many graduate students, whether they are enrolled full-time or part-time, with a job and even a family. Working within a community can help ground you during stressful times.
Know that you are not an "imposter." Don't fall into the "Imposter Syndrome," fearing that you're not good enough to be in graduate school and that you will be exposed sooner or later. You were admitted because you are very capable, and we know you will be successful in your graduate career.
Practice self-care. This will be different for everyone, but it can include practicing exercise or meditation, learning a hobby or new skill (unrelated to academics) and nurturing relationships with others.
Set personal goals. This can be as simple as making a list of things you need to do, prioritizing them and scheduling time to work on them.
Schedule everything! It sounds absurd, but it can help you manage all your academic and personal responsibilities and see where balance is needed. That includes scheduling time with your family so that you don't feel you've neglected them or that their needs are encroaching on your academic pursuits.
Seek counseling when you need it. It is important to have an outlet – someone to talk with about what you are experiencing. If the stress in your life seems all consuming, turn to resources like NC State's Counseling Center for guidance. There's no stigma in seeking professional help.
Complete your master's thesis or Ph.D. dissertation or any final requirements to earn your degree. The Graduate School offers resources to help both master's and doctoral students with writing needs from your first written assignment to your thesis or dissertation. Take advantage of these resources – they were developed to assist you.
Now it is up to you. Take action – find a mentor or a "matrix of mentors" who will help you discover the best in yourself and guide you to a rewarding experience in graduate school and beyond.