Engineering Students Sweep NC State's First 3 Minute Thesis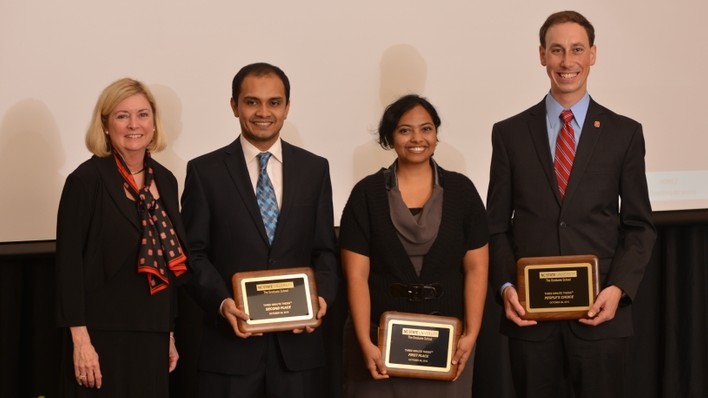 Engineering students took all three prizes Oct. 28 in the first-ever 3 Minute Thesis competition at NC State University. The international competition challenges students to describe their dissertation research in 3 minutes, using just one slide.
First place winner is Haritha Malladi, with her presentation, Reduce and Recycle: How to Turn Our Black Roads Green. Malladi is a student in civil engineering, and her research advisor is Dr. Akhtarhusein Tayebali.
Malladi described her research project that involves recycling old asphalt by incorporating it into new asphalt for road construction. This technology diverts tons of old road asphalt waste from landfills. She defended her dissertation only a week ago and plans to graduate in December. In 2013, The Graduate School featured her in an article about the school's professional development programs.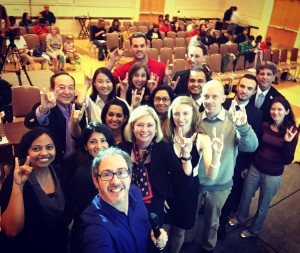 Second place winner is Tahmid Latif, whose presentation was, Remote-Controlled Roach-bots for Search and Rescue after Natural Disasters. Latif is a student in electrical and computer engineering, and his research advisor is Dr. Alper Bozkurt.
Members of the 3MT audience voted on the People's Choice winner, Matthew Melillo,  who presented, Substrate Deformability Impacts Liquid Spreading. Melillo is a chemical engineering student, and his research advisor is Dr. Jan Genzer.
This year's 3MT competition was open to Ph.D. students who had completed their confirmation milestone. From 28 finalists, the field was reduced to 10 during preliminary rounds in early October.
Read more about 3MT and the 10 finalists from The Graduate School News page.
Watch videos of all the finalists' 3 Minute Thesis presentations.