Postdocs Take Honors at Research Symposium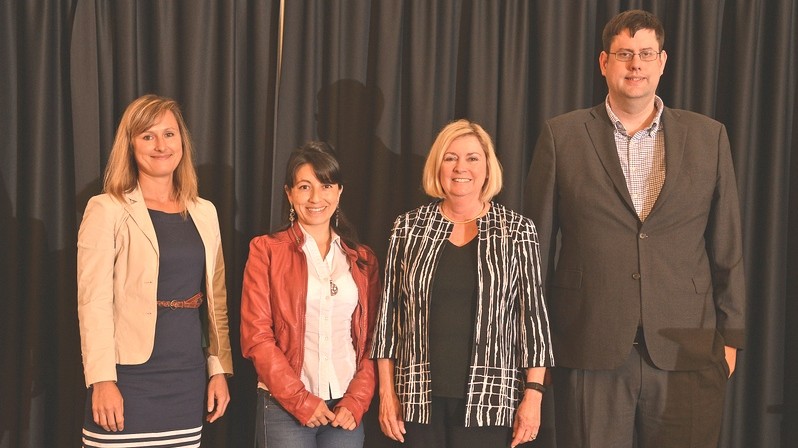 Three NC State University postdoctoral scholars were recognized recently for their outstanding research at the 5th Annual Postdoctoral Research Symposium, sponsored by the Office of Postdoctoral Affairs.
Winners and their research topics are:
First place, Dr. Lilian Matallana, College of Natural Resources, "Decoding needle abscission: The genome behind your Christmas tree"
Second place, Dr. Luke Neal, College of Engineering, "Greener ethylene production via chemical looping"
Third place, Dr. Sarah Ehling, College of Veterinary Medicine, "To scratch an itch: Establishing a mouse model to determine active brain areas involved in acute itch"
Seven postdocs also receive honorable mentions for their respective colleges. Their names and colleges are listed with their featured research topic.
Dr. Martha Alonzo-Johnsen, College of Veterinary Medicine, "Identification of novel genes affecting left-right morphogenesis in the embryonic heart"
Dr. Kevan Minick, College of Natural Resources, "Sea level rise and land-use change threatens coastal freshwater forested wetlands in coastal North Carolina"
Dr. Muntazar Monsur, College of Design, "Outdoor classroom intervention to promote STEM learning activities in childcare centers"
Dr. Jonathan Mueller, College of Engineering, "Prompt neutron coincidence anisotropy in highly multiplying assemblies of SNM"
Dr. Karl Pazdernick, College of Sciences, "A Bayesian approach to modeling atomic structural disorder"
Dr. Srinivasan C. Rasipuram, College of Textiles, "Plasma textiles: A new class of active, tunable filters for enhanced nanoparticle filtration"
Dr. Daniela Magdalena Sorger, College of Agriculture and Life Sciences, "Island-like divergence on Florida's sand ridges – the case of a trap-jaw ant"
The annual research symposium is designed to raise awareness about the contributions that postdoctoral scholars make to the university's research and scholarship. "We appreciate the opportunity to showcase the work of our postdocs," said Dr. Laura Demarse, director of the Office of Postdoctoral Affairs. "Their research enhances our institution, our community and our world."
More than 150 postdocs and NC State faculty and staff participated in the event. Keynote speaker was Dr. Richard E. Kouri, the chief evangelist, Center for Innovation Management Studies, and adjunct professor in the Poole College of Management, College of Agriculture and Life Sciences and Department of Biomedical Engineering. Kouri discussed, "Healthcare Delivery in the U.S. – Status Report."
Other speakers included Dr. Jon Horowitz, assistant vice chancellor for research infrastructure, NC State's Office of Research Innovation and Economic Development, and Dr. Christopher Oldham, NC State postdoc and president of VaporPulse Technologies, Inc.
For a full list of poster presenters and their abstracts, visit: go.ncsu.edu/prs2016.