Student Pitches Idea for Educational Statistics Videos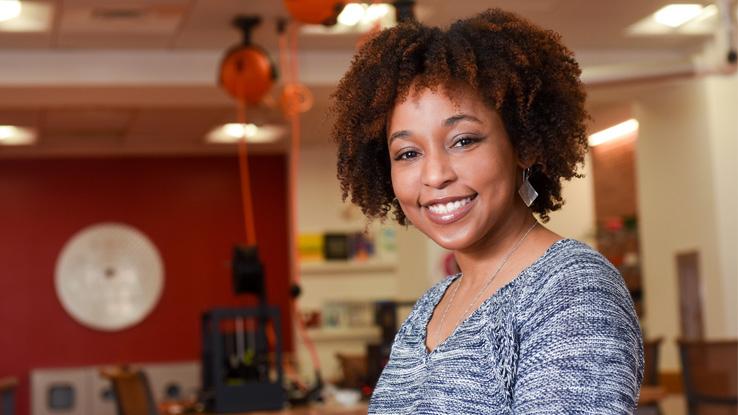 Jami Mulgrave, a Ph.D. candidate is statistics, wasn't deterred about being the only graduate student out of 15 teams to compete in this year's Entrepalooza Minute to Pitch it. The fun, outdoor event challenges entrepreneurial teams to pitch their business idea in one minute for the chance to win $1,000 to launch their idea.
For her pitch, Mulgrave combined her passion for statistics with a desire to educate. She proposed an idea for YouTube videos that would make learning about statistics fun for children. Teaching is also a passion of Mulgrave's. She recently taught two GitHub workshops at NC State Libraries.
Winner of this year's Minute to Pitch It was team "Car in Touch," led by Alberto Anton Aparici from Poole College of Management.
Mulgrave's pitch: I aim to build an educational channel on YouTube that teaches basic statistics principles to children. My videos will make learning fun and enjoyable for children using music and animation. (Singing) S-T-A-T-I-S-T-I-C-S, how much you mean to me. That's what I want the kids to see when they watch the videos. Thank you.
Below, Mulgrave answers questions from the Graduate School News.
Graduate School: How did you get interested in Entrepalooza? Mulgrave: Well, I always wanted to do something related to the Entrepreneurship Initiative here at NC State, and I talked with my mom about a few ideas. And we thought, 'wouldn't it be great if we had more  educational tools for children for math and statistics?' So I thought, well, I definitely could shepherd the statistics part of it since I'm in a stat program. So I thought I would pitch it and see what the response was.
Graduate School: So your idea developing children's educational videos about statistics – but not everyone thinks statistics is fun. How do you do that? Mulgrave: Exactly, that's why I want to do something about it. I figure if we can start young, maybe when we get older we'll be more interested and eager to learn statistics and more excited about it. If we get the kids when they're young and make statistics fun, then they'll carry that with them for the rest of their life.
Graduate School: What's the importance of understanding statistics in today's world? Mulgrave: I think everywhere we are always told about numbers and data, from health-related statistics, and journalism is becoming more data-driven. So now we need to be able to evaluate these things objectively instead of being told these numbers and being persuaded in different ways. So I think it's very important for our kids and adults to understand at least basic principles so they can evaluate and understand these numbers we see every day.