GradPack Talks: Professional Development for Navigating the Future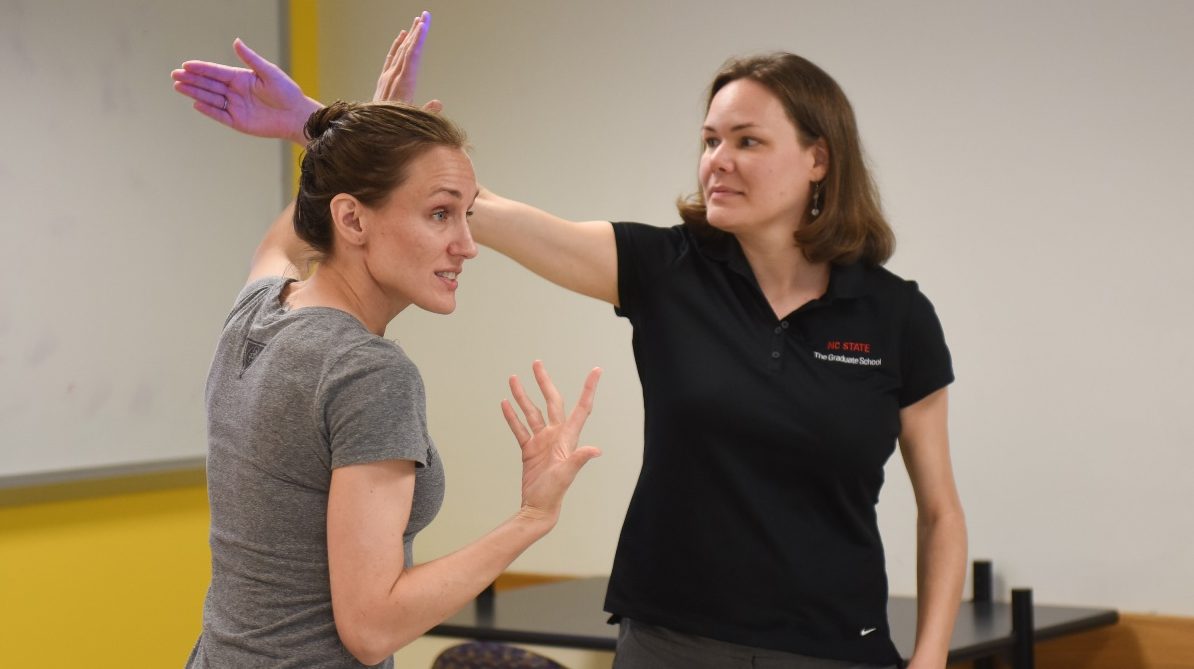 Transcript:
Natalie Hampton: Hi, this is Natalie Hampton with "GradPack Talks," a podcast that focuses on resources available to graduate students at NC State University. Today, I'm talking with Vanessa Doriott Anderson at the Graduate School about professional development for graduate students.
Natalie: So Vanessa, tell me about the Graduate School's professional development opportunities.
Vanessa Doriott Anderson: We have a number of exciting professional development workshops and development series open to graduate students and postdocs at NC State. Our team in the Graduate School has spent the last year reviewing research about graduate students and careers, as well as benchmarking best practices.
We did this to offer graduate students and postdocs opportunities to learn and begin to document some of the attributes and skills that employers will value. We are exploring the use of badges to document the kinds of competencies students will develop through our workshops. We have also begun to offer digital badges for professional development workshops that can be added to a resume or LinkedIn page as evidence of skill mastery.
Natalie: What types of professional development workshops do you offer?

Vanessa: We offer workshops on communication – both speaking and writing; leadership and management –teamwork, project management and more; academic development – teaching and mentorship; and personal and professional development, including skills to help in your job search.
We are also excited to be offering full-semester development series that meet once per week in order to delve into the topics we cover in our workshops in a much more sustained, complex way. The mix of programming we offer now is very much a "Choose Your Own Adventure" model — you can chart your own path through our offerings based on your needs and interests.
Natalie: How can graduate students find out about professional development opportunities offered through the Graduate School?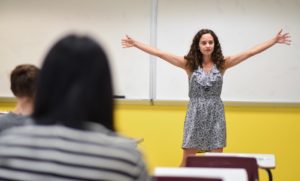 Vanessa: Our development series, along with registration links, are always available at go.ncsu.edu/gradworkshops – that's g-r-a-d-w-o-r-k-s-h-o-p-s. There is no cost to attend the vast majority of our programming, and we're constantly adding new things. Also, watch for the Graduate School's student newsletter and follow the Graduate School on social media to learn about upcoming workshops. You can also sign up for our Professional Development newsletter by visiting our website.
Natalie: Will there be new programming to look forward to this year?
Vanessa: We have updated our teaching certificate program to emphasize the transferability of teaching skills. The ability to communicate with diverse audiences, from undergraduate students in the classroom, to specialists, to industry partners, to politicians, to the lay public, is absolutely essential in today's competitive job market. Our new Teaching and Communication Certificate aims to help participants become more effective and confident teachers who are able to articulate their professional value in an accessible and compelling way. We encourage all graduate students and postdocs, including those without teaching assignments, to consider participating. The work we're doing together is hands-on, evidence-based, and just plain fun. More information about the program is available at go.ncsu.edu/tcc.
Over the summer, we offered the Graduate School's first-ever Industry Immersion Program, now known as Accelerate to Industry. For a week, 50 hand-selected Ph.D. candidates and postdocs had the chance to network with industry representatives and colleagues to gain a better understanding of the jobs available to Ph.D.s in industry. Participants also spent time honing their "elevator pitches," as well as their resumes and LinkedIn pages. We plan to repeat this program, and offer others like it, to help our students and postdocs broaden their perspectives on employment opportunities.
We also continue to offer Dissertation Institutes, Writing Retreats, and Writing Accountability groups. Although we've offered several of these initiatives in the past, they are expanding and evolving rapidly to serve our audience even better. We hope that students will view writing as a process that begins in their first semester at NC State — don't let the name "Thesis and Dissertation Support" fool you. We want to support you throughout your time here.
Natalie: Well, thanks Vanessa. As we wrap up, I want to ask you, what is your favorite thing about working with NC State graduate students?
Vanessa: They are willing to try new things — and they challenge me to provide evidence! It's really thrilling as a lifelong humanist to expand my horizons by working with students in STEM and beyond.
Natalie: Thanks again for talking with me on GradPack Talks. Find out more about professional development opportunities for graduate students at go (dot) ncsu (dot) edu (slash) gradworkshops.
Learn more: go.ncsu.edu/gradworkshops
Subscribe to the Professional Development newsletter.
Create an account to earn digital badges for professional development workshops.