Peggy Olive Celebrates 50 Years Service to the Graduate School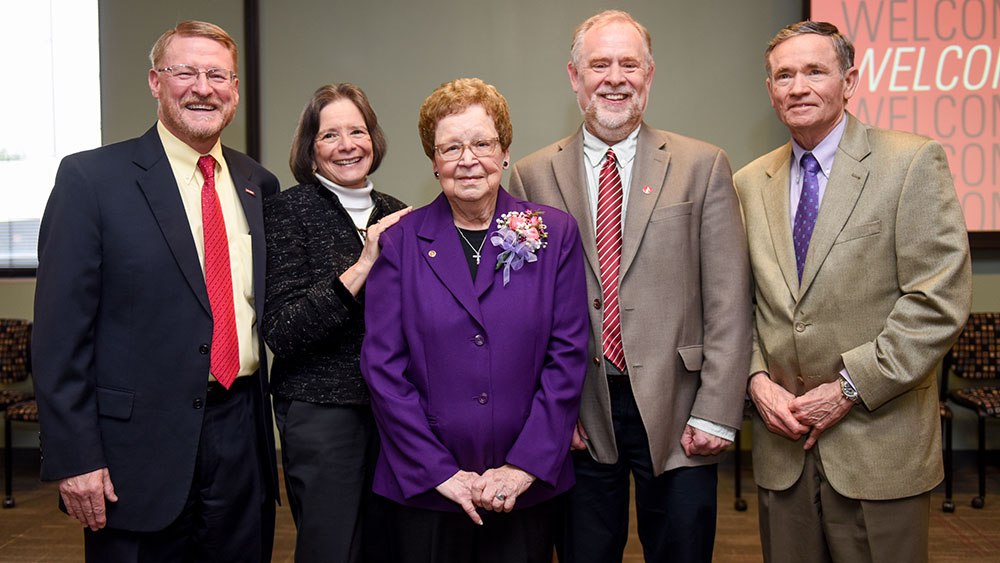 Things at the Graduate School have changed quite a bit in terms of office equipment and processes since Peggy Olive started work here 50 years ago.
In 1968, Olive worked with a rotary telephone, typewriter and mimeograph machine; today, she has a phone that answers multiple lines, a computer with two screens, photocopy, fax and scanning machines, and a nearly paperless administration process.
On Tuesday, Olive celebrated her 50th work anniversary with more than 100 family members, co-workers and campus colleagues. Many former Graduate School employees – including three former deans — stopped by to celebrate with "Ms. Peggy." And this wasn't a retirement party – although Olive is well past the traditional retirement age, she has no plans to retire at this time.
Olive was dressed in her favorite color – purple – for the celebration, dubbed by the Graduate School as Peggypalooza. She wore other mementoes of her career: a lapel pin for 40 years of service and a 25-year ring.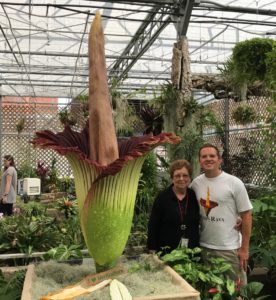 A Graduate School Facebook post Tuesday about Olive's 50th anniversary attracted many "thanks" and "congratulations" from graduate students and co-workers, past and present. Some comments were, "Enjoyed all my years interacting with you." "I feel fortunate to have had the opportunity to work with you!" "You helped me land my first post doc position by authorizing my Ph.D. degree the day it was granted and hence I was able to join the very next day without any problem."
Olive has now worked under nine Graduate School deans and nine governors, as well as 12 NC State chancellors. She has held the positions of clerk, administrative assistant, supervisor of student records, and today she is one of four college liaisons that support students from the time they are admitted to graduate school until they complete their degrees.
The Graduate School had fewer than 10 employees when Olive started work, and today there are more than 30 employees who support graduate students. Many of them were born in the years since Olive started working at the Graduate School.
"Peggy's been here for 50 years, and technology hasn't phased her. All the students and faculty that she's dealt with all these years haven't phased her," said Interim Graduate School Dean Peter Harries at the celebration. "We're thrilled to have you all here to celebrate what's just been an incredible legacy in the Graduate School."
Graduate School Dean Emeritus Bob Sowell said that Olive was nearly half way through her career when he took a leadership position at the school in 1991. "And while I had not known Peggy personally, I knew Peggy by reputation and by telephone call, from time to time," Sowell said. "And I knew that she had the interest of the graduate student foremost in her mind, and that she had interest in making sure that all the rules and regulations of the Graduate School were followed."
Sowell said that Olive was a "great mentor to new associate deans. Peggy is the person who taught me my job."
Over the years, faculty members new to their roles supporting graduate students have turned to Olive to learn how to do fulfill their responsibilities. It's not unusual to find a box of candy or vase of flowers on Olive's desk from a staff or faculty member or an administrator grateful for her help.
"Peggy's genuine interest starts with students. I think second is the staff that she works with across the colleges. And there's also a genuine interest in the Graduate School," said Senior Vice Provost Duane Larick, who served in a number of leadership positions at the Graduate School. Larick sat by Olive 10 years ago when she was honored for 40 years of service.
Harries also read several letters written to Olive, including one from NC State Chancellor Randy Woodson. All congratulated her on reaching 50 years of service and thanked her for all she does for students and to the faculty.
The Graduate School presented Olive with a commemorative brick that will be placed on campus, honoring her service. She also received the Order of the Long Leaf Pine Award from the governor's office. On Wednesday, Olive was among five employees who received Awards of Excellence from the Provost's Office.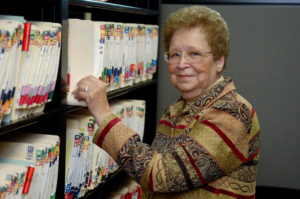 Though the Graduate School's office may have changed in many ways over the past 50 years, according to Olive, today's students are pretty much the same as they were in 1968. "I'm not sure the students are any different; there are just more of them. They may have more problems now than they did then," she said.
Olive was born in Raleigh and graduated from Knightdale High School in 1949. Her first job after high school was at First Citizens Bank in downtown Raleigh. She later worked for CP&L, where she met and married her husband Bill. The couple was married for 50 years until his passing.
Olive has three sons, including Kerry Olive who also works at NC State University. She also has two grandsons, two granddaughters and two great-grandsons, whom she loves to spend time with.
Though Olive doesn't share many stories about the students who have crossed her path, she has one favorite memory of an international student who couldn't correctly pronounce her name. He called her, "Miss Piggy," and the story still makes Olive chuckle.
When she's not working at the Graduate School, Olive enjoys tending to her flowers and her bird feeders. She is active in her church, assisting with the church food pantry and other activities.
She says she continues working because she loves her job. "I love everything I do—I love the students, my graduate services coordinators, the directors of graduate programs and the faculty," she said. "I don't think I'd change a thing."