Legislators Hear About Value of Graduate Education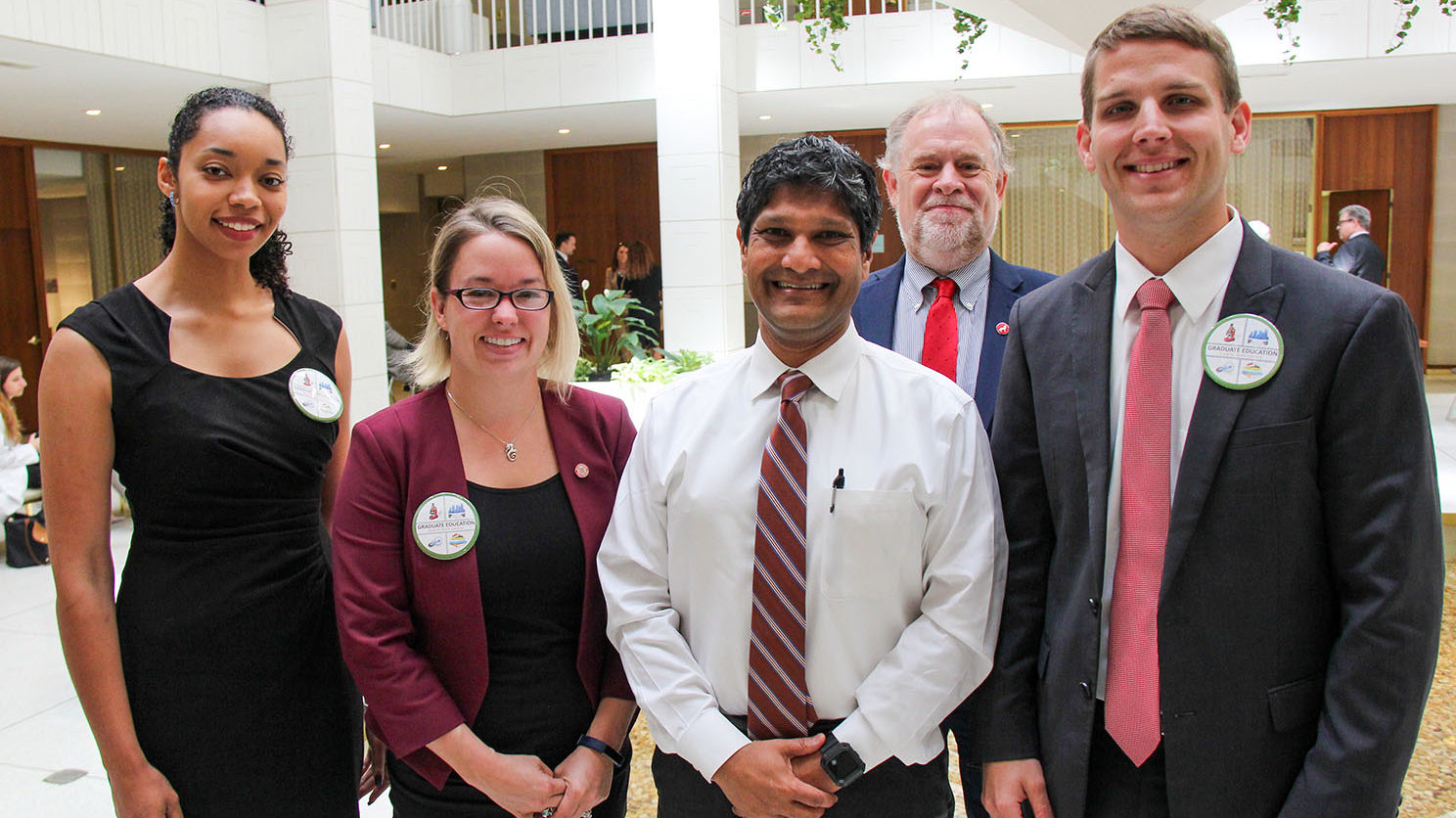 With spring commencements just barely over for most North Carolina universities, 14 graduate schools gathered at the N.C. General Assembly on May 15 to advocate for graduate education support.
More than 70 graduate students and administrators were on hand to celebrate Graduate Education Day in North Carolina, which included the reading of a proclamation from Gov. Roy Cooper declaring the entire week to be "Graduate Education Week" in North Carolina.
The day started with an education session, where Rep. John Fraley, R-Iredell, talked with students about North Carolina's legislative process – how the state budget and individual bills make their way through the General Assembly. Amy Auth, director of state government relations with UNC-Chapel Hill, explained to students how advocacy with elected officials differs from lobbying and how to advocate effectively. Jeffrey Warren, research director with the North Carolina Policy Collaboratory, talked about how scientists can inform public policy.
During the latter part of the morning, university delegations met with their elected representatives to share the work that their graduate students are doing. The NC State delegation met with Rep. Joe John, Rep. Rosa Gill, Rep. Julie von Haefen and Sen. Jay Chaudhuri, all of Wake County.
NC State's student delegates included Alysa Buchanan, a recent graduate who earned a master's in graphic design; Megan Ennes, a recent graduate who earned a Ph.D. in science education; and Sam Ingram, a Ph.D. student in animal science, who plans to complete his degree this summer. Peter Harries, interim dean of the Graduate School, and Laura Demarse, assistant dean, also represented NC State.
Buchanan's research focuses on how experience design, visual design and design research methods can be used to elevate the quality of life for soldiers. Her thesis explores how a system of mobile applications and wearable technology might address and treat the mental health concerns of soldiers while they are deployed to combat zones. Buchanan hopes that the production of these tools, which utilize machine learning and artificial intelligence, might begin to shift military culture and lessen the stigma around receiving mental health care in the military.
Ennes' research has covered many topics such as museum educators' levels of self-efficacy, virtual reality and the effects of museum-based family STEM programs on the science interests and career aspirations of underrepresented youth. Her work found that participation in a museum-based family program increased the science interest and aspirations, not just of the youth participants, but also of the parent participants. This has implications for programs seeking to increase the number of underrepresented youth who choose to pursue STEM careers. This summer, Ennes will begin her academic career as the first assistant curator of museum education at the University of Florida's Florida Museum of Natural History.
Ingram's main research is a cross-disciplinary study that examines the animal, forage, soil and economic components of renovation strategies for toxic-infected tall fescue. This grass is the dominant grass for beef cattle farms in the Southeast because of its persistence and productivity. However, a toxin living within the grass drastically reduces the efficient production of beef. The renovation strategies examined in his study replace toxic-infected tall fescue with non-toxic tall fescue in an environmental and economical manner. Ingram wants to provide a meaningful solution to the beef cattle farmers dealing with the toxic-tall fescue.
After lunch, students and administrators gathered for Howling Cow ice cream provided by NC State University. Legislators and their staffs were invited to come for ice cream, which is always a hit with the General Assembly.