Keep Your Resolution: Get Fit in 2020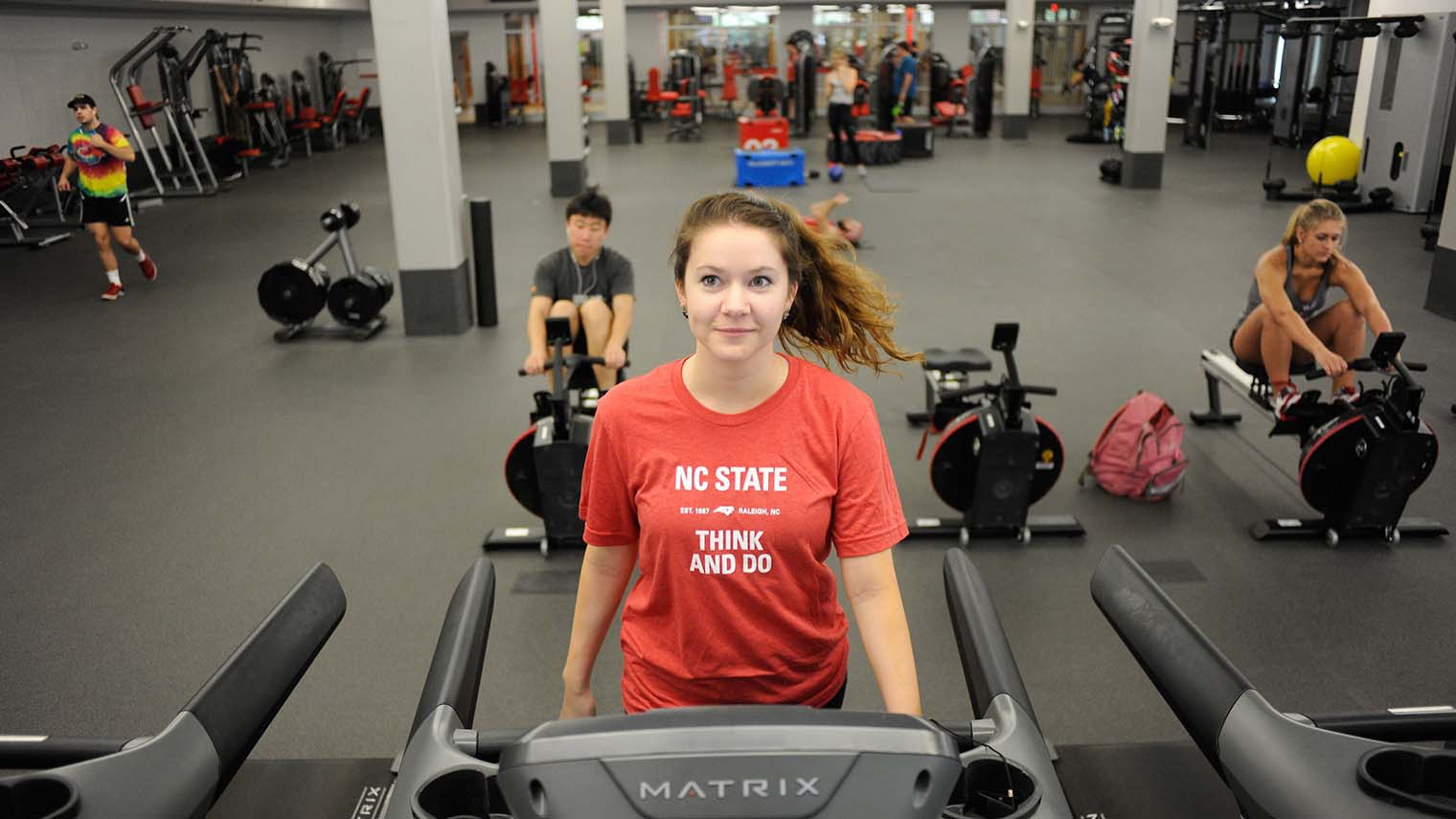 Are you looking to improve your fitness in 2020, but you can't find time to get to the gym? Three graduate students who are fitness instructors at NC State's Wellness and Recreation have found a way to fit exercise into their busy schedules and get paid for it.
Hannah McQueen, Marissa Personette and Anna Beam-Mitchell are all graduate students who decided to take their love of exercise to the next level as fitness instructors. They offer their stories on how they became instructors and how other students can take advantage of what Wellness and Recreation has to offer.
All three students say they got interested in becoming instructors by first coming to the gym for classes.
Hannah McQueen, sociology Ph.D. student and peer mentor, was taking classes at the gym three to five times a week when she decided that she might as well get paid for attending fitness classes.
"I never taught fitness classes before, but I had been coming to fitness classes here for about three years as a graduate student," McQueen said. "Eventually I thought, 'You know what? I love teaching, I love choreography. If I'm going to be here three or five times a week, I might as well be paid to be in the front of the room.'"
Marissa Personette, also a Ph.D. student in sociology, had been taking Body Pump™ – a weight-lifting class — even before coming to graduate school. She decided to become an instructor to "find a place outside of grad school."
Anna Beam-Mitchell, a doctor of veterinary medicine student at the College of Veterinary Medicine, began taking fitness classes as an undergraduate at NC State. "And one of the instructors befriended me and asked me to come back and do the training." And so she did.
The training varied a little bit for each instructor. McQueen took the American Council on Exercise fitness instructors' training, which included a weekend-long workshop offered through WellRec. Then she shadowed other instructors at WellRec and took what she calls a "GRE-style exam, and then I could teach."
Beam-Mitchell took the ACE® course, but didn't take the certification exam because she decided to get her Body Pump™ certification instead. "I only needed one (certification); I didn't need both. But I did both trainings," she said.
Personette opted for the Body Pump™ training and certification. "I shadowed another instructor, who was actually a graduate student at the time. I would present a few tracks in his classes. Then I submitted a video to receive my certification and started working as a full-time instructor," she said.
McQueen paid for her own training and certification – about $200. Personette said she received a subsidy for agreeing to teach at WellRec. It cut the cost of her certification in half, to about $170.
Each instructor has her own favorite class – both Personette and Beam-Mitchell say their favorite class is Body Pump, but each teaches additional classes. Personette has taught small group boxing. Beam-Mitchell teaches kickboxing, H.I.I.T. (high-intensity interval training), TRX® (an apparatus-based strength and balance program), as well as F-45, a studio class that participants pay for.
McQueen has taught cardio dance and Latin dance. In the spring, she'll teach international dance. "It's going to be whatever international dance style I want to teach that day. In the beginning, I'm going to switch between K-Pop (Korean pop dance) days and Latin dance days. I have some European artists on my playlist, so I might do a Eurovision night," she said.
All the fitness instructors say they see their fellow graduate students at the gym, but they all want to see more. Here's why our graduate student fitness instructors say you should join them at WellRec:
Anna Beam-Mitchell: "I think that grad school is super stressful. Even when you're in the best program, you need something that's not school in your life. I really like coming to the gym – I think there's a good community here. I really like being active. It's good for you and your brain. So I would tell graduate students that it's going to make you feel better to leave the house for an hour and hit the gym!"
Hannah McQueen: "You're already paying for access to Carmichael gym and recreation center, so you might as well take advantage of it. I think the students who succeed in school are those who take time to take care of themselves in all the realms of life. They are the ones who are cooking for themselves. They're taking breaks, going on walks and getting some fresh air. And they're working out, getting three to five days of exercise per week. The ones who are taking care of themselves really have the best perspective and the best long-term plan."
Marissa Personette: "I think that graduate students are constantly driving themselves into the ground mentally, and I think that we forget about taking care of ourselves sometimes in a way that doesn't look like 'progress toward degree.' So I think that by coming to the gym, that really is putting an emphasis on personal health. It's about getting your body moving, getting some physical activity and just balancing yourself. So your experience isn't totally mental drainage; it's a little bit of physical activity along with a lot of mental stimulation."
So what are you waiting for? Keep your New Year's resolution to be more active by taking a group fitness class through WellRec today.