Shifting Online: Support for Teachers and Students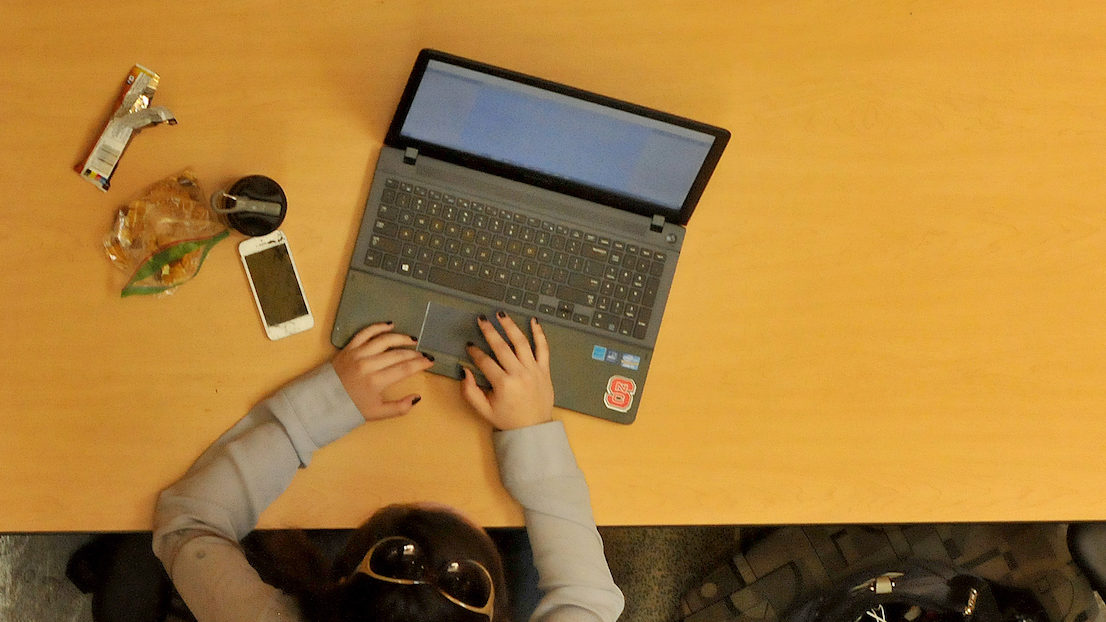 Although online education is valued for a number of reasons, the most recent precedent for this article has been the novel coronavirus (COVID-19) that have adjusted operations on university campuses, closed K-12 schools, canceled large gatherings of 100 or more people and closed many businesses. When NC State recently elected to move all courses online starting March 23, many instructors, as well as students, were unnerved about the sudden shift to online.
We aim to help make that shift a bit easier, especially for our graduate student and postdoc teaching audience. So, here are our tips and tricks when it comes to moving your course online.
Considerations About Your Students
Before the semester started, I sent my students a survey about their computer and internet access during this online time. If you are moving online with others who were not originally prepared to take an online class, make sure to ask students what their online capabilities are before you post a complicated 30-minute module that they can't access on a smartphone.
Here are some questions you can use to survey your students to ensure your class will be as accessible as possible.
Are you at home, out of town visiting family/friends, on vacation, or in the dorms? Where will you be staying during the online instruction time? (Wherever you will be, make sure you test the internet connection, access, etc.)
Do you have internet access for your computer at home? (Phones and data do not count unless you use the hotspot for internet access.)

If you checked "Yes," what does your internet access look like? If you checked "No," please explain your situation.
Offer your students a speed test website to see how fast their internet is for class

On a scale of 1 to 5, how comfortable are you using Moodle for actions such as discussion forums, submission portals, navigating our weekly homework pages, etc.?
Overall with online instruction, how do you feel? Are you nervous? Have you taken online classes before? Are you worried about your work ethic outside of a classroom? (For example, are you usually not good at working from home because of distractions such as your cats, TV, etc.)
Keeping Accessibility in Mind
It's valuable, especially as we move online, to keep your content accessible for all students and to keep in mind your students' accommodations. If you're a student yourself as well, it might be helpful to remind your professors of your accommodations or to be honest with them about any new issues that are arising for you out of this online shift. For instance, if you're learning that your internet is really lagging or spotty, let your instructors know that you might need more time to process content. Additionally, if you find it difficult to focus, creating a time-management system would be helpful too.
For your class, make sure you're consulting the following links from NC State to ensure your students have the utmost accessibility for your course:
One important idea for shifting online and remaining accessible is Universal Design for Learning (UDL). See here about this framework to learn more about getting started.
If you need more information about accessibility in general at NC State, the Disability Resource Office offers a helpful webpage on finding appropriate resources and designing an accessible course.
IT's Accessibility Quick Guide is helpful for almost any program you're using while online to make sure your students can all properly read and understand materials.
Disability Resource Office's List of Assistive Technologies can be useful for both students and instructors, so make sure to send this list to your students as well in case they need help online.
Finally, keep in mind that your students might be using their phones to access your class, so make sure your content is accessible and viewable on various devices.
Lecture Online
Lectures while online can be done synchronously, with the original class time or asynchronously, where students view course materials at their own pace. Especially now where questions about computer and internet accessibility for students arise, asynchronous course work might be the best way to ensure students have enough time to complete assignments on whatever device they're using.
My Media Site: Best for recording lecture content to video and organizing videos by class.

Videos can feature just audio, audio+video, audio+video+screencasting, or screencasting+audio. These options help with presentation-based lectures.

Zoom: Video conferencing that supports synchronous and asynchronous delivery (lectures can also be recorded). Each Zoom conference can accommodate hundreds of simultaneous connections.
Storing and distributing your lectures online can look like one of the following:
Here are additional resources for making your lectures as accessible as possible.
For transcribing your videos, if you choose to post them, Otter is a great transcription application that can be linked to your zoom account. This can be helpful for hearing-impaired individuals.
Zoom also has a feature under CC (closed captioning) that allows the host to assign a note-taker for CC. This is very similar to IEP (Individualized Education Program) plans that may include similar accommodations.
Hold In-Class Discussions
If your course relies heavily on in-class participation, then these online tools might be helpful to facilitate those discussions. The following are helpful online options for discussion forums; however, be sure to test them out before using them in your class.
Moodle Forums: asynchronous discussion in a forum. Keep in mind, though, that asynchronous discussion posts might require specific guidelines (such as guiding questions to answer and word counts for posts)
Zoom Breakout Rooms: real-time, supports subdividing a class into small groups. This features video and audio. It might be difficult for students with poor internet, though.
GChat/Google Hangouts: real-time, create a group chat for the class and separate chats for small groups
Audio and Video Conferencing: various systems supported by NC State, especially helpful for students who are primarily operating on their phone
Email: this is kind of a last resort, but it's always possible to do discussion through email threads
Students can also use My Media Site to create screencasts of their projects and record a voice-over presentation. Other ideas include having students create video essays with their phones, having groups give group presentations through Zoom, etc.
Giving Exams
For exams, the easiest way to deliver and retrieve the exam would be by Moodle (i.e., Quiz option) and this way, grades can be easily and safely delivered through Moodle's portal.
For smaller classes, another viable option is to give each student an exam on Google Forms, send the share link when the exam begins and have an answer key. If your exam is mostly written instead of multiple-choice, Google Docs might also be a viable choice. Just share the link, have students "Make a Copy" so they can individually edit the documents, and then have them share it back with you for grading purposes.
Of course, with students working from home, you might not be able to control what kind of notes students can access. This is where the survey will come in handy since students can tell you easily their accessibility, comfort levels and questions about working online.
To work within these constraints, you may consider rewriting exam questions to accommodate an open-note, open-resource format, a test format that relies less on multiple-choice and fact-based answers.
Open-Access Resources
Our NC State Libraries feature an abundance of learning resources free and online for the public. This includes websites for lessons or study tools and browser tools for finding open-access resources. Additionally, in the search tool Summon, there is an easy open-access filter button for open-access sources as well.
For instructors, NC State Libraries also feature helpful links and advice for open-education. This effort features "librarians [who] can partner with faculty members on licensing resources, using digital repositories, and creating and publishing their own open educational resources." These are sources for establishing open-access online tools for students like textbooks as well as share online educational lessons and projects.
Other Online Teaching Tools
For grading, please keep in mind that email is not recommended for sharing grades or any other kind of student academic record that is protected by FERPA. The medium is just not secure enough.
Among your options for sending grades to students are:
Moodle Gradebook: Takes a bit of time to learn, but this system allows the best student access control. If you have any issues with the grade distribution, DELTA can help you calibrate your Moodle.
Google Sheets: Create a grade sheet for each student that you share only with that student. Update sheets manually or link from a master spreadsheet (import range function in Google Sheets).
Remember to review NC State's Keep Teaching: Academic Continuity Planning document for more updates and information about moving online and if you need more tools, DELTA has you covered with frequent updates for teaching tools and more.