Alumni Success
Nzingha Williams Receives Outstanding Dissertation Award From Association for Career and Technical Education Research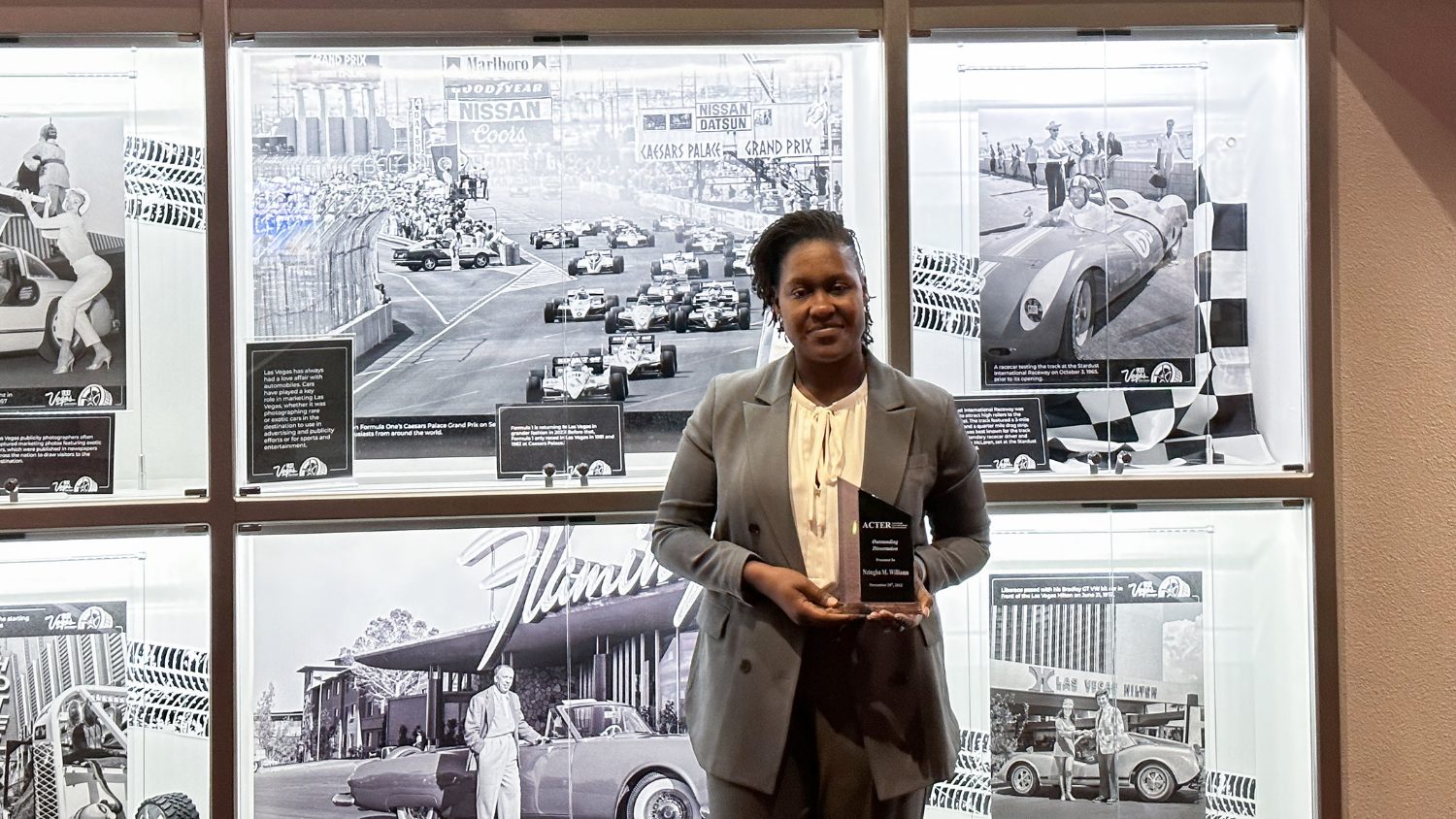 Nzingha Williams '22PHD, a May 2022 graduate of the NC State College of Education's Adult and Community College Education concentration, has received the Outstanding Dissertation Award from the Association for Career and Technical Education Research.
"It means a lot," Williams said. "I never imagined that my research would win an award. I really just wanted to answer a question that I knew would help people that looked like me, give voice to a group of people, and honestly, answer some questions I had about some of the experiences that Black Americans had through education. I am honored, humbled and a little overwhelmed, but most of all I'm excited about what the future holds for this research and my contribution to the field of career and technical education (CTE)."
Williams' dissertation, "History Doesn't Decide for Us: A Case Study of Black Parents and Their Perception of Career and Technical Education With an In-depth Look at the Philosophies of Booker T. Washington and W.E.B. Du Bois," provided an in-depth review of both philosophies and how they impact the perception of career and technical education among Black American parents.
Williams said her own experiences with career choices, college and debt inspired her to focus on the topic, as did her interest in diversity, equity, inclusion and access.
"Black Americans have a history with this country that, when it goes unacknowledged, it keeps history repeating and also doesn't give people the tools necessary to help a group the way that could benefit it the most," Williams said.
She hopes her work will spread awareness of the impact Booker T. Washington and W.E.B. DuBois have had in the field of career and technical education, and that it will provoke "thought among the Black community of how we take advantage of CTE as a path to economic freedom and a more intentional approach to how the field of CTE serves the Black American community with more inclusive language, representation and more."
Williams credits her committee, professors and classmates in the NC State College of Education with giving her the tools she needed to write an award-winning dissertation.
"This program was very intentional about creating space for me to think through my dissertation and how it related to education practically," Williams said.
Thanks to the time Williams spent in the College of Education, she was also accepted into two fellowship programs, one leadership-focused and one research-focused. Now, she is the director of Career and Technical Education at Central Piedmont Community College
"I am grateful to all that I have gained through this program," Williams said. "Yes, I completed my dissertation, but I gained so much more. "
This post was originally published in College of Education News.