About NC State
5 Questions with Goodnight Doctoral Fellow Prabin Bhusal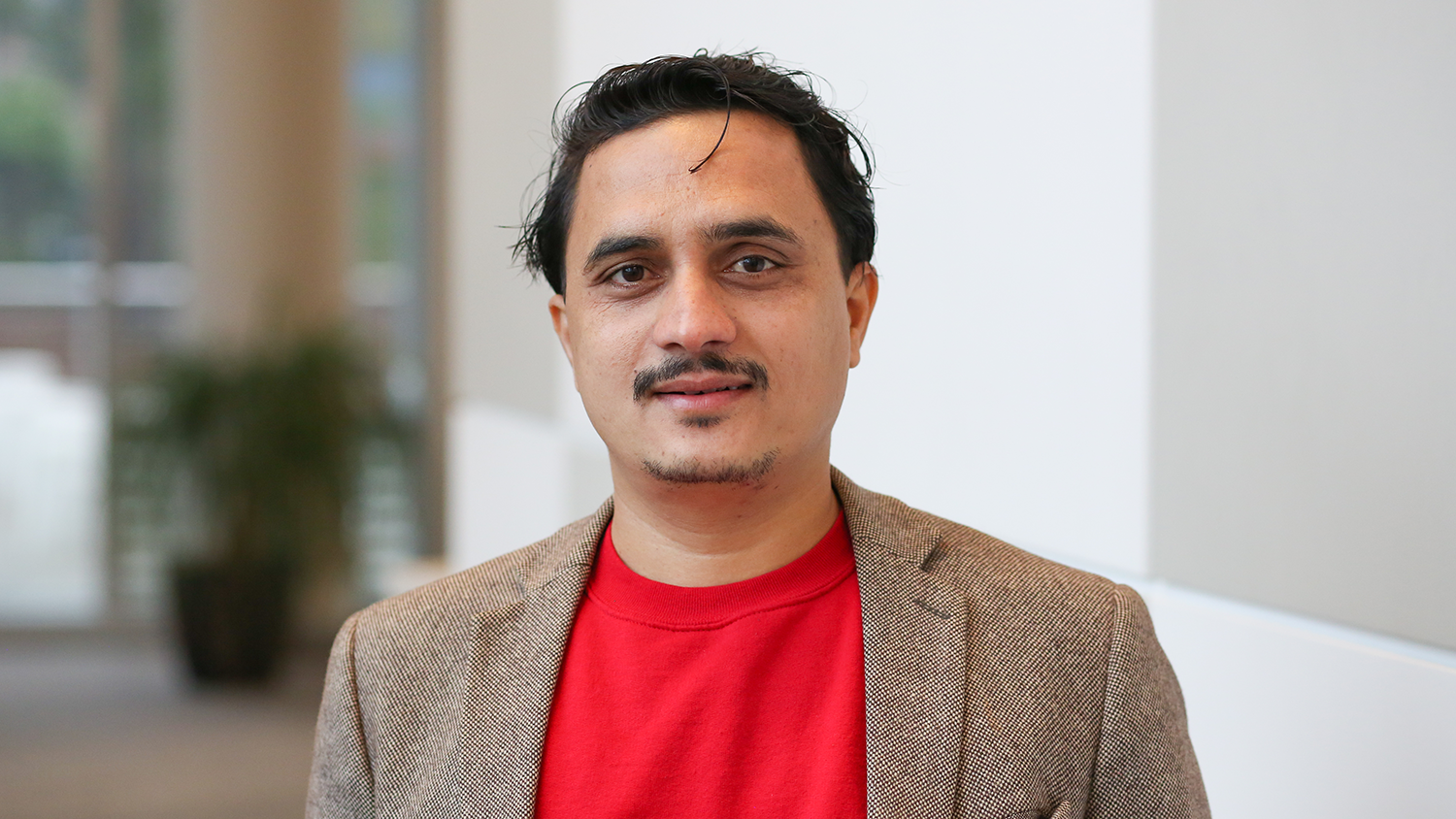 Prabin Bhusal is a Ph.D. candidate in the Department of Forestry and Environmental Resources. He is one of two students at the College of Natural Resources to be named to the inaugural class of Goodnight Doctoral Fellowship recipients.
Launched in December 2022, the Goodnight Doctoral Fellowship provides an annual stipend of up to $40,000 to each recipient in support of their education and research. It is made possible by a partnership between Dr. Jim and Mrs. Ann Goodnight, longtime NC State supporters and alumni, and the Goodnight Educational Foundation and NC State.
"Receiving this prestigious award means a lot of respect, recognition, and encouragement to me, and I am delighted to be one of the recipients this year," Bhusal said. "I am grateful for the recognition of my accomplishments and efforts, and it has inspired me to work harder to contribute to science for the benefit of forestry, the environment, and the people."
Bhusal earned a bachelor's degree in environmental science and a master's degree in natural resource management and rural development from Tribhuvan University. He expects to graduate from NC State in 2027.
For his doctoral thesis, Bhusal is working to identify the socioeconomic and political processes that influence the institutions of community forestry and the consequences of community forest governance on the socioeconomic dynamics in rural mid-hills of Nepal.
We recently spoke with Bhusal to learn more about his research and experiences at the College of Natural Resources and how he plans to utlize his knowledge in the future to improve forest management. Check out the Q&A below.
What encouraged you to enter your field of study?
I am passionate about natural resources and their sustainable management for the benefit of society. The dynamics of coupled natural and human systems and their synergetic interactions captivated and fascinated me while growing up in rural Nepal. I enjoy hiking in forests and watching people spend hours collecting firewood, leaf litter, fodder, rivers and grassland. Since I was a child, I wanted to work in natural resource management, specifically community forestry in Nepal, to help produce community livelihood and increase its sustainability. Thus, I believe that my desire to work with natural resources motivated me to pursue this career. For this, I am devotedly working with and for institutions that act for the betterment of forestry and nature conservation. For the last 10 years, I have worked in forest governance and policy research area by generating science and capacitating a new generation of scientists.
How do you hope to make an impact through your research?
My research area is important when it comes to participatory forestry, which has been increasingly adopted and implemented globally for the sustainable management of public forests for local development. We expect our findings to be transformative for sustaining community forestry in Nepal and beyond because community forestry is currently at a historical crossroads. The returns from community forestry to the forest users are far below expectations, jeopardizing its sustainability. This research will in turn advance our understanding of changing forest-based socio-ecological and economic systems. The world faces the prospect of losing forests' critical goods and services. Thus, this knowledge will be highly valuable for community forestry around the world to achieve the community forests' goals of forest conservation, livelihood improvement, and empowerment of the poor.
How has the College of Natural Resources helped you along the way?
So far, it's been a very exciting journey. Aside from conducive learning environments, a steady flow of information, opportunities, discussions and events on new ideas and skills has aided my progress in my research path. The student support system is commendable; you can find accurate solutions to your every academic problem, and the way the college has envisioned and practiced student and faculty engagement is what I have appreciated the most. I am grateful to my advisor and the department head for their encouraging support, and I look forward to working together to make significant contributions to science in the days to come.
What advice do you have for those who want to enter this field?
Forestry and natural resource management is an exciting field of study. It is directly related to daily life in terms of changes in the natural system and human interactions with nature. In the context of increasing human unnatural behavior and increasing environmental problems such as climate change, I believe it is our common agenda to assist in returning nature to its natural state, and understanding the dynamic and integrated systems of natural resources and human interactions is critical to this. So I believe we have a lot of opportunities and responsibilities to work together to help solve these escalating environmental problems by developing new science. I encourage all interested to learn and devote their career to forestry and natural resource science to come forward and work collectively.
Outside of the academic sphere, what can you tell us about yourself?
I am a person who enjoys doing household activities like cooking, gardening, and enjoying nature with long walks through the woods and along rivers. I try to observe how entities in nature are connected and contribute to each other's well-being in their natural states. My favorite place is my birthplace — a small village in the mid-western region of Nepal with lovely and welcoming people. I believe a continuous and consistent effort is necessary to earn something and that we should take each day as it comes and not compare ourselves to others. To be free, forgive others.
This post was originally published in College of Natural Resources News.