About NC State
Online Graduate Motivated to Broaden Leadership Role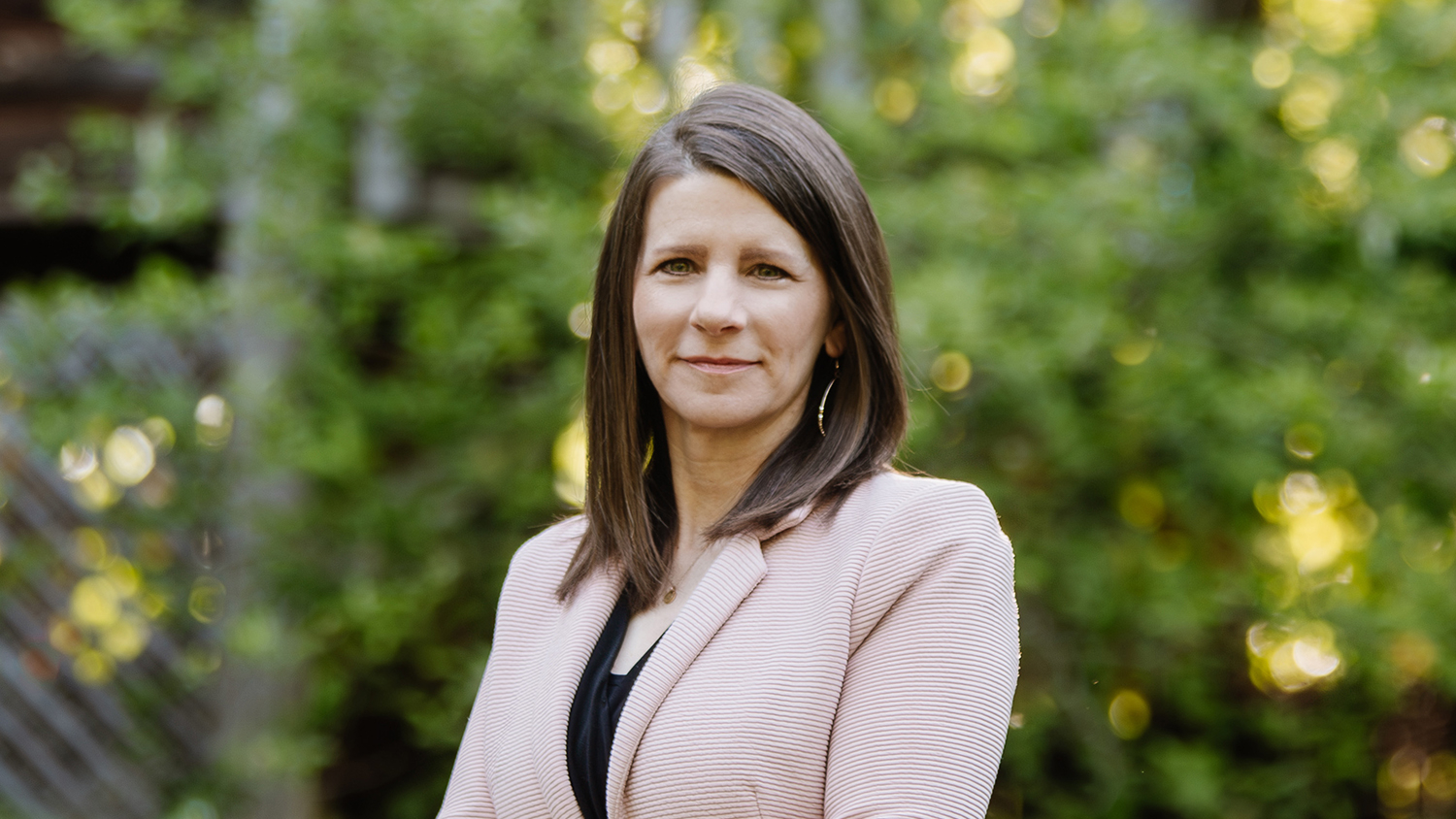 Amy Mahle Hopes to Protect Community College Healthcare Programs
Amy Mahle was born and raised in a rural New Jersey community to parents who attended trade school, worked hard and dabbled in entrepreneurial pursuits. As such, Mahle learned the value of investing in people, uniting others and inspiring them to take action toward meaningful projects and issues.
With a bachelor's in psychology, Mahle began her career path working in social services but moved from that job to partner with her brother and to co-found and co-own a small local business. Being a business owner was integral in her development of the skills and the mindset that served her well throughout life. 
"I felt the call to pursue healthcare and earned an associate degree in occupational therapy assistant from Cabarrus College of Health Sciences in Concord, North Carolina," Mahle said. "I enjoyed working clinically to help clients regain function and achieve their goals, but I transitioned to academia to train students for a role in healthcare, knowing that was where I could have a greater impact. I went on to earn a master's in healthcare administration, with the goal of becoming a program chair."
Mahle successfully defended her dissertation to earn her Education Doctorate (Ed.D.) in Community College Leadership, which will be conferred in May 2023. This NC State distance education program is an executive format cohort program that equips graduates to lead transformational change in community colleges focused on improved student outcomes. It provides a unique opportunity for working professionals and is structured to support professionals balancing work responsibilities with academic commitments.
Currently working as the founding program chair of the Occupational Therapy Assistant Program at Rowan-Cabarrus Community College in Salisbury, North Carolina, Mahle contemplated earning her doctoral degree for almost 10 years. 
"The mission of the community college deeply resonates with my core values," Mahle said. "In August 2017, the accrediting body of my healthcare profession considered a shift to a mandatory bachelor's degree, which would have closed the associate in applied science degree program I just launched at Rowan-Cabarrus. But that possibility, which was thankfully resolved, was my wake-up call. I knew I needed to advance my education and prepare myself for the future, whatever that might entail. At that time, I was unsure what type of degree or even which university would be the best fit for my goals and preferred learning environment."
Finding the Best Path
In 2019, Mahle attended an information session led by Assistant Teaching Professor Carrol Warren who discussed the NC State Community College Leadership program and the doctoral degree distance program, which includes an Executive Mentorship component.
"It wasn't long afterwards that I considered applying because I liked the format, the timeline and the pillars of the program," Mahle said. "I explored every possible link and document I could find about the courses, faculty and NC State online distance education. The Executive Mentorship component of the program also resonated with me as an added value that could help guide my understanding of leadership in the community college."
Mahle found that connecting again with the university through the Community College Education program Assessment Weekend bolstered her confidence.
"After being invited to the Assessment Weekend in January 2020, I was excited that I might actually have the chance to pursue my goal of obtaining a doctorate," Mahle said. "I enjoyed meeting the faculty, who gave voice to my hopes, and current students, who gave wise advice, as well as interacting with the other applicants, many of whom later became my peers. After conversations with my husband, Scott, to gauge his perspective and garner his support, I decided to apply."
Adjusting Expectations
Mahle found that she adjusted quickly to the expectations for online learning. Although she selected the program because of its executive format – meaning face-to-face meetings planned on weekends with online learning as a smaller part of each course – she quickly mastered the unexpected long days of synchronous coursework via Zoom caused by the COVID-19 pandemic. 
"The Ed.D. in Community College Leadership program at NC State has been my favorite educational journey," Mahle said. "The intentionally created opportunities within the program develop transformational leaders. We had outstanding classes, and we were assigned an executive mentor. We also had optional opportunities for leadership and professional development through several different educational programs. We were afforded chances to interact with legislators, attend board meetings and lectures, visit non-profits and interact through virtual synchronous formats with leaders throughout the United States."
Mahle understood going in that she would need to sacrifice time and energy to complete the program. Primarily, she felt that the discipline required to complete this advanced degree would mean a shift in focus – not just for her but anyone involved in her life.
"Being in a doctoral program is not for the faint of heart," Mahle said. "It can be easy to get overwhelmed when working full-time and juggling other roles in addition to doctoral-level coursework. My husband is my rock – and top fan! His support and understanding was crucial to my success. I also found it imperative to communicate with my family and friends that I needed to focus on my studies and dissertation, and thankfully they understood."
Although writing her dissertation was at times a daunting task, Mahle found that conducting her own research provided an unexpected thrilling experience.
"Writing the dissertation was a challenge, but it was primarily a meaningful and valuable undertaking," Mahle said. "I was able to conduct in-person interviews with community college presidents across North Carolina regarding their communication with employees during the landscape crisis of COVID-19. I deeply appreciate their eagerness to contribute to my research and their candor. I am in awe of what each accomplished during the most challenging times, and their words will resonate in my mind and impact my own leadership."
Looking to the Future
Mahle began using skills and tools that she gained in the program in her current job at Rowan-Cabarrus even before earning her degree. She conducted analysis within her department but also used a broader lens to inform decision making and to create opportunities.
"As a direct result of my doctorate, I am motivated and prepared for increasing leadership roles within the community college system," Mahle said. "I have a more comprehensive understanding of community colleges and the current issues. My experiences profoundly impacted my perspective of leadership and the various administrative roles within community colleges."
Mahle is appreciative of the entire team in the NC State Community College Leadership program. 
"The Professors of Practice, Ken Ender and Mary Rittling, were integral to understanding the role of a community college president," Mahle said. "Carrol Warren was my dissertation chair, and I am grateful for her guidance throughout the entire process, for her encouraging words through tough or uncertain times, but most of all, for her belief in me. Her powers of compassion and guidance were felt every time we met, despite the constraints of meeting virtually through Zoom."
Mahle recommends that other professionals seeking to expand their future options look to educational opportunities like that offered by the NC State Community College Leadership program.
"By investing in your education, you are investing in yourself. I truly enjoyed being part of a cohort model, as there was both support and additional, rich learning that I benefited from throughout my program."
"The NC State program is a good blend of synchronous and asynchronous online as well as some in-person learning opportunities. I thrive in places where I can create community, including virtually, by building relationships with peers and faculty. The faculty in this program are supportive, knowledgeable and truly care about their students," Mahle said.
Mahle plans to attend the College of Education ceremony as well as the university ceremony and hopes to celebrate afterwards with her family, including her husband, two grown children, three grandchildren, and other family members and dear friends.
"Three of my very special friends from my first college experience (whom I have known for 35 years!) surprised me the day after I defended my dissertation by showing up in Charlotte to celebrate my successful defense," Mahle said. "This is an incredibly special time for me, and I am grateful for the enduring support of my family, friends and colleagues."
Are you interested in advancing your career with a degree from NC State Online? Visit the online.ncsu.edu for a full list of degree and certificate programs.
This post was originally published in DELTA News.