From Middle East to America: PhD Graduate Tells of Inspiring Journey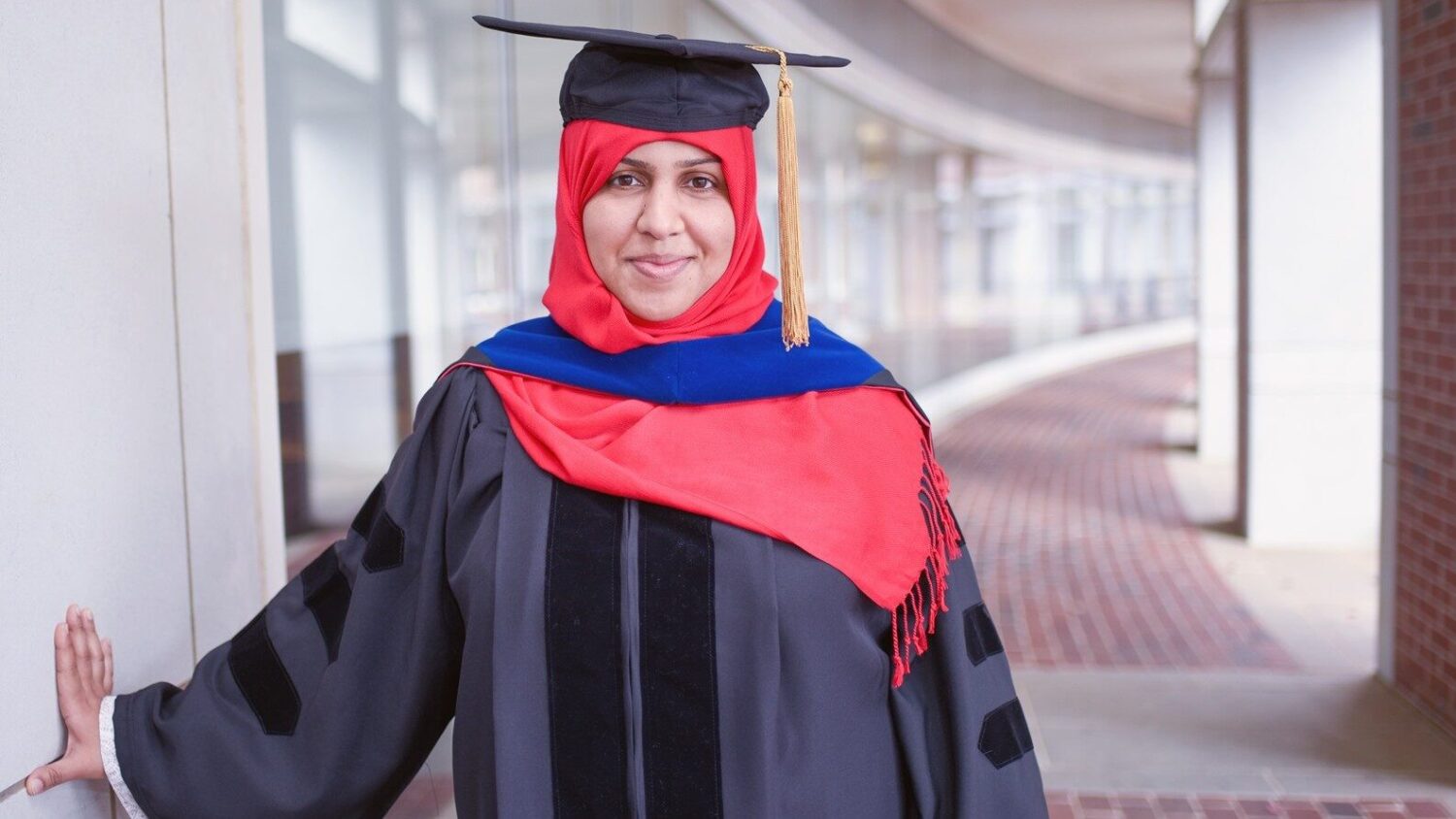 While working on her master's degree in her home country of Saudi Arabia, Heba Al-Mohsin wanted one thing: the opportunity to do her own research in the laboratory.
In the Saudi university that Al-Mohsin attended, lab work was done at a men's university because the instrumentation wasn't available at the women's university. Women students at their own university would analyze the men's lab data.
"This is part of our culture, that men are separate from women. And even though I went to the head of the department, and said 'I will bring my father or my brother to work with me,' no one listened to me," Al-Mohsin said.
So she decided to come to the United States for her Ph.D., first to the University of Washington to hone her English skills, then to NC State University to study polymer science with Dr. Richard Spontak, Alumni Distinguished Professor of chemical and biomolecular engineering, and materials science and engineering.
In November, Al-Mohsin successfully defended her dissertation and will earn her doctorate at commencement Dec. 18. Her U.S. journey from English student to Ph.D. candidate was full of personal and professional challenges. Far from her home, she and her husband Wajih Abuzaid welcomed the births of two daughters, while managing a five-year separation from family and adjusting to a new culture.
After her defense in a room filled with students and faculty, Al-Mohsin breathed a sigh of well-earned relief and shared her story, bringing tears to the eyes of her committee members, according to Spontak.
"Her comments were very moving and so genuine," Spontak said. "Everybody in that room felt she had overcome so much – cultural, family and academic challenges – and she never gave up."
But Al-Mohsin says she thought about giving up on graduate school more than once, and probably would have returned home except for the support of her family and the faculty mentors she couldn't bear to disappoint.
Al-Mohsin was just two days from starting her second semester at NC State when her daughter Zahra was born several weeks premature.  Away from her family, she struggled with her new role as a mom and her desire to continue her doctoral work.
"Honestly, I had a hard time understanding how to deal with a baby. It was my first time without my mom. My baby was crying a lot, and I couldn't understand why." She asked herself, "Is it my fault, because I'm not able to feed her well?"
For the first time in her life, she fell into academic difficulty and began to think about leaving her program. "At that point, I thought maybe my life had changed," she said. "Maybe I'm not able to be a student and a mom at the same time. So I became really frustrated and started thinking I had to go back home and forget all this."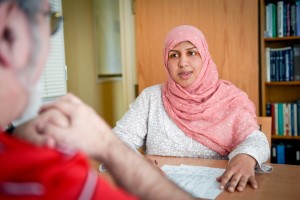 Spontak stood by her and helped her find a way to continue her program. Her daughter eased into daycare, and things seemed to be back on track. At the end of the next academic year, she began to feel tired and sick after a trip back to Saudi Arabia, and she soon discovered she was pregnant again.
She kept the news from her colleagues until after her second daughter Fatima was born. The birth came as such a surprise that one of her colleagues literally fell off his chair upon hearing the news, Spontak recalls.
Al-Mohsin later transitioned to the fiber and polymer science program in the College of Textiles to complete her Ph.D., where she worked with co-advisors Spontak and Dr. Ahmad El-Shafei, associate professor of textile engineering, chemistry and science
Her research focused on photovoltaic elastomer gels – a novel polymer design that can be used as solar cells. These materials can be recycled and are eco-friendly, and they exhibit robust mechanical properties. And these materials, only available in the past few years, are highly flexible and tough, and possess excellent adhesive properties, making them an excellence choice for solar cell applications.
From her graduate research, Al-Mohsin has published four papers and submitted one patent disclosure on the subject.
After the birth of daughter Zahra, Al-Mohsin had to make another cultural adjustment – learning to drive, something that women in Saudia Arabia aren't allowed to do. She took that step in order to avoid bringing baby Zahra out into the winter cold when her husband dropped her off on campus in the mornings.
"It was so cold," she said. "I felt so bad, and I decided I had to be more independent. So I learned to drive."
Al-Mohsin said that staying true to her Muslim religion wasn't difficult at NC State, where she felt very accepted, even when her spiritual practices were at odds with U.S. culture. For example, after declining to attend her lab's end-of-semester dinners for several years, she finally explained to Spontak that she was uncomfortable dining with others who were consuming alcohol. Without reservation, her professor and colleagues agreed to forego alcohol at dinner so that Al-Mohsin could join them.
As a Saudi national studying abroad, Al-Mohsin and her family received tremendous support from her home country, which paid her tuition, living expenses and health insurance. And her husband Wajih Abuzaid also supported her doctoral education by running the home while Al-Mohsin worked.
"Eastern men don't help their wives at all. It's just a cultural thing – the women need to do all the home jobs," she said. "But when we came here, he helped me a lot – he took care of the kids, he cooked at home and he cleaned with me. I appreciate how he helped us succeed as a family."
After commencement, Al-Mohsin and her family will return to Saudi Arabia where she will be a postdoctoral scholar at the King Abdullah University of Science and Technology (KAUST) in Jeddah – the only university in the country for both women and men. Eventually, she would like to create a community of women scholars in academic research.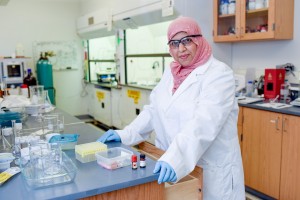 She credits El-Shafei, her professor, with introducing her to Dr. Aram Amassian, the professor with whom she will work at KAUST. She had read about Amassian's work and was planning to contact him, when she learned that he was coming to NC State. El-Shafei had already planned to meet with him, and he invited Al-Mohsin to join them.
"It was really like a dream. When Dr. Amassian came and I had this chance to talk with him, I was so happy. It's a good chance for me to continue my research, but inside my home country," she said.
To help jumpstart her dissertation writing, Al-Mohsin participated in the Graduate School's Dissertation Institute last spring. She said it helped her understand how to organize her thoughts into a cohesive paper.
"It was so useful for me as an international student," she said. "I enjoyed the quiet area in the library reserved for the institute. We were a group, and everyone was writing. If I felt tired, I looked to another student and got motivated."
Al-Mohsin knows she will miss much that she has experienced in Raleigh, especially the opportunities for her daughters, now ages 5 and 2 ½ – museums, libraries and more. But she is sure that being closer to her family will mean a great deal. In addition, her husband's parents are getting older and want him to live nearby.
And just as her family supported her education, she wants to do the same for her two daughters. Sometimes, daughter Zahra asks her mom, "What do you want me to be when I grow up?" Al-Mohsin simply tells her, "It's up to you. When you grow up, your mind can make a decision. But whatever you want to do, I will be with you."