NC State Research Shines at 11th Graduate Symposium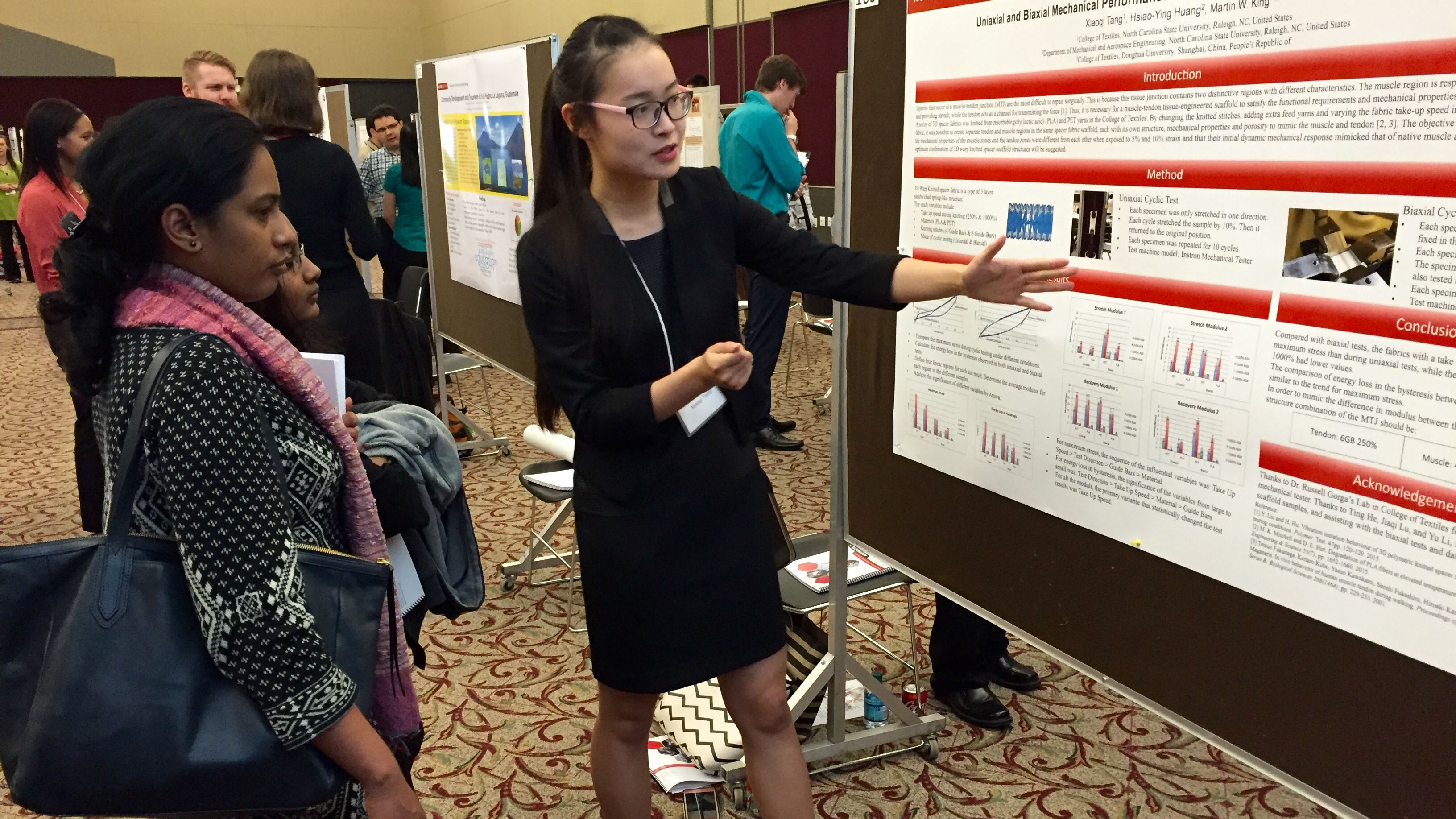 From more than 200 students participating in the 11th Graduate Student Research Symposium, 24 were selected as top performers in eight disciplines.
The research symposium, co-sponsored at NC State by the Graduate School and Graduate Student Association, was part of the university's Graduate Education Week, recognizing the importance of graduate education and research to the university's mission.
There are three winners in each of the eight categories. All will receive plaques and cash awards: $350 for first place, $200 for second place and $100 for third place.
Abstracts for all student posters can be found online: 2016 symposium abstracts.
2016 Symposium winners: (Note: Several of the categories cross disciplines and may have winners from more than one college.)
Agricultural Sciences and Natural Resources First Place, Robert Mitchell, Entomology; Second Place, Tyler Sowers, Soil Science; Third Place, Natalie Ross, Soil Science
Design First Place, Sally Van Gorder, Art + Design; Second Place, Jennifer Peavey, Industrial Design; Third Place, Byungsoo Kim, Industrial Design
Education First Place, Shea Kerkhoff, Curriculum and Instruction; Second Place, Osman Aksit, Science Education; Third Place, Jason Wornoff, Curriculum and Instruction
Engineering First Place, Ahmed Mahmoud Gomaa, Chemical and Biomolecular Engineering; Second Place, Resulali Orgut, Civil Engineering; Third Place, Catalina Lopez-Velandia, Environmental Engineering
Humanities First Place, Eric Wilbanks, English; Second Place, Abigail Jones and Sarah Soleim, Public History; Third Place, Laura Zdanski, Technical Communication
Physical and Mathematic Sciences First Place, Sofia Garakyaraghi, Chemistry Second Place, Doreen McVeigh, Marine, Earth and Atmospheric Sciences Third Place, Leslie Wilson, Chemistry
Life Sciences First Place, Renan Sper, Comparative Biomedical Sciences (CVM); Second Place, Chinmayee Panda, Plant Biology (CALS); Third Place, Rozalynn Samira, Plant Biology (CALS)
Social Sciences and Management First Place, Ruth Adikorley, Textile Technology Management; Second Place, Gareth Jones, Parks, Recreation and Tourism Management (CNR); Third Place, Allison Bowles, Textiles
Note: Download photos from the gallery below, or visit the flickr album to choose the size photo you need. From flickr, double-click to open the photo you want, and in the bottom right corner, click on the arrow to choose the size photo you want to download — larger for print; smaller for electronic purposes.