Graduate Education Day: Students Share Research With NC Policymakers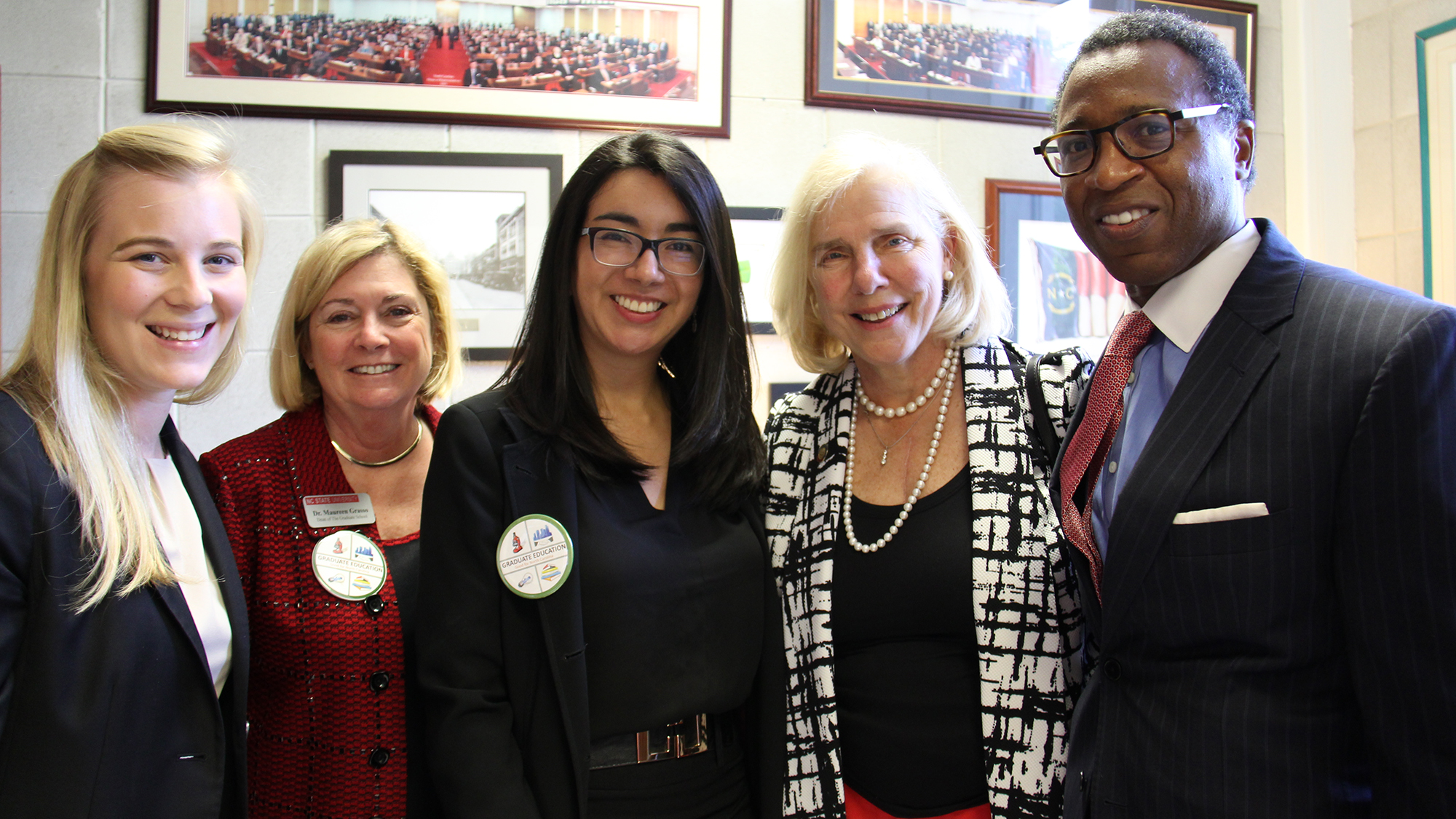 This week, more than 30 graduate students from across the state were on hand for Graduate Education Day 2016 at the N.C. General Assembly to share their research and advocate for the value of graduate education. The annual event brings graduate education professionals to Raleigh to share their success stories.
Four students from NC State University shared their research projects. They were:
Michael Fusco, Ph.D. candidate, nuclear engineering
Fusco is testing multilayer coatings to prevent the premature failure of nuclear waste storage containers.
Zachary A. Lentz, Ph.D. candidate, biological and agricultural engineering
Lentz is exploring the possibility of using gasification to convert swine lagoon waste into combustible gas.
Catalina Lopez, master of science candidate, environmental engineering
Lopez is investigating sources of 1,4 Dioxane, a likely human carcinogen, found in drinking water drawn from the Cape Fear River basin.
Terri Williams, master of science candidate, horticultural science
Williams is studying ways of turning swine lagoon waste into a value-added potting substrate for the horticulture industry.
These students and administrators from NC State's Graduate School visited with legislators to talk about their work and implications for North Carolina. Williams and Lentz, along with Graduate School Dean Maureen Grasso met with Sen. John Alexander of Wake County to talk about how the technologies they are studying could help the state's hog industry deal with the disposal of swine lagoon waste.
Fusco and Lopez met with Wake County Rep. Rosa Gill to share how their research could lead to safer storage of nuclear waste and safer drinking water for North Carolina. Students also met with veteran Rep. Becky Carney of Mecklenburg County, who talked about how far she has seen graduate education come in North Carolina during her years in office.
Legislators also stopped by to talk with students about their research posters and to enjoy NC State's Howling Cow ice cream.
Read Dean Maureen Grasso's op-edit piece on graduate education from The News & Observer.
Download photos from the gallery below, or choose a size from the Graduate School's flickr gallery. From flickr, double-click to open the photo you want, and in the bottom right corner, click on the arrow to choose a photo size — larger for print; smaller for electronic purposes.