Events
Winners Named for 2023 Research Symposium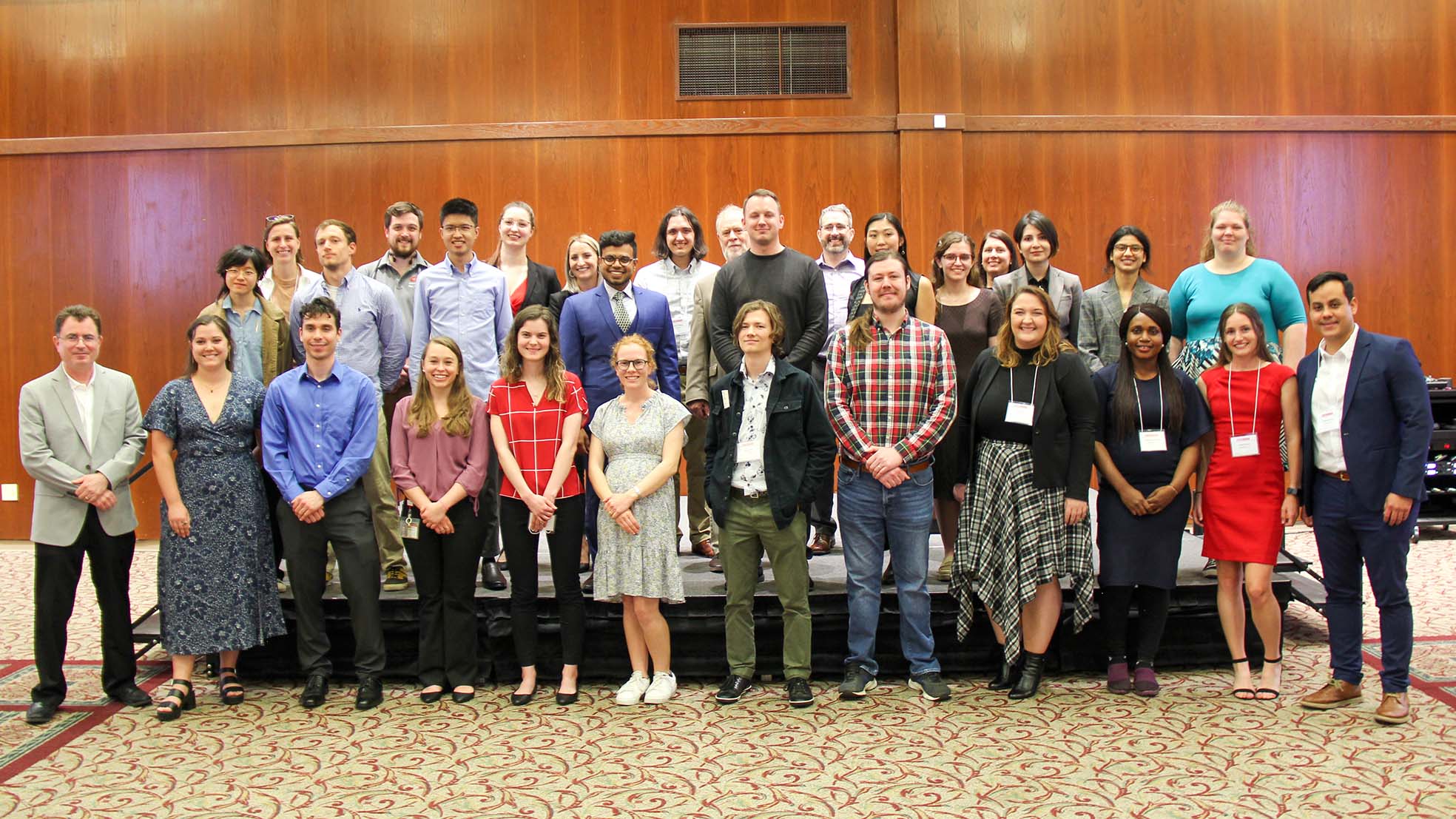 The 16th annual Graduate Student Research Symposium, the signature Graduate and Professional Student Appreciation Week event, was held at the McKimmon Center on April 5.
Co-sponsored at NC State by the Graduate School and Graduate Student Association, the research symposium recognizes the importance of graduate education and research to the university's mission.
Nearly 200 NC State graduate students presented their research projects, and 28 were selected as top performers after being evaluated by judges. Judging criteria were based on the quality of their research, the effectiveness of their poster presentation, their oral communication skills, and the creativity and aesthetic appeal of their poster.
Abstracts for all student posters can be found online: 2023 symposium abstracts.
All winners receive a plaque and a cash prize. First place winners receive $500; second place, $350; and third place, $250.
Winners are listed below by discipline and department:
Agricultural Sciences and Natural Resources
First place, Christopher Hayes, Entomology
Second place, Magdalina Cummings, Animal Science
Third place, Hao Wei Teh, Plant Pathology
Design
First place, Marybeth Campeau, Landscape Architecture and Environmental Planning
Second place, Daniel Garrett, Advanced Architectural Studies
Third place, Keagan Vargo, Industrial Design
Education
First place, Joey Marion, Learning and Teaching in STEM
Second place, Danielle Scharen, Teacher Education and Learning Sciences
Third place, Jeanne McClure, Teacher Education and Learning Sciences
Engineering
First place, Suh Hee Cook, Fiber and Polymer Science
Second place, Darpan Shukla, Mechanical Engineering
Third place, Sarah Morgan, Chemical & Biomolecular Engineering
Environmental Sciences
First place, Chisom Umeileka, Forest Biomaterials
Second place, Nelson Barrios, Forest Biomaterials
Third place, Ryen Frazier, Forest Biomaterials
Humanities
First place, Savanna Kindley, World Languages and Cultures
Second place, Ellen Atterbury, World Languages and Cultures
Third place, Shima Hosseininasab, Public History
Life Sciences
First place, Jessica Parzygnat, Comparative Biomedical Sciences
Second place, Grant Billings, Bioinformatics
Third place, Teresa Tiedge, Comparative Biomedical Sciences
Mathematical and Physical Sciences
First place, Angela Shipman, Chemistry
Second place, Nicholas Larsen, Statistics
Third place, Jingjing Huang and Camen Royse, Physics
Social Sciences and Management
First place, Jenna Scott, Anthropology
Second place, Aidan Paul, Anthropology
Third place, Luke Priest, Psychology