Study Abroad Experience Helps Student Clarify Career Plans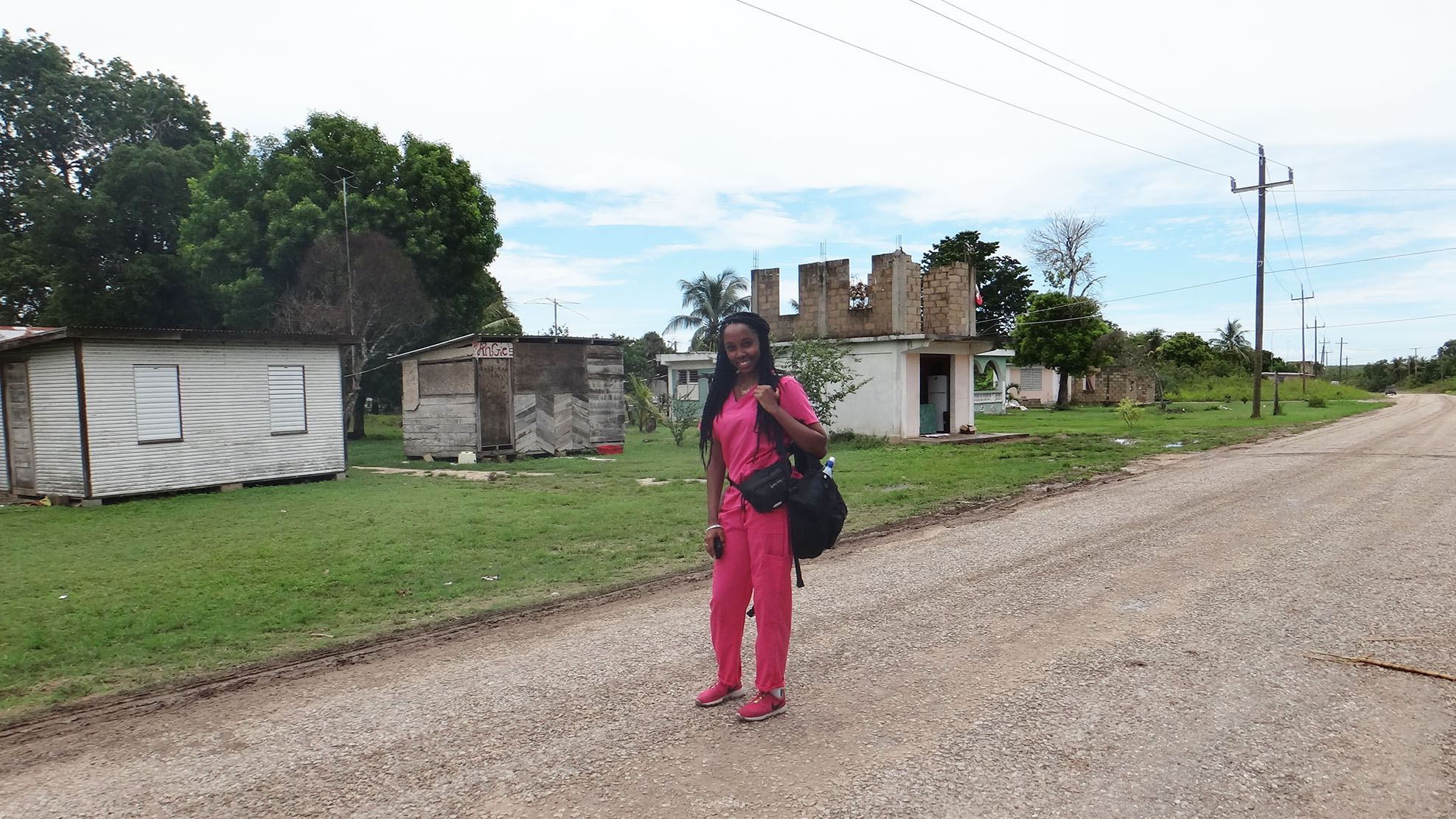 Kiyana Harris, a master's student in poultry science physiology, had never left the country when she decided to commit to a 10-day, medical-focused trip to Belize last summer.
Her decision to make the trip caused some anxiety for both Harris and her mom, but Harris, who wants to study medicine, felt it was important to make the journey, which focused on medical challenges in the Central American country.
Last fall, Harris combined her study abroad experience with her love of poetry and photos from her trip to compete in — and win — NC State's Global Storytelling competition. Her monologue about her trip sounded like a piece for a poetry slam competition.
"I've always want to do poetry in front of a live audience, but I've never done it," she said. "I received a scholarship to study abroad, and the Study Abroad office told me about it."
Harris, who is from the Bronx in New York City, took the plunge to study abroad because of her interest in medicine. Leading up to the trip in June, students participated in a six-week course to help them understand diseases and strategies for addressing health problem they might encounter. They even took a suture class to learn how to stitch up wounds – they practiced on oranges.
During their stay in Belize, the students worked in a local health clinic and made house visits wearing scrubs and working with other medical professionals. Prior to the trip, the students collected over-the-counter medications that would be difficult for many people to obtain there.
The medical problems the students observed were largely preventable and included issues like lingering colds, scabies, urinary tract infections and dog bites.
"It was a lot of stuff that could be prevented if they would have gotten treated sooner. One of the doctors said that one of the problems there is preventative medicine, and the people just wait too long to see someone," Harris said.
The experience also led Harris to rethink her career goals in medicine. "At first, I wanted to be a pediatrician, then I was interested in dermatology," she said. "Now, I would like for service to be a part of my routine."
Study abroad isn't an option that all graduate students consider, but Harris says that it makes sense. As a graduate student, her course schedule allowed more time to research trip options, and she also received two scholarships that made the experience affordable.
"Studying abroad allows you to take what you've learned in your studies and apply it in the real world," Harris said. "It also allows you to gain knowledge from another part of the world and apply it in class.''
As an added bonus, Harris earned six hours course credit for the study abroad program, which has freed time this semester for her to take an MCAT (medical school entrance exam) preparation class.
On the trip, Harris was surprised to discover that communication was easier than expected — English is the main language in Belize, so students didn't have to use Spanish as much as anticipated. Every meal included rice and beans – not beans and rice, which is a different thing. The climate was hot, and the hotel where they stayed was only air-conditioned after 6 pm. But Harris said the experience was very good.
"It made me step out of my comfort zone," she said. "It is important to travel and see the world while you can. Taking advantage of opportunities like studying abroad creates lasting memories you can carry with you for the rest of your life."
Second runner up, Bhavika Mittal, a SKEMA graduate student from India, described her experience of diversity in her travels to both Paris and the United States, in her presentation entitled, "Diversity to Unity."
See photos and read more about Harris's trip to Belize on her blog.
Watch a video of Kiyana Harris in the Global Storytelling competition.
Watch a video of Bhavika Mittal in the Global Storytelling competition.