Ph.D. Candidate's Team Takes Second in National Competition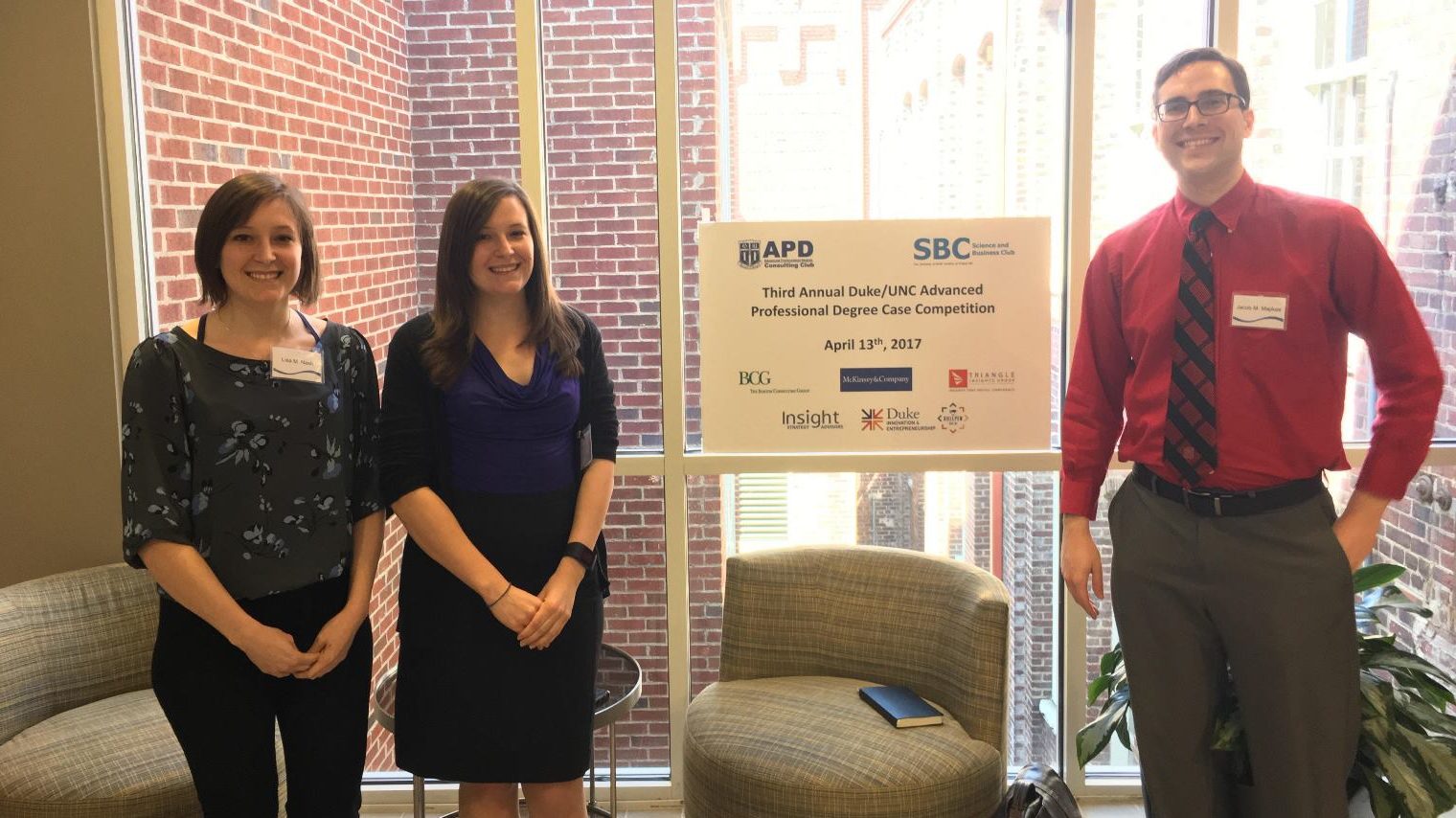 When Ph.D. student Jessica Nash decided to enter a case competition held recently in Durham, she turned to some familiar faces to build a team: her twin sister Lisa Nash, a graduate student in physics at the University of Chicago, and Jacob Majikes, with whom she served last year on the Graduate Student Association executive board.
Her choices paid off – the team came in second place in the Third Annual Duke/UNC Advanced Professional Degree Case Competition.
In a case competition, teams compete to develop the best solution to a business-related problem or case study. Unlike most other case competitions, the Duke /UNC Case Competition is only open to advanced degree students or recent graduates, not business students. The team applied by submitting CVs and a cover letter and was among the 15 teams selected to compete out of over 50 teams from across the country.
The prompt they received was to develop a commercialization plan for a new drug to treat age-related macular degeneration (AMD), a disease which is the leading cause of blindness in individuals over the age of 55.
Teams had to determine the best way to bring this new drug to market. They looked at metrics such as the current treatment landscape for AMD, ongoing clinical trials and expected future market trends to propose the best option for commercialization.
On the day of the competition, teams traveled to Durham from schools including UNC-Chapel Hill, the University of Pennsylvania, UT Southwestern and Johns Hopkins University. There were two rounds of competition, and Nash and her teammates were surprised to be among the six teams that moved on to finals. The final round of competition was judged by consultants at large firms including Boston Consulting Group and McKinsey. In the end, the team's presentation won them second place.
Members of the team are finishing up their graduate degrees and moving on to the next steps. Lisa Nash is finishing her Ph.D. in Physics at the University of Chicago in the next year, and plans to pursue a career in consulting. Jessica Nash, a student in materials science and engineering, is defending in June and will join the Molecular Sciences Software Institute at Virginia Tech as a software scientist in the fall. Maijkes, who graduated last December, recently received a postdoctoral fellowship at the National Institutes of Standards Technology.
Both Jessica Nash and Majikes said they believe that their experience as GSA officers helped them work together as a team in the competition.
"It's good to be involved with initiatives that build teams," Nash said. "Unfortunately, many graduate students treat grad school as a solitary endeavor."