Finalists Chosen for 2017 Three Minute Thesis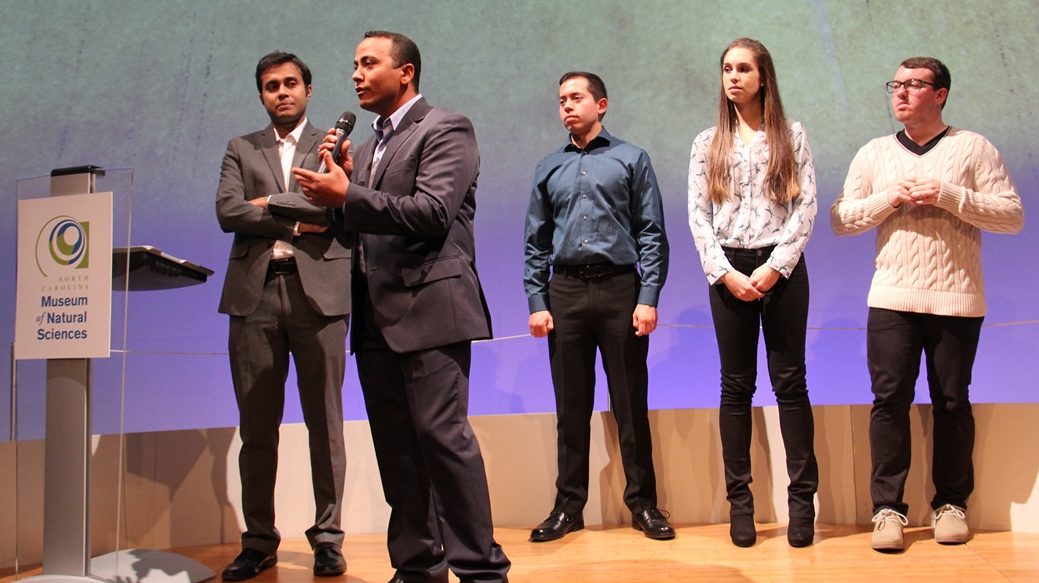 Ten graduate student finalists representing five NC State University colleges will compete in the Graduate School's third annual Three Minute Thesis competition on Oct. 31, as part of the university's Red and White Week celebration.
The event challenges graduate students to share their major research project in just three minutes. This year for the first time, the NC State competition was open to master's students, in addition to Ph.D. students. The finalists were selected in preliminary rounds from a group of 35 competitors.
The 3MT finals will be held Tuesday, Oct. 31, in the Duke Energy Center of Hunt Library from 3-4:30 p.m. Colleagues and fellow students are encouraged to come out and support finalists from their programs. Audience members will vote for  a "People's Choice" winner, in addition to the first and second-place winners selected by a panel of judges.
Finalists and their degree programs are listed below by college:
Agriculture and Life Sciences
• Paul Enriquez, Ph.D. student, molecular and structural biochemistry
• Pete Nelson, Ph.D. student, entomology and plant pathology
Engineering
• Laura Lee, Ph.D. student, chemical and biomolecular engineering
• Katelyn Mueller, master's student; civil, construction, and environmental engineering
• Islam Sayed, Ph.D. student, electrical and computer engineering
• David Wang, Ph.D. student, civil, construction, and environmental engineering
• Benjamin Zeldes, Ph.D. student, chemical and biomolecular engineering
Humanities and Social Sciences
• Cheryl Dong, Ph.D. student, history
Textiles
• Ashish Kapoor, Ph.D. student; textile engineering, chemistry, and science
Veterinary Medicine
• Tyler Allen, Ph.D. student, molecular biomedical sciences
Leoneda Inge, race and southern culture reporter for WUNC-FM, will serve as master of ceremonies for the 3MT finals. Judges for the finals will be Linda McCabe Smith, vice provost of NC State's Office of Institutional Equity and Diversity; Benny Suggs, NC State's associate vice chancellor and director of alumni relations; Jamie Vernon, executive director and CEO of Sigma Xi, The Scientific Research Honor Society, Research Triangle Park; and Chuck Flink, owner and president, Greenways, Inc., Durham.
Judges for the 3MT preliminary rounds were Matt Shipman, Haritha Malladi, Chris Tonelli, Danica Lewis, Holly Menninger and Lesley Wirt.
This event is free and open to the public, however space is limited, and pre-registration is recommended. Please visit go.ncsu.edu/3mt-rsvp to respond or call 919.515.0322.  Locate the Hunt Library and nearby parking on this map.
Three Minute Thesis is an academic research communication competition developed by the University of Queensland (UQ), Australia. The 3MT finals at NC State are made possible by gifts to the Graduate School Enhancement Fund.
Note: Since Oct. 31 is Halloween, some guests may choose to attend in costume. However, no masks or costume props will be allowed at the event.