Winners Named for 2018 Research Symposium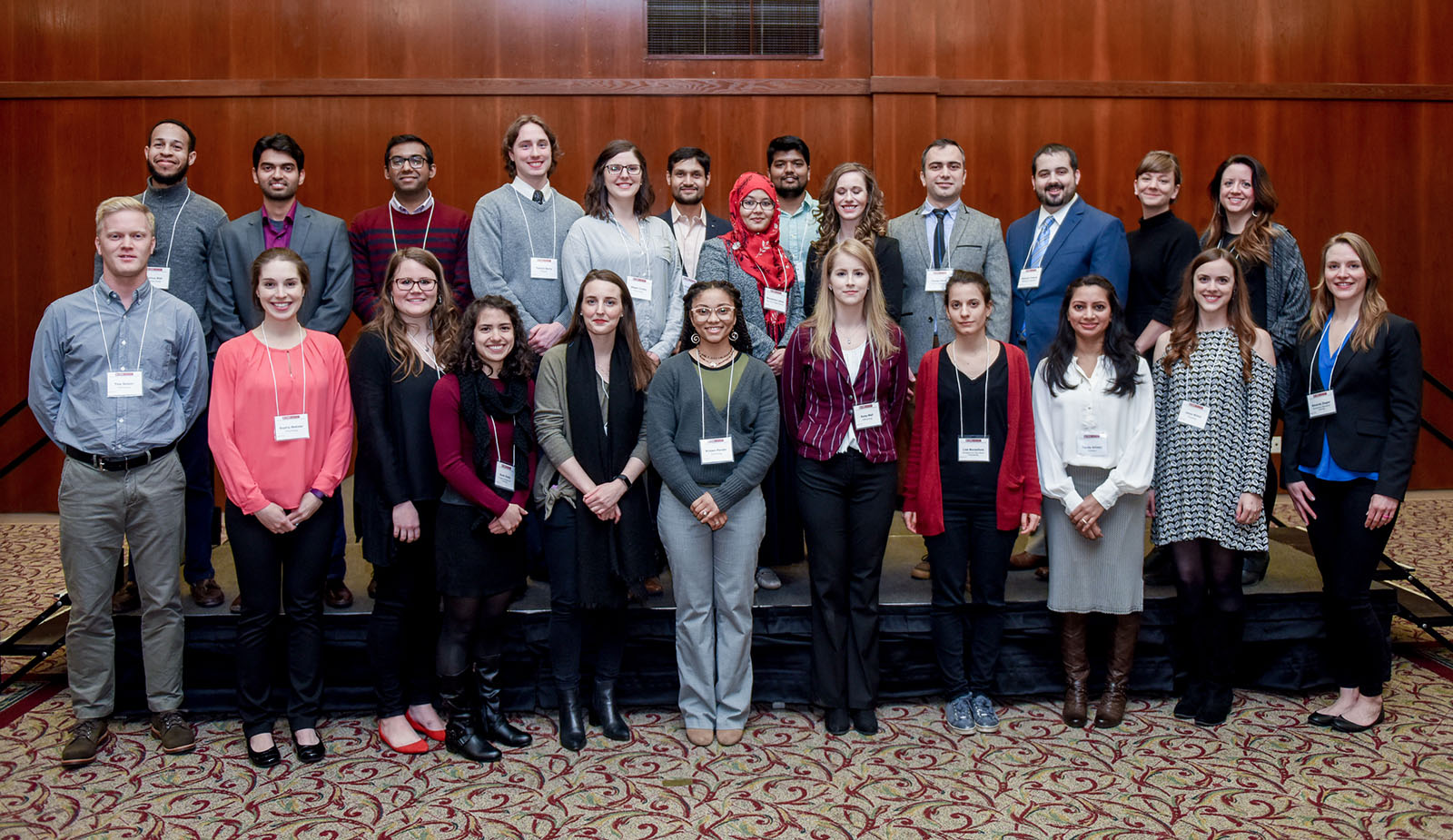 More than 200 NC State graduate students who presented their research projects this week at the 13th Annual Graduate Student Research Symposium, and 24 were recognized as the best presenters in their disciplines.
The research symposium, presented by NC State's Graduate School and the Graduate Student Association, provides students the opportunity to present their research posters. Judges in each discipline evaluate students on 1) the quality of their research, 2) quality of information on the poster, 3) oral communication about the poster, and 4) creativity and aesthetic qualities of the poster.
All winners receive a plaque and cash prize. First place winners receive $350; second place, $200; and third place, $100. Winners are listed below by discipline and department:
Agricultural Sciences and Natural Resources
First place, Sophia Webster, Entomology
Second place, Lise Montefiore, Biological and Agricultural Engineering
Third place, Pete Nelson, Entomology
Design
First place, Katie McCracken, Industrial Design
Second place, Joshua Wall, Industrial Design
Third place, Rachael Paine, Graphic Design
Education
First place, Casey Medlock Paul, Teacher Education and Learning Sciences
Second place, Osman Aksit, STEM Education
Third place, Nicholas Fortune, Mathematics Education
Engineering
First place, Lokesh Karthik Narayanan, Industrial and Systems Engineering
Second place, Anurodh Tripathi, Chemical and Biomolecular Engineering
Third place, Parth Chansoria, Industrial and Systems Engineering
Humanities
First place, Sarah Chetty, Foreign Languages and Literatures
Second place, Lucia Planchón, Foreign Languages and Literatures
Third place, Karey Wall, Anthropology
Life Sciences
First place, Farida Akhtari, Genetics
Second place, Amanda Ziegler, Comparative Biomedical Sciences
Third Place, Jaime Willett, Physiology
Mathematical and Physical Sciences
First place, Md Nazmul Islam, Statistics
Second place, Mostakima Lubna, Fiber and Polymer Science
Third Place, Patrick Barry, Physics
Social Sciences and Management
First place, Kristen Pender, Psychology
Second place, Missy Catlow, International Studies
Third place, Alison Cooke, Psychology