Survey: Spring Graduates Report Job Search Success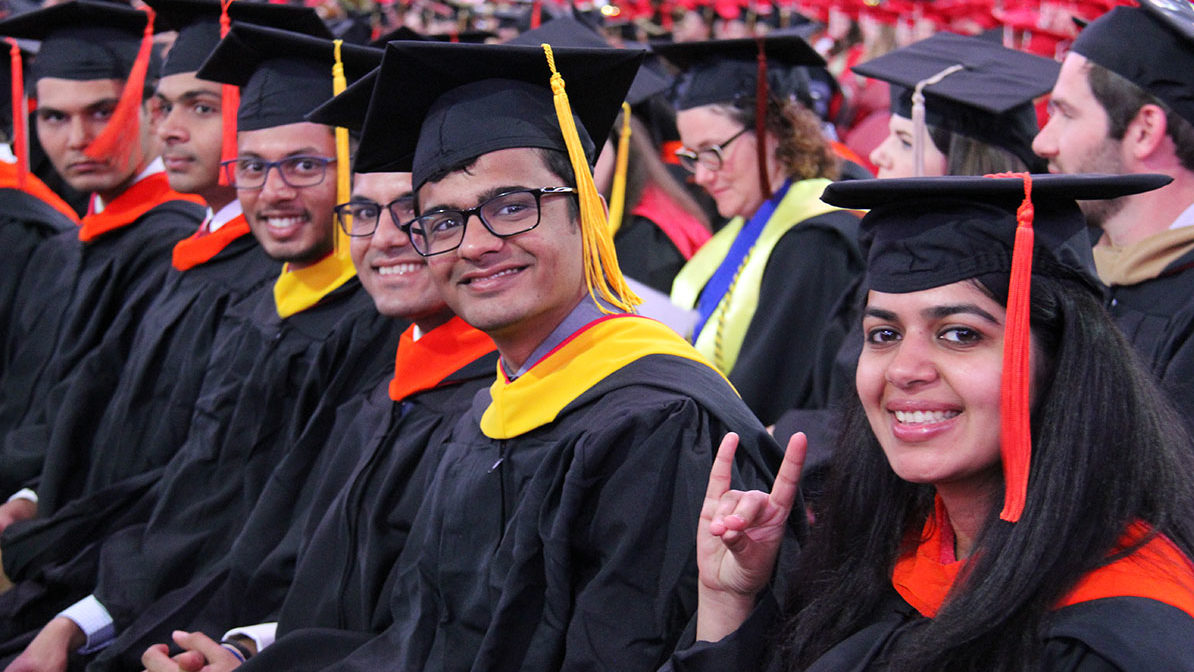 A survey of May 2018 NC State alumni who earned graduate degrees shows that the vast majority had found full-time employment after graduation and about half of those planned to work in North Carolina.
Last spring, NC State's Office of Institutional Research and Planning (OIRP) invited 1,758 doctoral and master's students graduating in May to participate in the inaugural Graduate Future Plans Survey (GFPS). The semi-annual survey, modeled after one administered to graduating seniors for the past seven years, asks graduate students about their career and education plans for the year following graduation. A total of 1,218 graduate students (69 percent of those invited) participated in the survey in the weeks it was live, immediately before and after commencement.
Almost all graduates responding to the survey said that they planned to work full-time in the coming year. Eighty-one percent of doctoral students and 65 percent of master's students indicated at the time they completed the survey that they had confirmed employment plans for after graduation.
One-fourth of doctoral students and close to one-third of master's students said at the time of the survey that they were actively seeking or preparing to seek a position or had confirmed employment and were planning to change positions in the coming year. Among graduates who said they were actively seeking employment, half of doctoral graduates and one-fourth of master's graduates said they had received at least one job offer during their search.
About half of May graduate students who had found full-time employment said they would be staying in North Carolina, with 39 percent working in the Research Triangle area. Local employers comprise the top employers of NC State graduates – those hiring the greatest number of May 2018 doctoral and master's respondents were NC State University, the Wake County Public School System and SAS Institute.
While the survey covers a wide range of topics, it's also short – most students complete it in under 10 minutes. Colleges and departments use the information collected in advising students making career decisions, in their assessment and accreditation activities, and in planning professional development programs and services.
Information provided by GFPS respondents regarding their job search experience and the compensation they expected to receive provide insight into what students (and local employers) can expect as they prepare to graduate. Among May 2018 graduates with full-time employment in a position they secured at graduation or during the course of their program:
Over half started their job search six or more months prior to graduation.
One-in-four doctoral students and 41 percent of master's students went on interviews for five or more positions prior to accepting an offer.
Forty percent of doctoral students and just over half of master's students received two or more job offers during their search.
Doctoral students were most likely to say an NC State faculty member had been a helpful resource in their job search (42 percent), while master's students were most likely to say LinkedIn had been helpful (30 percent).
May 2018 doctoral graduates with full-time employment reported an average salary in the coming year of $78,565 (median = $72,500) and master's graduates reported an average salary of $78,776 (median = $77,500). While most graduates said they would be receiving only a salary, about one-fifth of master's students with full-time employment said their compensation would include both a salary and performance bonuses.
A small number of master's graduates indicated their plans for the coming year would involve pursuing another degree (13 percent), most commonly a Ph.D. Three-fourths of master's graduates who had been accepted into a degree program as of the time they completed the survey said they would be continuing at NC State University.
Additional reports on the May 2018 Graduate Future Plans Survey are available on the OIRP website.
Congratulations to all those who are earning a doctoral or master's degree this semester. Please participate in the December 2018 Graduate Future Plans Survey, live now through mid-January. If you have any questions about this survey, please call the Office of Institutional Research and Planning at 919.515.6438 or email studentsurveys@ncsu.edu.