Winners Named for Research Symposium, Teaching Awards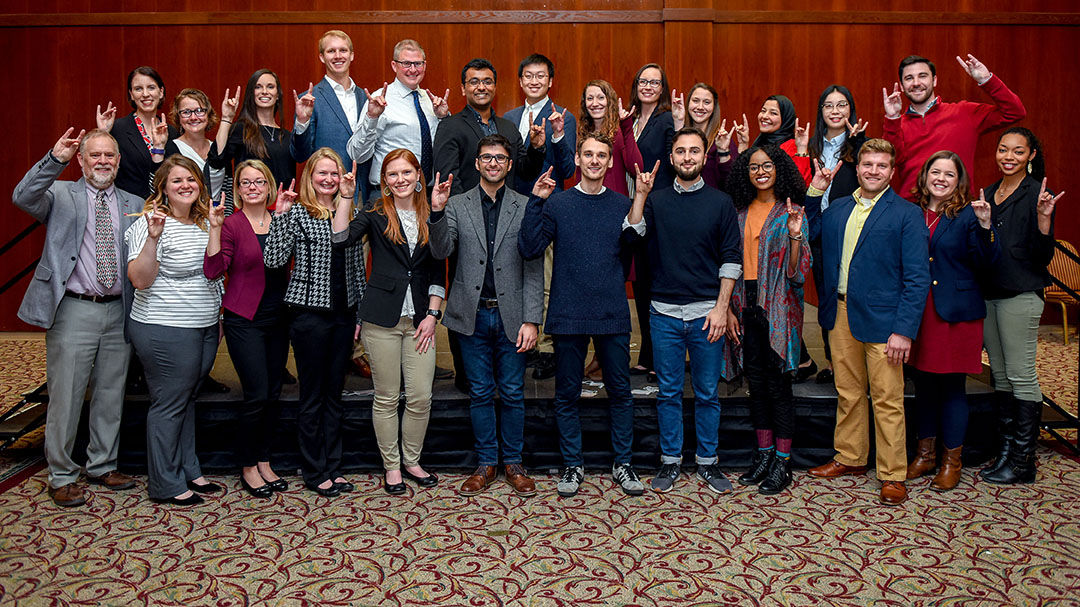 During Graduate Education Week, students were recognized for their teaching excellence and for their science communication skills at the 14th annual Graduate Student Research Symposium.
On March 21, more than 200 graduate students presented their research posters at the research symposium, co-sponsored by the Graduate School and the Graduate Student Association. Three winners were chosen from each of eight discipline areas.
First place winners received $350; second place winners received $200, and third place winners received $100. All winners will receive an engraved plaque.
Winners by discipline are:
Agricultural Science & Natural Resources
First place: Marlee Trandel, horticultural science
Second place: Paul Bartley III, horticultural science
Third place: Megan Coffer, geospatial analytics
Design
First place: Alysa Buchanan, graphic design
Second place: Will Reuther, industrial design
Third place: Joachim Gawryolek, industrial design
Education
First place: Megan Ennes, science education
Second place: Michelle Nugent, science education
Third place: Sarah Egan Warren, educational leadership, policy and human development
Engineering
First place: Vasudev Haribal, chemical and biomolecular engineering
Second place: Ruocun Wang, materials science and engineering
Third place: Landon Mackey, electrical and computer engineering
Humanities
First place: Amanda Finn, public history
Second place: Marissa Morgan, English
Third place: Leanne Nieforth, communication
Life Sciences
First place: Eric Land, plant biology
Second place: Meredith Favre, entomology
Third place: Kylie Rock, toxicology
Mathematical and Physical Sciences
First place: Jordan Tabor, fiber and polymer science
Second place: Chelsea Taliaferro, chemistry
Third place: Saeed Pegahan, physics
Social Science and Management
First place: Engy Shafik, textile technology management
Second place: Danielle Lawson, parks, recreation and tourism management
Third place: Juechen He, textile technology management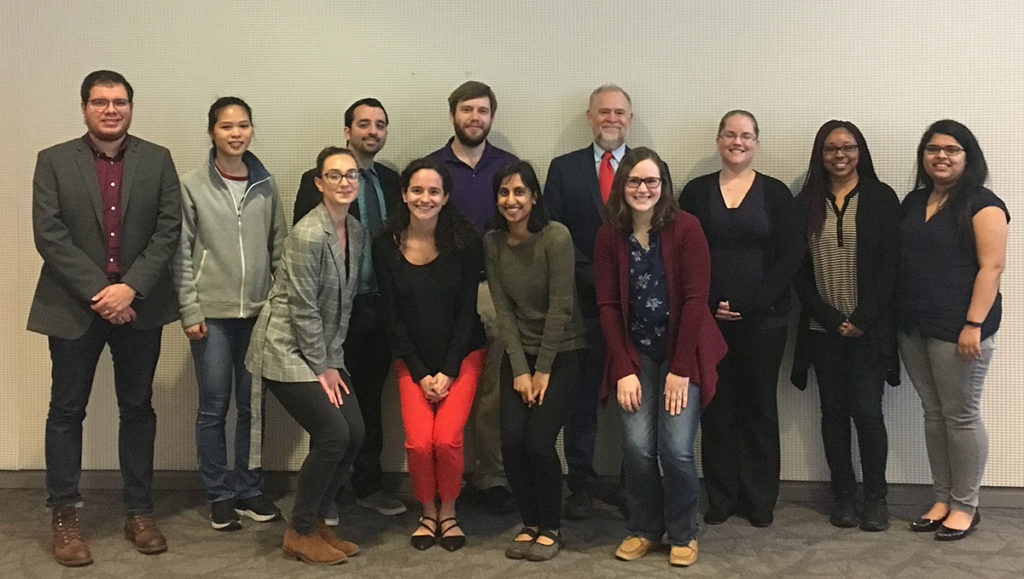 In addition, the Graduate Student Association recognized graduate teaching assistants for excellence in teaching in the classroom and in the lab. Applications, consisting of letters of recommendation from faculty and students, teaching evaluations, and/or teaching portfolios, are submitted by directors of graduate programs and evaluated by the GSA Teaching Excellence Committee.
Twelve students out of 37 nominees received the Award for Excellence in Classroom Teaching and were recognized at a breakfast on March 18. Six students out of 16 nominees – all Ph.D. students – received Awards for Excellence in Laboratory Teaching.
Six of the winners are completing or have completed the Graduate School's Teaching and Communication Certificate, and two winners have completed the school's Preparing the Professoriate program, according to Vanessa Doriott Anderson, director of the Graduate School's Teaching and Communication Programs.
Award for Excellence in Classroom Teaching Recipients
Kendra Andrews, communication, rhetoric and digital media, Ph.D. student
Tim Becker, English, master's student
Elise Bouley, foreign languages and literature, master's student
Suzanne Crifo, mathematics, Ph.D. student, with a graduate minor in operations research
Justin Grandinetti, communication, rhetoric and digital media, Ph.D. student
Victoria Kurdlya, sociology, Ph.D. student
Blake Martin, sociology, humanities and social sciences, Ph.D. student
Kiran Nihlani, statistics, Ph.D. student
Andrew Smolski, sociology, humanities and social sciences, Ph.D. student
Grace Stadnyk, mathematics, Ph.D. student
Arianna Thomas-Winfield, sociology, humanities and social sciences, Ph.D. student
Anila Yadavalli, mathematics, Ph.D. student
Awards for Excellence in Laboratory Teaching Recipients (all Ph.D. students)
Nicholas Faulkner, microbiology
Amanda Hale, biology
Jing Jin, plant pathology
Stephanie Johnstone, microbiology, agriculture and life sciences
Jennifer Moore, animal science and poultry science
Steven Michael Reyna, entomology and plant pathology