New Fellowships Office Serves All Students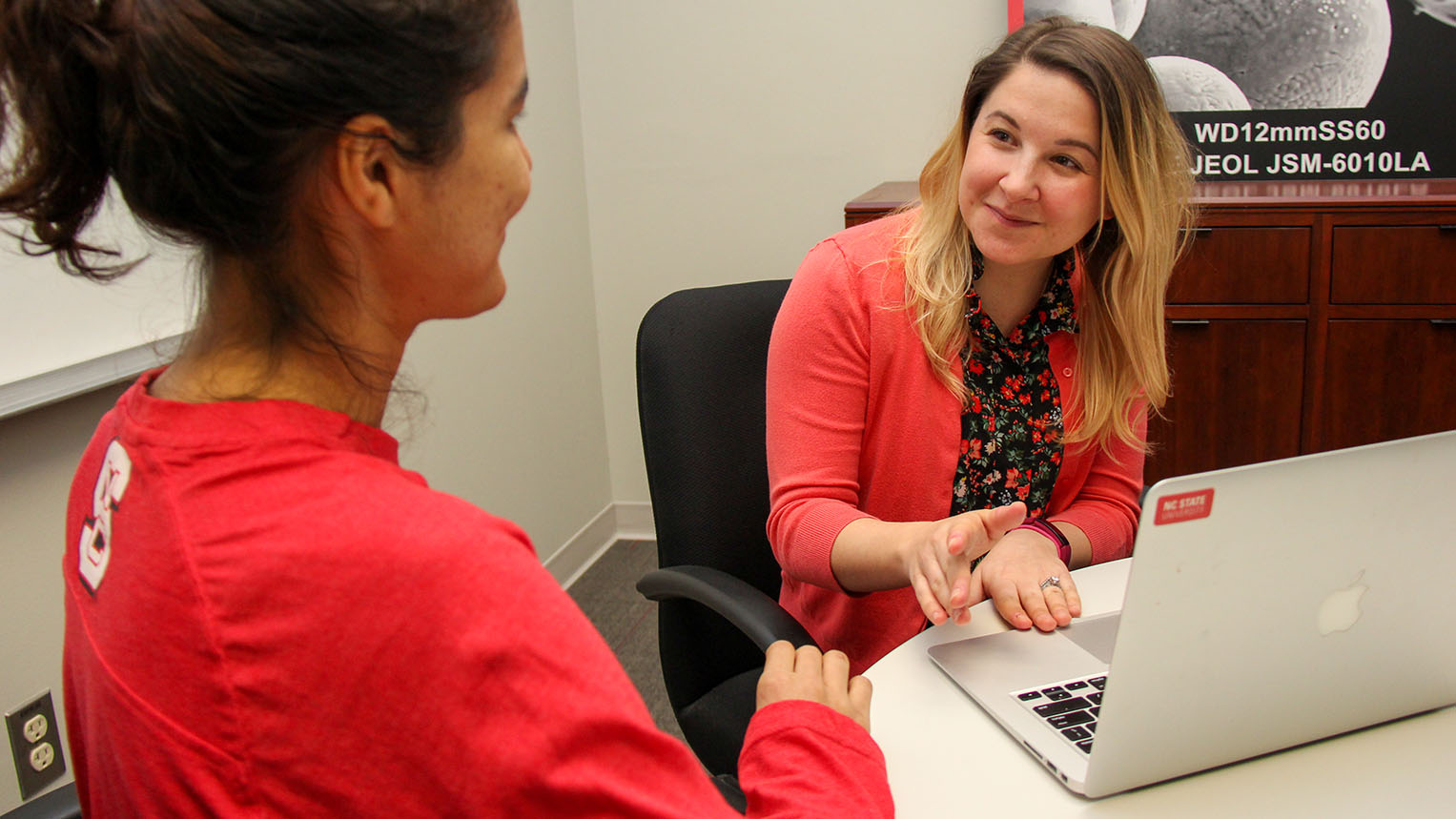 There is a UFO on campus, but it's not carrying aliens. The newly created University Fellowships Office will offer both graduate and undergraduate students support in pursuing prestigious external awards, like Fulbright Fellowships or Goldwater Scholarships.
Courtney Hughes is the director of the office and an advisor. She has hired an office coordinator, Ashley Morris, and she plans to hire another awards advisor in the near future. The advisors will serve both undergraduate and graduate students.
"We help students find and fund what comes next," Hughes said when explaining the purpose of the UFO.
When Hughes came to NC State a year ago, she was hired by the Graduate School to help increase the number of graduate students acquiring external fellowships. Shortly afterward, the person who handled the undergraduate side of external funding left the job, and Hughes stepped in to assist.
The role wasn't new to her – for 10 years, she had advised both graduate and undergraduate students on external funding opportunities at the New College of Florida. Over time, it became obvious to her and to others that having a central office at NC State to support all students was a better model.
"We had an opportunity to take a step back and look at the model that we were using to decide if this siloed model for undergrads and grads was serving our students effectively and efficiently, and if it was serving our staff and our faculty," she said.
"So, moving forward, the services and resources that we provide will be identical for all students. And, in an attempt to better serve our students, it just made sense for us to have a presence on both sides of campus."
The UFO will maintain two offices – one in Clark Hall on Central Campus and one in the Graduate School on Centennial Campus. Hughes and the second advisor, once hired, will divide their time between the two offices.
"The new UFO is a critical rethinking of how NC State should function in assisting our students to find and successfully vie for external fellowships, including some of the most prestigious awards. We have exceptional undergraduate and graduate students at the institution, and the goal of the office is to leverage the expertise and guidance of the fellowship advisors to prepare the most compelling applications possible," said Peter Harries, dean of the Graduate School. "This not only raises the profile of our students, but assists in showing the talent that is abundant on this campus."
"The model of a joint undergraduate/graduate/alumni fellowships office makes sense for NC State. It is efficient, and allows us to share knowledge and resources across campus," said Holly Hulburt, executive director for the Academic Enrichment Program for the University College. "We hope this office can serve as a template for other such cross-campus collaborations."
Hughes has a passion for supporting the students who seek her services. In her first year at NC State, she met with nearly 400 students. "We meet with every student who reaches out to the office and identify their goals and what opportunities are out there for them," she said. "But there are more opportunities out there than students realize, so we work to learn more about the student. Then we show them databases and tools to help them locate sources of funding."
Some of the funding opportunities have familiar names: Fulbright, Goldwater and Rhodes. Some are limited to graduate students or undergraduates; others, including Fulbright or Critical Language Scholarships, are available to both groups. Some programs are funded by federal agencies like the Department of Energy or National Science Foundation. Some are focused on STEM fields, while others are more appropriate for students in humanities.
Once a student identifies potential funding sources, Hughes helps them develop a strategy. She helps them decide what should go in their application, what activities, academic credentials and qualifications they need to highlight to be competitive for any potential program or scholarship.
Hughes also works with students on completing their applications, editing essays and working with faculty on letters of recommendation. And even if the results aren't what students hoped for, Hughes doesn't leave them hanging.
"No matter the outcome, we will work with that student to connect them to other resources on campus and in the greater community, to try and help them achieve that goal," she said.
In her first year at NC State, Hughes also spent time reaching out to faculty to let them know how she could help their students. She started with departments in engineering and sciences. Then departments in humanities and social sciences began to reach out as well.
"One thing that drew me to NC State when I was interviewing is that this campus has a culture of fellowships and supporting students in their research endeavors," she said. "So students and faculty are very aware that there are things they can do (to acquire fellowships). What they're less aware of is that there's an office that can help them do that."
Hughes wants students to feel that the UFO is approachable and accessible. Those who are interested in exploring fellowships can simply email fellowship-advising@ncsu.edu to set up an appointment.
"We want to make it clear that everyone's welcome in the fellowships office. You don't need to be an honors and scholars student; you don't have to have a 4.0 average," she said. "You don't have to have groundbreaking dissertation research and data to be competitive. You just have to have an idea."