About NC State
Microbial Biotechnology Grad Student Interns at Novozymes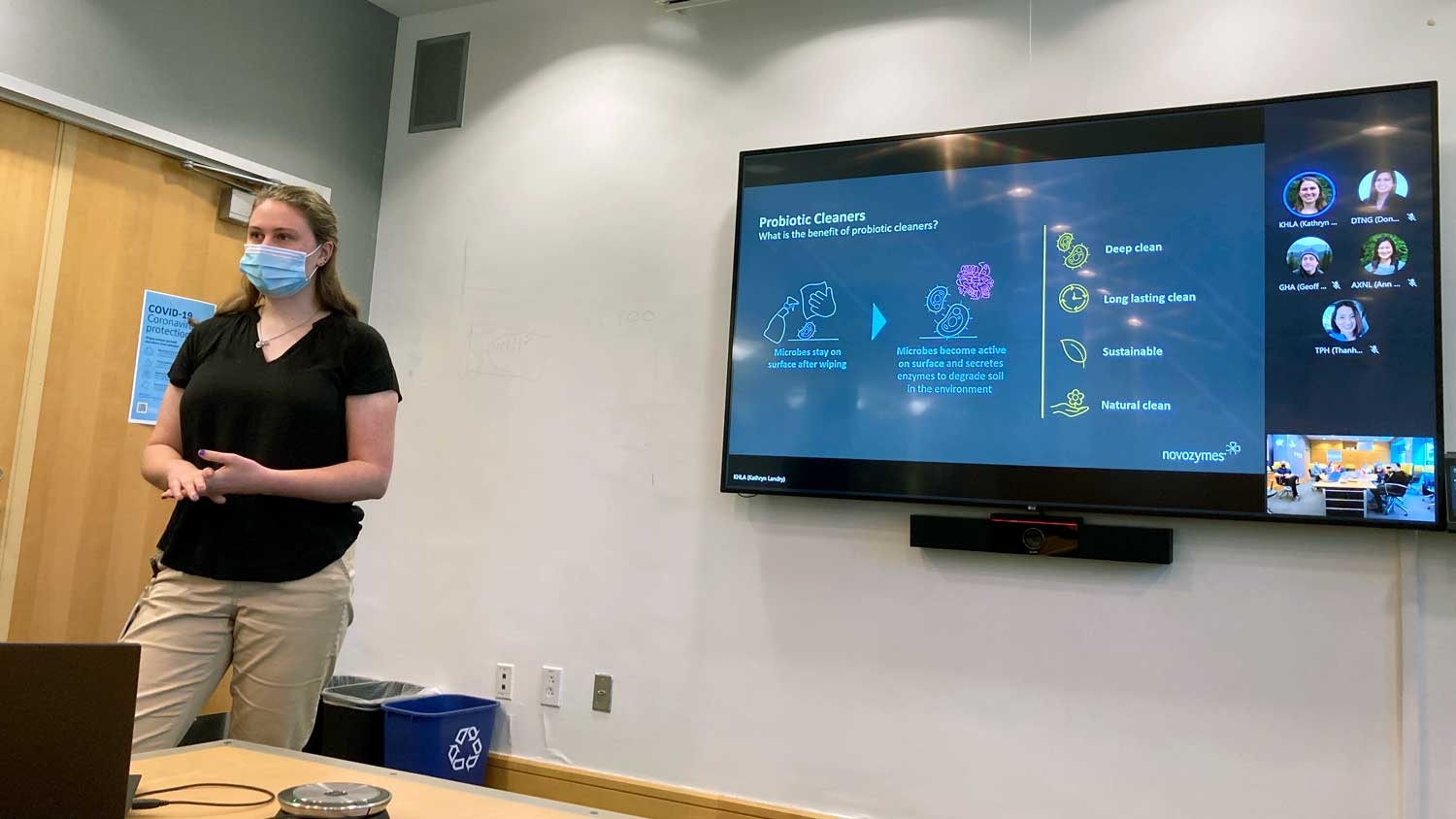 Kathryn Landry, a graduate student in the Department of Plant and Microbial Biology, spent part of her summer interning for Novozymes, a global biotechnology company headquartered in Denmark with offices in Research Triangle Park. Landry, who is passionate about science and the environment, is pursuing a Master of Microbial Biotechnology degree (MMB). NC State's MMB program boasts a unique blend of science and business education with practical training in the biotechnology industry. Landry, who served as a technical services intern in the microbial cleaning department, hopes to use her experiences to make a positive impact on our planet.
What made you choose Novozymes for your summer internship?
I applied to a variety of different internships, and I ended up choosing Novozymes because it was more of an interdisciplinary internship. When looking for a master's program, I was looking for something that would build on the technical knowledge from my undergrad but also give me the flexibility to explore other areas. While interning at Novozymes, because of my background, I worked with product research and development and marketing in the microbial cleaning department. I was very excited when I got the internship and thought it would be an excellent fit.
Can you tell us more specifically what you focused on? 
We added microbes to household cleaners that would be sprayed on countertops. The microbes would then secrete the enzymes needed to degrade the soils on those surfaces, creating a longer-lasting clean. Essentially, a person would not have to spray harsh chemicals daily, making it a more sustainable cleaner. I also worked with the marketing manager of our group on new products and product launches, specifically with evaluating the commercial landscape and how it has changed since COVID.
Novozymes has a significant global presence, so I was able to work with various groups from different places. The technical services role was new to me because it was part lab work and interacting with customers. I didn't know there were these cross-disciplinary roles, which is quite interesting. While here, I wanted to gain a better understanding of the entire company.
Why did you choose to study microbiology?
I've always been interested in the environment. For undergrad, I went to McGill University in Canada, and I started with a general life science degree and realized I didn't really want to be a vet. I wasn't interested in plant sciences but still wanted to pursue biology, so microbiology fit what I was interested in. It was new to me and challenging for me. That's also why I really liked it.
What was the most valuable thing you learned in your internship?
I've learned a lot about working in a group setting and dealing with projects I'm not familiar with. Initially, I felt overwhelmed. I had never done anything on the business side before, so I learned how to deal with that and how to navigate my way through a project on my own.
What's next for you in your master's program?
For this next year, I hope to be more engaged with our guest speakers. Before, I might not have really understood what they were talking about because I was still very new, but now, I feel like I have the background to understand what they are doing and know what questions to ask them.
This post was originally published in College of Agriculture and Life Sciences News.