About NC State
Not Just an Internship: Beyond My Study Abroad Experience!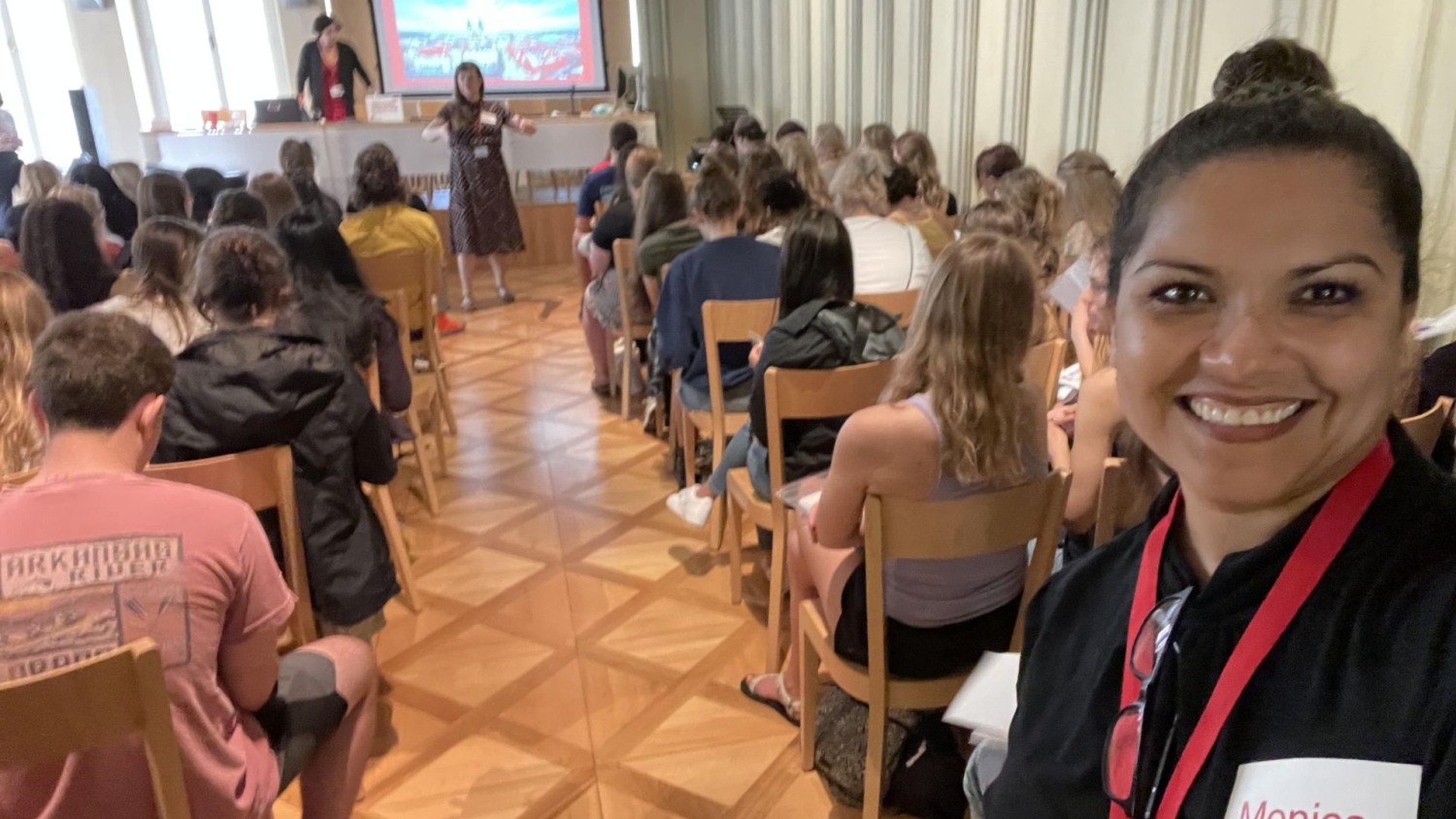 Dobrý den from the Czech Republic. This summer, I had the fantastic opportunity to complete an Independent Study for my Higher Education Administration Master's program. As a first-generation Latina student, I had never had the opportunity to travel abroad or even considered having this opportunity due to an earlier lack of immigration status, financial support, and intense family responsibility.
This year, the College of Education at NC State University awarded me a scholarship to be used for study abroad. This scholarship encouraged me to put a plan into action since I wanted to have this experience. And what an experience it was! My professor and advisor, Dr. Krispin Barr, Senior Director for Student Success, Dr. Alexander Kappus, and Director of Global Programs, Ms. Ajaya Francis Jonas, all from the College of Education, worked together passionately to make this opportunity possible for me. This internship at the NC State European Center in Prague would allow me to gain student affairs experience by working with the Prague team as they were preparing to receive 100 undergraduate students in the summer. 
I must add that the Prague summer study abroad program had been canceled two years in a row due to the COVID-19 pandemic, and this summer session seemed scary for some students because of the war between Russia and Ukraine. 
The NC State European Center in Prague was welcoming and accommodating from the time they accepted to work with me. I am the first graduate student to complete an internship at this location, an opportunity they consider keeping for future graduate students. The program director, Ms. Kim Strozewski, and her amazingly dedicated team are professional and knowledgeable about working with their students. This summer, the Prague team prepared to receive100 students. It is one of the highest numbers of students they have ever received, reaching pre-pandemic numbers. Twenty of those students came to complete internships with local Czech and international companies. This is also the first time the Summer internship program ran in the summer, allowing students to learn from international companies and create future networks. I was unsure of what to expect from this study abroad experience. Even though the Prague Center had pre-meetings to prepare students and answer any questions via zoom and provided YouTube videos to learn the way around Prague, the reality of being in a different part of the world and not speaking the language is exciting and unreal.
I arrived in Prague in early May to stay for three weeks, a short time since I have a full-time job. On my first day, Ms. Kim Strozewski, the director, came to the student dorms to pick me up. We went to work, European Style, taking the tram and walking through the old cobbled streets of Prague, full of history. Walking through the Old Town Square, "a Disney fairy tale," to arrive at the NC State European Center was like being in a dream.
The State European Center in Prague has a team of eleven staff employees who have everything under control and are nicely organized. Every team member has their own title and responsibilities, coming together when needed for large projects. I arrived a week before the 100 students arrived in Prague to support the organization and preparation of this summer semester's process. Since my first day at the Prague Center, the team has been extremely welcoming and inclusive. This team respected my input and included me in their decision making. They work well together through meetings with collaborative communication. I learned so much every day from the Student Affairs and Program Coordinator, Eva Kavalova, who organizes every detail from start to finish. Every semester, it takes the whole team to ensure students have a safe place to live in during their six to 15 weeks, classes secured for each student, and trips and events organized to immerse them in the Czech culture.
During my first week, it was impressive to see the organization of 100 flights arriving in Prague in the lapse of 24 hours. This included planning a grid with all the details of each flight's connection and arrival to receive every student in the airport and transport them safely to their dorms. This process took days to collect this information and make tons of last-minute flight changes. Watching the final positive outcome blew my mind, especially during the continuous pandemic restrictions and testing. The Prague team managed to pull these initial tasks with the whole team's collaboration. The dedicated team stayed connected via messages round the clock for days before the students' arrival to make sure they received all the questions and changes as they were happening. The most impressive factor, as a student affairs practitioner, is that the factor that glues all of the planning together is called passion. The fact that the students arriving in Prague from NC State had someone who could listen to their concerns and guide them is what makes these students feel comfortable and confident during their travel abroad experience.
I must say that the Prague team has professionalism and respect for their job and their students. I was also very impressed with how mature our NC State students behaved during these weeks, also responding with respect and positive feedback about their experiences. It was truly unique that I could talk individually with them and connect in so many ways. Ms. Strozewski and the team allowed me time to enjoy the beautiful city of Prague by including me on city tours around the Old Town Square and a weekend field trip to the picturesque town of Český Krumlov. My personal experience studying abroad with this group was unique and satisfying in so many ways. 
This experience has impacted my life and will impact the lives of those that will be in contact with me. My independent study research was focused on the study abroad experiences and impacts of first-generation students. It takes a great team to significantly impact a student's life. The Prague team will continue to make positive impacts. I want to encourage institutions to work closely with their students, especially first generations, to plant the seed of possibility and experience equity. Bringing back experiences and sharing them with younger diverse groups will increase the opportunities for all students to have this study abroad experience.
This post was originally published in NC State European Center in Prague.