About NC State
Yuseung Kim finds his American dream at NC State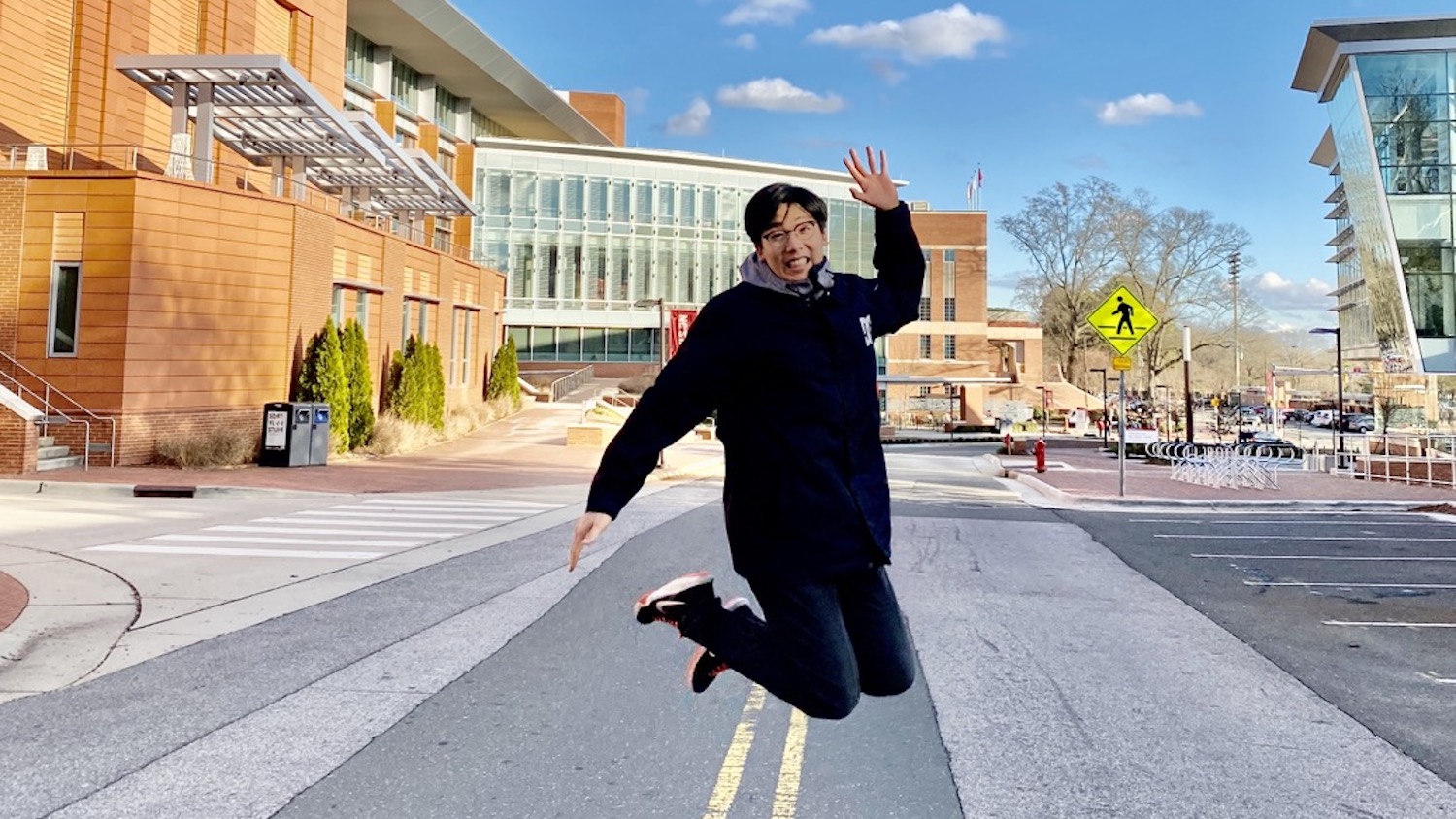 Yuseung Kim came to the United States for graduate school with several dreams and goals in mind: get his degree, find a job and figure out a place to settle down.
Kim, who graduates this month with a master's degree in computer engineering, feels that overall, he has achieved his American dream. In the same weekend as NC State University's fall commencement on Dec. 17, Kim will be moving across the country to Santa Clara, Calif., to start his new role as a systems software engineer at NVIDIA.
"I felt like if I can make it here, I can get a plan, a future and a dream," he said. "And actually, I feel that I have it. I'm happy here, in this country."
Kim grew up in Seoul, and he earned a bachelor's degree in electric and electrical engineering in 2016 from Yonsei University, one of the most prestigious universities in South Korea. He worked for several years in Seoul as an operations engineer for Sungkyunkwan University.
Kim said that growing up in South Korea influenced his early interest in computers, and he made good money as an operations engineer. But the rising cost of living in Seoul and high real estate costs motivated him to look for educational and work opportunities in the U.S. He did extensive research on universities and thought NC State stood out for its strong computer engineering program, research community and science, technology, engineering and mathematics (STEM) programs.
"I really like Raleigh's weather, it's much different than Seoul's weather, and the extent of international experiences the city offers is amazing," he said. "What really surprised me is how welcoming the people are."
Kim also liked the College's facilities, nearby parks, craft breweries and the affordability and family friend atmosphere of the area. When he first arrived in Raleigh, he did not realize how talkative many Americans are, and appreciated their willingness to chat with strangers. 
His first week in the U.S. was the most challenging. To help make the transition easier, he advises international students to create a budget, continue developing their language skills, maintain connection with the international student services office and attend orientation to meet other students and friends.
He eventually found his community at NC State. Kim enjoys being active. He attended an F45 Training class at 6:15 a.m. every morning, and he biked with friends on the weekends. He also enjoys watching American TV shows with his friends, which he says helped improve his English. Two of his favorites are Breaking Bad and Friends.
During his first semester in spring 2021, Kim spent a lot of time studying at James B. Hunt Library, navigating graduate-level courses. By his second year, he started gaining more experience outside of the classroom through three internships.
In the spring 2022 semester, he was a cloud processing engineer at Dolby Laboratories; in the summer, he interned as a network development engineer at Amazon Web Services in Seattle; and this fall, he has been interning with VIAVI Solutions as a software engineer.
"For my two years of master's courses, my first year, (I felt like) was like a student," he said. "But the next year, actually, I want to say it was more like (being) an engineer."
Kim credited NC State's career services with helping him prepare for and secure the internship opportunities, and throughout the process, he learned to not be afraid to ask questions, which questions are good to ask in interviews, and to be proactive and take initiative, even when opportunities don't come through.
These lessons all helped him feel prepared for his new role, which he officially starts in January. He's excited to start and to be working for NVIDIA, which was recently named America's best place to work by Glassdoor. As a systems software engineer, his main responsibility will be to make the company's software easier to use for people who are using machine learning, artificial intelligence or high-performance computing, but lack a computational focus or background.
"We can package up all the dependencies, all of the different software components all together in a single image, which makes people's lives very easy, for somebody to use either on the cloud system or workstation in their laboratory," he said.
Kim is looking forward to moving to Santa Clara, but he is practical, and he is not yet sure if it will be the city he settles in long term due to the high cost of living. As a software engineer, he will have flexibility to move, and he is interested in Washington and Texas.
"My first job is to survive out there," he said. "And then I'll look to settle down."
This post was originally published in College of Engineering News.