Newswire
Grad Student Profile: Margaret Baker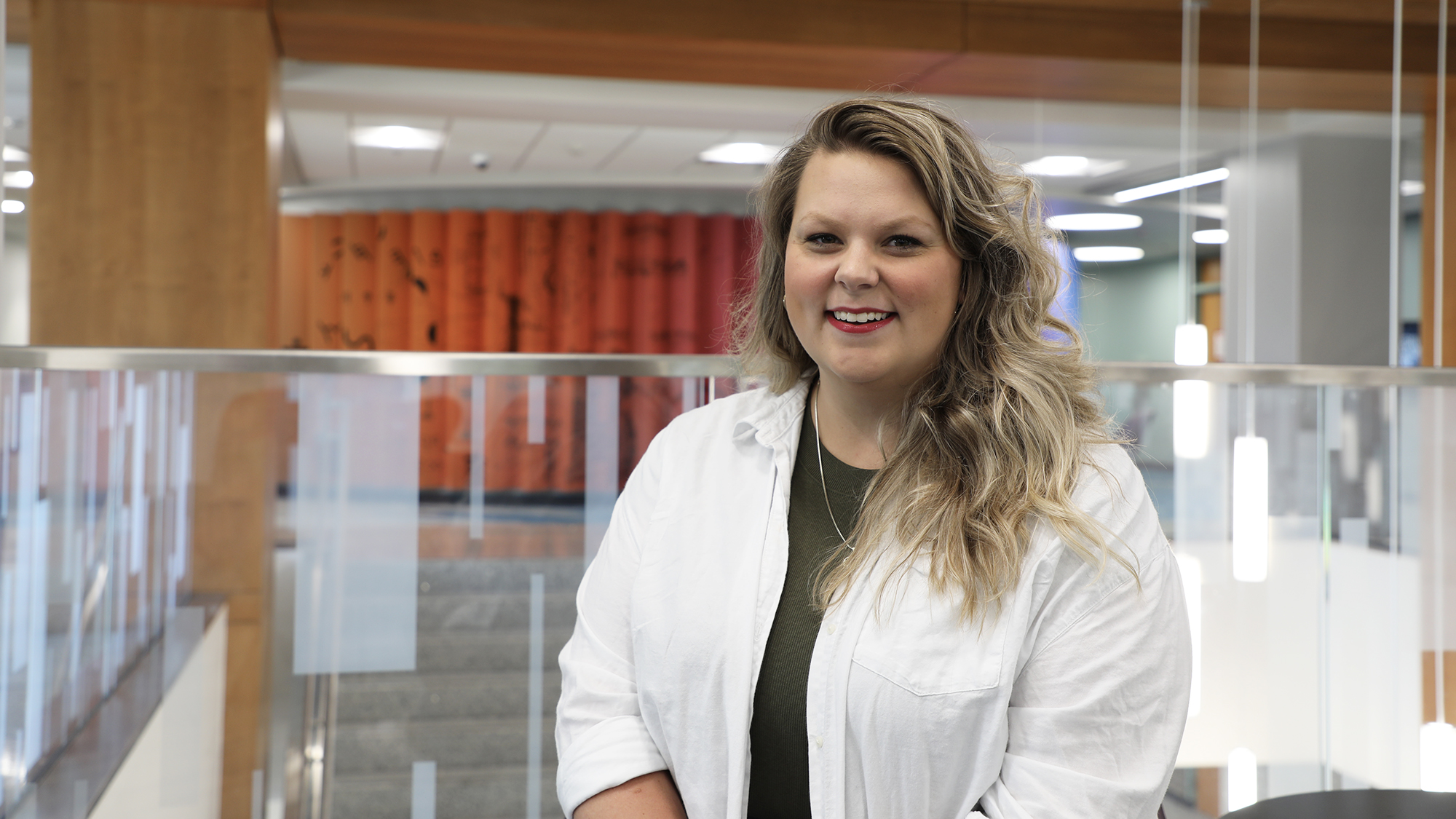 Margaret Baker is a Ph.D. student in the Communication, Rhetoric, and Digital Media program with the College of Humanities and Social Sciences. Born and raised in Raleigh, NC Margaret recently made the decision to leave her role as a creative director in the Triangle area to pursue her passion for teaching and research.
Margaret's educational background includes a Master of Arts degree in Interactive Media from Elon University, which she obtained in 2017. Prior to that, she graduated Magna Cum Laude from Campbell University in December 2015, earning a Bachelor of Arts degree in Broadcasting and Electronic Media.
Her passion lies in utilizing her skills to help students and organizations enhance their communication efforts and expand their reach. Margaret is particularly interested in connecting individuals to the world around them through her work. Her research interests encompass a variety of areas, including virtual and augmented reality technologies, non-profit fundraising, and the intersection of psychosocial and emotional psychology.
Margaret is also the newly elected president of the Graduate Student Association where she plans to use her voice to advocate for graduate students across NC State's campus.
Tell us about your journey to graduate school and what led you to NC State.
I truly fell into a Ph.D. program. If you had told high school me, then undergraduate me, then master's level me that I would be getting a Ph.D., she would have been laughing at you. After receiving my master's degree, I was given an opportunity to start teaching as an adjunct professor at a local university, and absolutely fell in love with teaching students in the classroom. I loved getting to shape students' experiences of media production. It was then I realized I was destined for Ph.D. work. It was only after beginning the process of looking for Ph.D. programs that I realized the perfect program was in my own backyard. As I began to explore options for programs, it was important to me to find a place that valued interdisciplinary scholarship and non-traditional scholarship. As a researcher, I desire to work in community-engaged disciplines and NC State was the program that showed that they would emphasize this most in my own scholarly journey. It didn't hurt that it was right down the road either.
Tell us about your research and/or teaching experience.
I've received amazing opportunities here at NC State as a student, and the experiences have been so varied. Although I started my Ph.D. during the COVID years, I've still been able to pursue so many amazing research and teaching experiences. I've been teaching (as an instructor of record) every semester I've been at NC State, including courses in public speaking, documentary storytelling and video production. To get the opportunity to teach what I am most passionate about drives and inspires me everyday. My students inspire me; they are absolutely brilliant people with imaginative ideas that they bring into our classroom. I love the opportunity to get to shape courses to meet students' needs but also to highlight my own interests. Additionally, we've gotten to highlight student work as a part of Make Media '23, a week-long showcase of media production projects by Communication students. As a filmmaker, I love getting to bring my own work and experiences into the classroom as well. As a researcher, I've been able to work with faculty on research projects which amplify diverse communities. For example, I've been a research assistant with Dr. Victoria Gallagher on the vMLK project for multiple years which is a rhetorical digital humanities project of the Martin Luther King Jr.'s "Fill Up the Jails" speech delivered in Durham, NC. I've also partnered with the NC State Libraries to work in their amazing digital spaces to create immersive projects such as Beyond the Barricades, Reimagined which offers a reimagined visualization of anti-apartheid photography published during the heights of state brutality in South Africa. Getting to use my technical skills combined with access to these high-tech spaces has made research not only fun but also impactful. For example, the technical work I've contributed to the vMLK project has been viewed by hundreds of Public Speaking students here at NC State, and by other University stakeholders. Knowing that my research and teaching can make that kind of difference keeps me inspired to keep working, and makes getting my Ph.D. worth it!
How has the Graduate School and/or NC State helped you with your professional development?
The Graduate School and NC State have provided awesome opportunities for research and teaching. For example, I was able to participate in the Graduate Student Research Symposium co-hosted by the Graduate School and the Graduate Student Association my first year at NC State. In fact, I won the humanities research award that year. These kinds of opportunities help students like myself to grow and to get new opportunities to collaborate across the campus. Additionally, I am financially supported by graduate funding through NC State. Without incredibly generous donors to NC State, I would never be able to complete my work. I am so grateful to everyone who gives to the Graduate School and supports graduate student education financially at NC State. Without them, I wouldn't be here!
What advice do you have for new or current graduate students?
My advice would be to take advantage of as many opportunities as possible. You never know what kinds of collaborations will lead you down new paths. For example, I've done work in collaboration with multiple entities across the campus, across our community, and across the world because of my time in a Ph.D. program. If possible, go to the conferences, the trainings, the socials, and whatever else pops up. Get involved in the campus beyond your lab or department. Make friends across the campus. You never know what those opportunities may cultivate.
What does being an NC State graduate student mean to you?
It means being able to cultivate meaningful, impactful relationships with faculty, staff, students, and the campus community. Graduate school is really about relationship building, and when I leave NC State, it's the relationships I'm going to be taking with me. I'm so grateful for everyone who has been impactful on my journey!
Fun fact about yourself.
I've visited 23 states (with plans to visit 5 more this year), 10 countries, and 4 continents!