About NC State
New embedded counselor joins NC State's Graduate School and Wilson College of Textiles
Michael Tuma is ready to serve and support the needs of the Wolfpack community.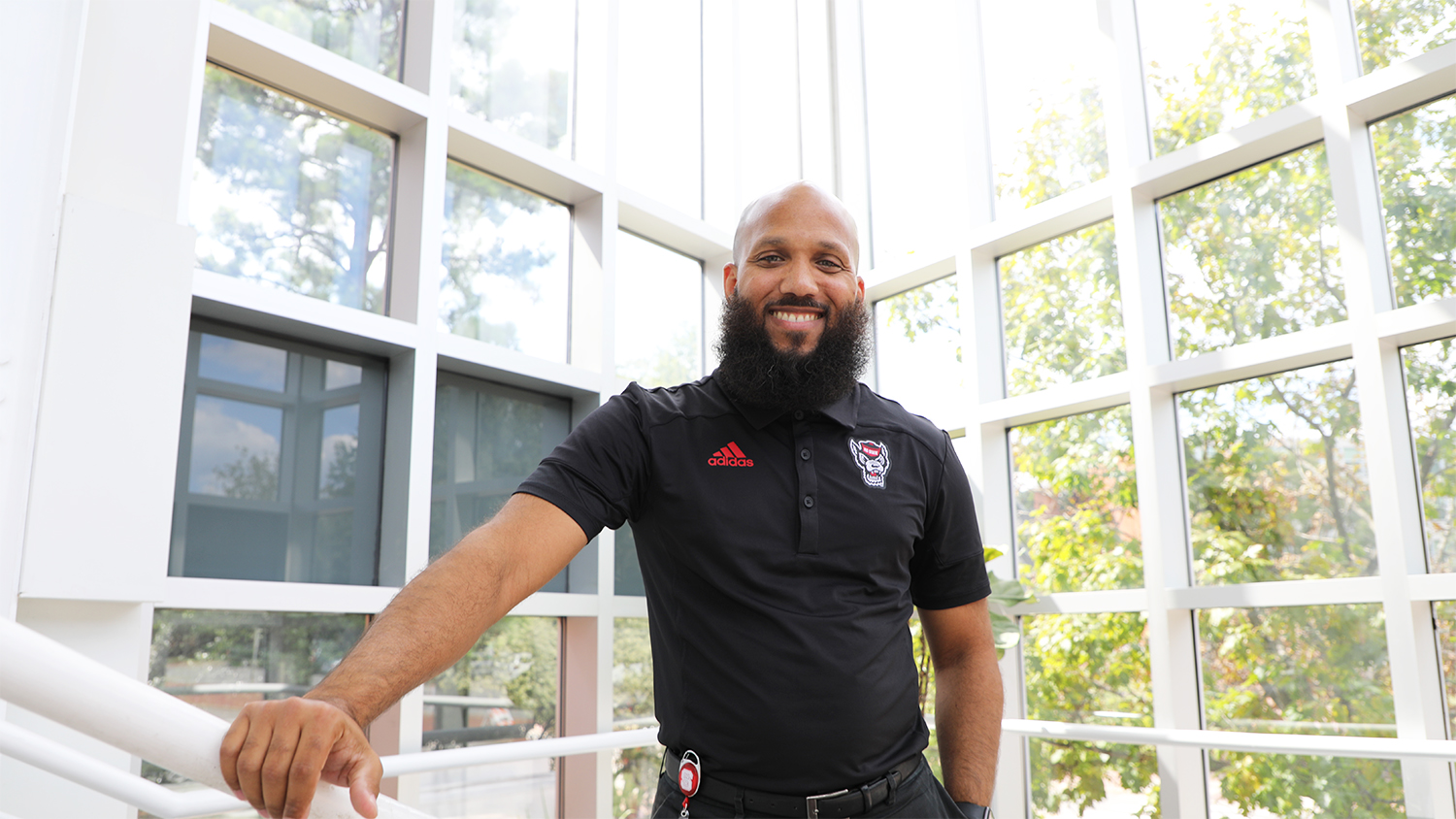 The NC State Counseling Center, NC State's Graduate School, and the Wilson College of Textiles are pleased to announce the hiring of our new embedded counselor, Michael Tuma. Michael has joined the embedded counseling services team to address the mental health needs of graduate students and students within the Wilson College of Textiles.
Enrolled students can receive free counseling services just steps away from their classrooms. Our embedded counselors are one resource amongst many others focused on assisting students with their mental health and well-being needs.
Michael, originally from Detroit, Michigan, has a passion for being a therapist and has worked in a variety of therapeutic settings. Each setting has shown him that maintaining one's mental health is equally important as maintaining one's physical health. One of the things he enjoys most about therapy is working with people—helping people to empower themselves and figure out what direction they want to take in their life journey.
"The beauty of this particular position is I get to interact with students in the Wilson College of Textiles and the graduate students, which in itself is a very specific and advanced population that is dealing with their own set of life transitions," said Michael Tuma, NC State Embedded Counselor. "My being here, focused on these particular populations, is something that I'm excited to be a part of because I get to help them navigate their unique journeys and provide them with other resources along the way."
What students need to know
Who is eligible for counseling with Michael?
Any student enrolled in the Wilson College of Textiles or in a graduate program is eligible. Michael can also consult with staff or faculty about a student.
Where is Michael's office?
Michael's office is in Suite 2361-A, Textiles Complex on Centennial Campus.
When can I schedule an appointment?
Starting Oct. 9, Michael's drop-in hours will be:
Mondays from 11 a.m.-1 p.m. and Thursdays from 2-4 p.m.
How can I schedule an appointment?
Students can visit Michael during his drop-in hours for in-person or virtual appointments. Students may also schedule virtual appointments through AcademicLiveCare. If you would like to learn more about Michael and schedule an appointment, visit Wilson College of Textiles or Graduate School embedded counseling page.
How much do appointments cost? Will it be covered by my student insurance?
Insurance will not be billed. There is no cost for appointments with Michael.
One thing Michael would like to share.
"There are so many goals that we will have in life. Remember that life is a marathon and not a sprint. College will soon finish, graduate school will soon finish, relationships will change with the reasons or the seasons, and we have to understand that there will be continuous growth and challenges that take place. Take it one step at a time. Even if you are trying to get the best self out of that particular moment, that's fine, but remember that there's still another day, there's still another moment. So remember that life is a marathon and not a sprint."
We also encourage you to learn more about the embedded counseling program and other wellness-related resources.