About NC State
Doctoral Student Mario Jackson Selected to Join Emerging Education Policy Scholars Program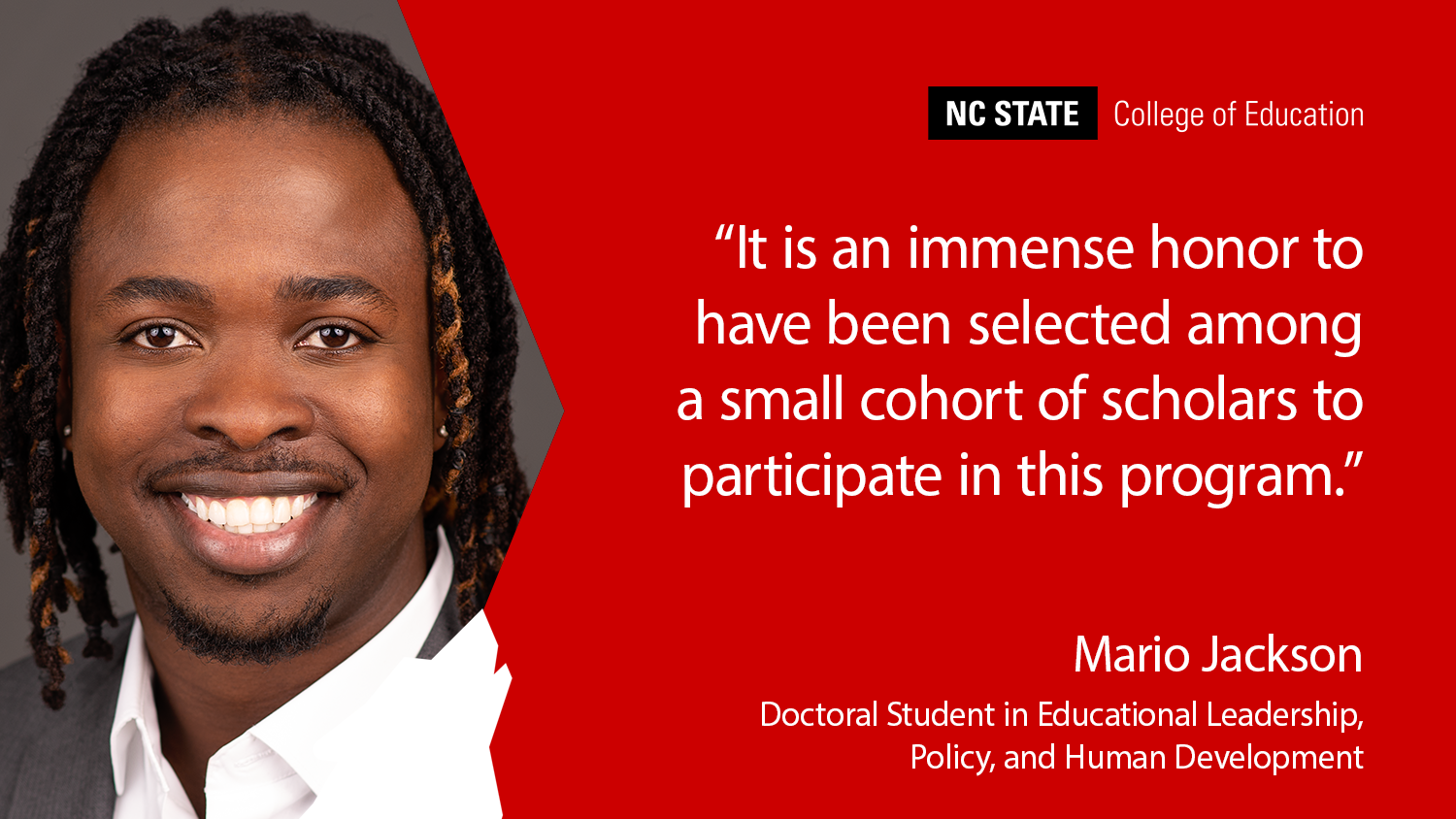 Mario Jackson, a doctoral student in the NC State College of Education's Ph.D. in Educational Leadership, Policy, and Human Development educational evaluation and policy analysis concentration, has been selected to join the Emerging Education Policy Scholars program for the spring 2024 semester.
Run by the American Enterprise Institute and the Thomas B. Fordham Institute, the Emerging Education Policy Scholars program provides an opportunity for doctoral candidates to travel to Washington, D.C., to meet with education policy experts and brainstorm new directions for K-12 education research.
"It is an immense honor to have been selected among a small cohort of scholars to participate in this program and benefit from the professional learning and networking opportunities," Jackson said. "The program provides an opportunity to engage with policy experts and scholars in discussions around the intersection of scholarly research and policy. In other words, it's an opportunity to learn how to translate research around K-12 education to forms accessible to policymakers."
Jackson's current dissertation research is examining principal preparation programs and their equity-oriented efforts through a three-paper essay approach. The first paper provides an integrative review of principal preparation practices for equity over the past 12 years, the second will situate the North Carolina Principal Fellows preparation program's equity efforts within this body of research and the third will compare the outcomes of master of school administration graduates across all North Carolina-based principal preparation programs.
As an Emerging Education Policy Scholar, Jackson said he is looking forward to learning more about how to translate the findings and insights from his research into accessible formats for non-academic audiences, including policymakers and the media.
"An important, yet difficult part of our work as researchers is being able to communicate our findings to a non-academic audience. As I come to the end of my studies at NC State, this program will provide additional insights about engaging in the policy process, which will further complement my doctoral coursework and other policy professional development engagements," he said.
This post was originally published in College of Education News.