Finalists Named for 3 Minute Thesis 2016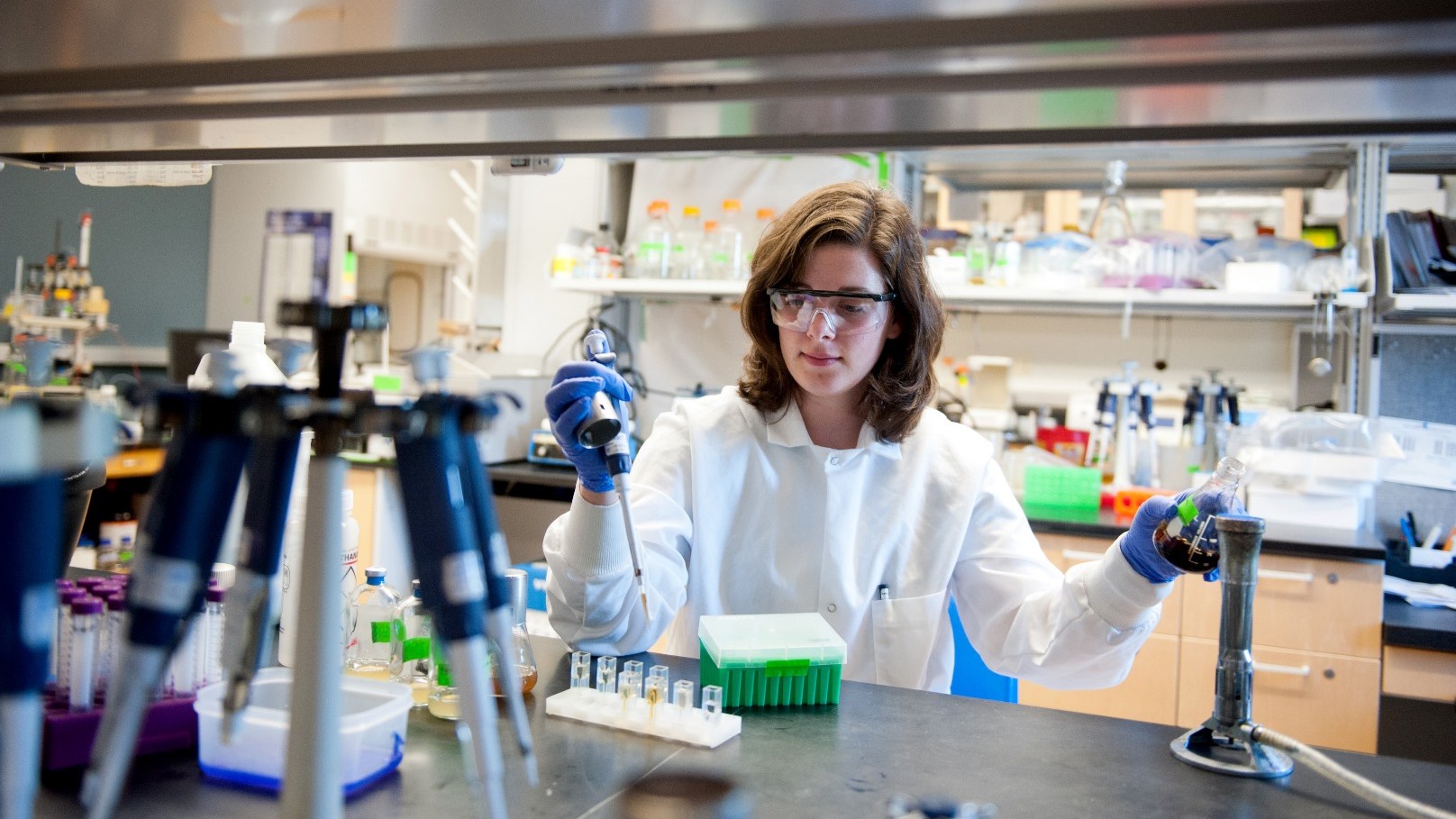 Later this month, 10 finalists in the Graduate School's second annual 3 Minute Thesis® competition will demonstrate who is most capable of describing their Ph.D. research in just three minutes and with only one slide.
Finals for the 3MT® competition will be held Oct. 25, 3-5 p.m., in the Duke Energy Center of Hunt Library, as part of NC State University's Red & White Week. The event is open to the campus and general public. In fact, the audience will help choose the "People's Choice" winner.
"Last year, we had a tremendous competition with our first 10 3MT® finalists, and we look forward to seeing how well our second cohort of student competitors will fare," said Dr. Maureen Grasso, dean of the Graduate School. Grasso brought the 3 Minute Thesis competition to NC State last year.
The 3MT competition was started in 2008 at the University of Queensland, Australia, and has since spread to at least 170 universities in 17 countries around the world. The challenge of 3MT® is to encourage Ph.D. students to hone their science communication skills by learning to present a compelling oration on their thesis topic and its significance.
The preliminary rounds of the competition were Oct. 4-10. The field of competitors, all Ph.D. candidates who have completed their confirmation milestone, was narrowed to 10 finalists. The finalists and their presentation topics, departments and advisors are listed below:
Shams Al-Amin, Sustainable Water Management for Shared Resources. Civil, Construction & Environmental Engineering, Emily Z. Berglund.
Ali Almalki, Evaluation, Assessment and Enhancement of the Highway Maintenance Planning Process with a Focus on Funding Allocation Optimization. Civil, Construction & Environmental Engineering, William Rasdorf.
Gilbert Castillo, Functional Coatings for Polymers. Chemical and Biomolecular Engineering, Jan Genzer.
Michael Fisher, Microbes of the Common Bed Bug: It's the Little Things that Matter. Entomology and Plant Pathology, Wes Watson and Coby Schal.
Tanvir Khan, Renewable Energy Resource Sharing in a Neighborhood. Electrical and Computer Engineering, Iqbal Husain and Aranya Chakrabortty.
Res Orgut, Metrics that Matter. Civil, Construction & Environmental Engineering, Edward J. Jaselskis.
Sayed Mashaheet, Ozone Sensitivity: 'The Plant's Asthma.' Entomology and Plant Pathology, David Marshall.
Ben Randall, Knockout Fainting: Mathematical Modeling of Autonomic Nervous System Function to Detect Patients with Orthostatic Intolerance. Mathematics, Mette Olufsen.
Sophia Webster, Gene Drive in the Zika Mosquito Aedes Aegypti. Entomology and Plant Pathology, Maxwell J. Scott.
Atefeh Zamani, Liquefication Mitigation with MICP. Civil, Construction & Environmental Engineering, Brina Montoya.
Greg Fishel, chief meteorologist with WRAL News in Raleigh, will serve as master of ceremonies for the 3MT finals. Fishel, who has worked at WRAL since 1981, earned a bachelor's degree in meteorology from Penn State University. He is on the advisory boards for the N.C. Museum of Natural Sciences and the state Climate office of North Carolina.
Judges for the 3 Minute Thesis finals are, from NC State, Marshall Brain, director, Engineering Entrepreneurs Program; Barbara H. Mulkey, director, General Hugh Shelton Leadership Center; and Dan Solomon, emeritus dean, College of Sciences. Others include Lindsay R. Boring, director and forest ecologist, Joseph W. Jones Research Center, Ichauway, Ga., and Jamie Vernon, director, science communications and publications, Sigma Xi, The Scientific Research Society, and editor-In-chief, American Scientist magazine
Contestants will be judged on comprehension and content, as well as engagement and communication. For more information on 3MT, visit: go.ncsu.edu/3MT. Videos and comments from last year's winners are available here.
Cash prizes will be awarded for first place, $1,000; second place, $750; and for the People's Choice winner (by audience vote), $500. The judges will determine first and second place winners.
Judges for the preliminary rounds of 3MT® were David Baumer, professor emeritus, Poole College of Management; Mike Carter, associate dean, NC State University Graduate School; Jeff Eischen, associate professor and director of undergraduate education, mechanical and aerospace engineering at NC State; and Natalie Hampton, marketing and communications director, NC State University Graduate School.
The 3 Minute Thesis® finals are free and open to the public. Hunt Library is located on Partners Way, NC State's Centennial Campus, and several pay parking lots are located nearby. For directions, consult the interactive campus map.