Three Chosen as Winners for Three Minute Thesis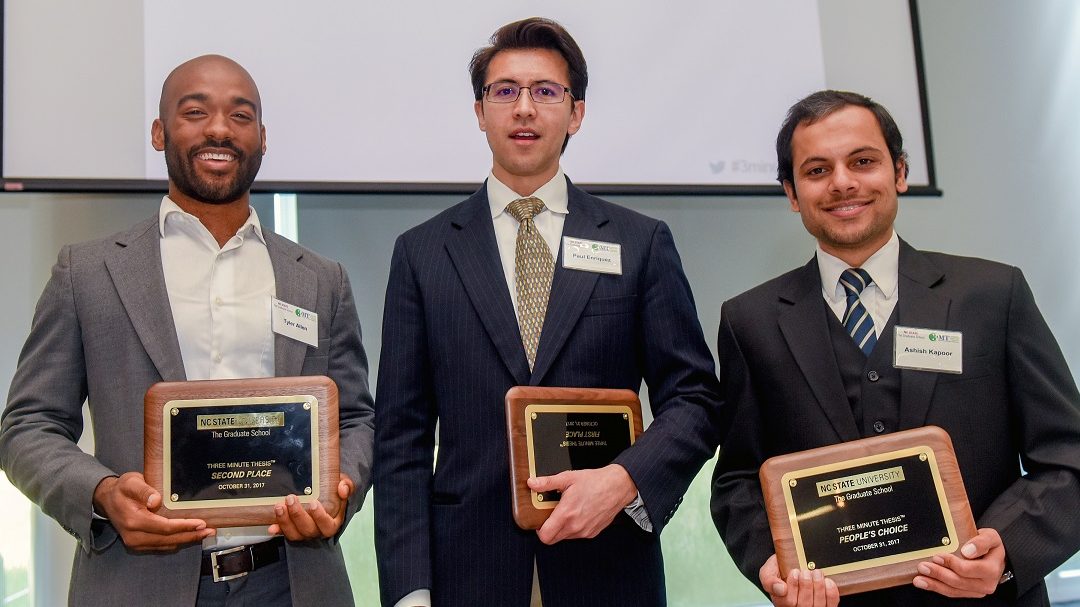 Three Ph.D. students representing different NC State University colleges were chosen as winners in the Graduate School's 2018 Three Minute Thesis, held Oct. 31 in Hunt Library. The competition challenges graduate students to present their research in just three minutes.
The 2018 winners are: Paul Enriquez, College of Agriculture and Life Sciences, first place; Tyler Allen, College of Veterinary Medicine, second place; and Ashish Kapoor, College of Textiles, People's Choice winner.
A panel of four judges selected the first- and second-place winners; the People's Choice winner was selected by popular vote of about 155 audience members who attended the event.
Enriquez, a student in molecular and structural biochemistry, spoke on, "Coupling Molecular Photography and Gene Editing in Human Therapeutics." He described his work with CRISPR, a precision gene-editing technique, that can be used to provide new insights into human disease therapies.
A student in molecular biomedical sciences and president of the Graduate Student Association, Allen's presentation was, "The Cancer Exodus Hypothesis." Allen described his research into how cancer cells exit the bloodstream to form new tumors. If the process can be understood, it may help prevent the spread of cancer tumors.
Finally, Kapoor spoke on the topic, "Fiber-based Fabric Sensors." A student in textile engineering, chemistry and science, Kapoor is developing next-generation fabrics that will include sensors that detect the wearer's respiration, heart rate, perspiration and more.
Judges serving for the finals were Linda McCabe Smith, vice provost of NC State's Office of Institutional Equity and Diversity; Benny Suggs, NC State's associate vice chancellor and director of alumni relations; Jamie Vernon, executive director and CEO of Sigma Xi, The Scientific Research Honor Society, Research Triangle Park; and Chuck Flink, owner and president, Greenways, Inc., Durham.
Leoneda Inge, race and southern culture reporter for WUNC-FM, was master of ceremonies for the 3MT finals. Judges for the 3MT preliminary rounds were Matt Shipman, Haritha Malladi, Chris Tonelli, Danica Lewis, Holly Menninger and Lesley Wirt.
Read more about the 10 finalists who competed in this year's 3MT. Master's students were allowed to compete for the first time this year, and Katelyn Mueller of civil, construction, and environmental engineering was the only master's student chosen as a finalist.
Three Minute Thesis is an academic research communication competition developed by the University of Queensland (UQ), Australia. The 3MT finals at NC State are made possible by gifts to the Graduate School Enhancement Fund.